Main content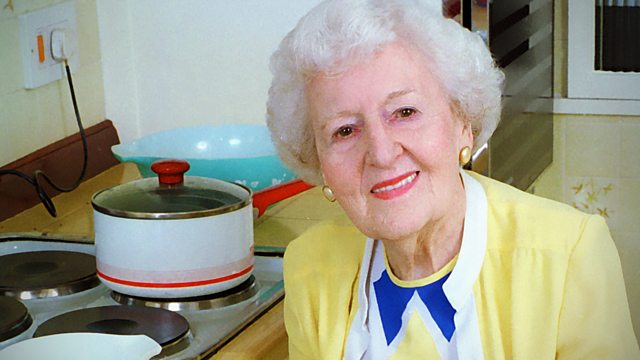 Marguerite Patten: A celebration of the late cookery writer and wartime broadcaster
A celebration of Marguerite Patten, one of the earliest TV 'celebrity chefs' and the doyenne of British cookery, first recorded in 2009. Marguerite died last week aged 99.
A celebration of the life and achievements of cookery writer Marguerite Patten who has died aged 99, including a recording of Jane Garvey's last interview with Marguerite at her home in Brighton. Author of over 170 books, Marguerite began teaching the British to cook when she joined the Ministry of Food during the Second World War. As a host of the BBC's Kitchen Front, she helped the nation to make the most of wartime rations. She made her first television appearance in 1947 and was a regular guest on both Masterchef and Ready Steady Cook, but always refused the title of celebrity chef preferring the term "home economist". She was made a CBE for services to the art of cookery in 2010.
Last on

Quail In A Parcel
Cooking time: 25 minutes • Serves 4
Many of the quails on sale are now imported but these tiny birds have been known in Britain for centuries and although the fame of English wines means more vine leaves (the classic wrapping) are available, you can substitute tender cabbage leaves for those from a vine. The leaves add an interesting flavour and keep the birds moist. Boned quail are available.
Other small birds, such as partridge or woodcock, could be cooked in the same way.
Ingredients
40g / 1½ oz butter
8 quail
16 to 24 young vine leaves or about 8 cabbage leaves
4 long rashers of fat bacon
Preheat the oven to 200°C/400°F, Gas Mark 6. Soften the butter and spread over each bird. Wrap the vine or cabbage leaves around the birds. How many you use will depend on the size of the leaves. De-rind, stretch, then halve the rashers, twist around the cabbage leaves. Place the birds into a roasting tin and cook for 25 minutes or until tender.
Serve with Port Wine Sauce. (recipe below).
Variations:
Use young spinach leaves instead of cabbage leaves or omit the leaves and simply wrap the quail, or other small birds, well in the bacon.
Quail in Paper: blend a little chopped thyme with 50 g/2 oz butter, spread over the birds. Place each bird in a greaseproof paper bag, seal and roast as above.
Stuffed Quail: fill boned quail with finely chopped cooked apricots and walnuts. Cover the birds with butter; put in greaseproof paper bags and roast as above.
Port Wine Sauce
Cooking time: 15 minutes • Serves 4 to 6
Put 100g/4 oz sultanas or raisins into a basin, add 150 ml/ ¼ pint port wine and allow to stand for 15 minutes. Meanwhile, put 1 tablespoon dripping from the meat tin, 300 ml/ ½ pint brown stock* and 25 g/1 oz breadcrumbs into a saucepan. Bring to the boil, allow to stand for 10 minutes. Add the port wine and fruit, then stir briskly as the sauce heats and the breadcrumbs thicken the sauce. Season to taste. This is excellent with most meats.
*Brown stock: Use beef bones; mutton and lamb bones could be substituted, although the flavour of the stock is not as good. Chop bones into small pieces, if possible. Put the bones, with any small pieces of meat adhering to them, into a saucepan. Add several peeled and sliced onions and carrots, a bunch of mixed herbs with water to cover. Put a lid on the pan and simmer gently for 2 to 3 hours, or use a covered container in a low oven instead or a large bowl in the microwave on LOw setting for 1 hour. Strain, then cool and remove any fat from the surface. Stock is highly perishable so use quickly or store in the refrigerator and bring to boiling point every two days, then cool and replace in the refrigerator.
Pwdin Efa (Welsh Eve's Pudding)
Cooking time: 50 minutes • Serves 5 to 6
This Welsh version of Eve's Pudding has a soufflé topping over apple purée.
Ingredients
675g / 1½ lb cooking apples (peeled, cored and thinly sliced)
50g / 2oz caster or light brown sugar
150ml / ¼ pint water
2 to 3 teaspoons lemon juice
50g / 2oz butter
50g/ 2oz plain flour
300ml / ½ pint milk
2 eggs
vanilla essence
50g / 2oz caster sugar
To decorate: icing sugar                             
Simmer the apples in the water, sugar and lemon juice until a purée forms. Put into a 1.2 litre/ 2 pint pie dish. Preheat the oven to 160°C/325°F, Gas Mark 3. Heat 50 g/ 2 oz butter in a pan, add 50 g/2 oz plain flour, blend with the butter and cook gently for 2 minutes. Pour 300ml/ ½ pint milk into the saucepan, stir as the liquid comes to the boil and thickens. Add a few drops of vanilla essence and 50 g/2 oz caster sugar. Remove the pan from the heat. Separate 2 eggs, beat the yolks into the sauce. Whisk the egg whites, fold into the mixture and blend with the other ingredients.
Spoon over the apples and bake for 40 minutes. Top with sifted icing sugar.
Recipes from Marguerite Patten's Best British Dishes, Grub Street, 2010.
Credits
| Role | Contributor |
| --- | --- |
| Presenter | Jenni Murray |
| Producer | Rebecca Myatt |
| Interviewed Guest | Jane Garvey |
| Interviewed Guest | Marguerite Patten |
Broadcast