Main content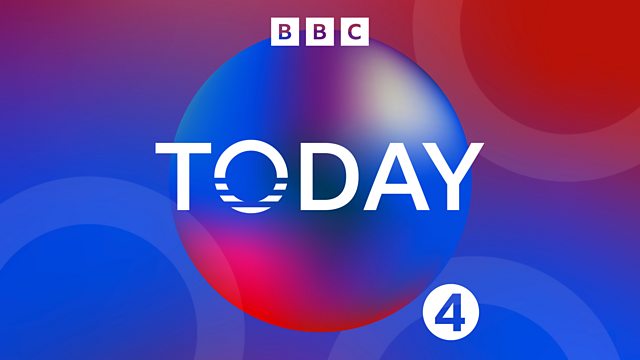 08/06/2015
Morning news and current affairs. Including Sports Desk, Weather and Thought for the Day.
Last on
Clips

Today's running order
0640
In our latest audio diary from Dr Erna Rijnierse she speaks to a colleague about how the flow of migrants has slowed recently but is expected to rise again and how the sea is much better patrolled now the various European countries have sent out their own ships.
0645
The 69th annual Tony Awards for Broadway theatre took place in New York last night. Dame Helen Mirren won the Best Actress award for The Audience, the BBC's Tom Brook reports.
0650
The authorities in the US state of New York are offering a reward of a hundred thousand dollars for information leading to the arrest of two convicted murderers who escaped from a maximum security prison, close to the Canadian border. Tom Bateman is the BBC's Washington reporter.
0655
Turkey's governing AK party has lost its parliamentary majority for the first time in 13 years, near-complete election results show. The surprise outcome also sees the pro-Kurdish HDP crossing the 10% threshold, securing seats for the first time. The result is a blow to President Recep Tayyip Erdogan's plans to boost his office's powers. Ziya Meral is a research associate at the Foreign Policy Centre -  a London based think tank.
0710
The paper counterpart to the UK driving licence is abolished today. Oliver Morley, Chief Executive of the DVLA.
0715
Doctors who carry out cosmetic procedures must allow patients a cooling off period before agreeing to go ahead with treatment according to new guidance from the General Medical Council. The guidance sets out standards that will be expected of all UK doctors who carry out surgical and non-surgical cosmetic procedures to protect vulnerable patients who make rash decisions. Anita Hazari is a consultant plastic surgeon.
0720
A year ago the Irish Mail on Sunday reported that up to 800 babies had been buried in a septic tank in the grounds of the Tuam Mother and Baby home. Local historian, Catherine Corless, went through the death records and looked at maps of the area around the home. She discovered that many more babies could have been buried there. People who gave birth in the home, or people who were born there, have been speaking to Zoe Conway about their experience inside the home.
0730
Two men who served long jail sentences before their convictions were quashed will today hear the results of their legal challenge against the Government's refusal to pay them compensation. Victor Nealon served 17 years for attempted rape before his conviction was quashed in 2013; Sam Hallam was convicted of murder at the age of 17, before having his conviction quashed 7 years later. Both men were denied compensation under the regulations brought in last year which say that claimants will only be compensated if they can show that a 'newly-discovered fact proves beyond reasonable doubt' that he 'did not commit the offence'. Victor Nealon and Lord Hope Of Craighead, a former Deputy President of the UK Supreme Court.
0740                                                                                                                                   
In 1968, J Edgar Hoover, declared the black equality movement Black Panthers "the single greatest threat to the internal security of the United States". Over the coming years, the FBI waged a covert and sometimes illegal war against the movement and eventually crushing it. But in its time, it had garnered a mass support beyond its constituency and helped shaped the way the USA dealt with its civil rights issues at the time. At the Sheffield Doc Fest, a new documentary film with archive footage and interviews with key players is being premiered. Stanley Nelson is the director of Black Panthers: Vanguard of the Revolution.
0750
The Prime Minister has signalled he expects all members of the Government to back him over any EU deal – or have to resign. Speaking to reporters at the G7 summit, David Cameron said he was confident he could secure a better deal for Britain and indicated that ministers who did not support him would have to resign. Separately President Obama told the Prime Minister he wanted Britain to remain in the EU, a move that has infuriated leading euro sceptics. David Davis is a Conservative MP and former Europe minister and James Wharton is Minister at the Department for Communities and Local Government and introduced the EU Referendum Bill as a backbencher.
0810
Should the authorities who run athletics in Britain be taking a harder line in response to Panorama's allegations of doping by the high profile coach, Alberto Salazar? Yesterday Mo Farah - who is coached by Mr Salazar - pulled out of a race in Birmingham saying he hadn't been able to "focus properly" because of the controversy. Mr Salazar has been acting as an endurance consultant to UK Athletics; the organisation says it has "absolutely no concerns" over Mr Salazar's consultancy role and his coaching methods with Mo Farah. However, UK Athletics has set up a review of the Panorama claims. Colleen Harris reports from the Diamond League Athletics meeting in Birmingham and Ed Warner is chairman UK Athletics.
0820                                                            
Bertrand Russell famously once said "Everybody knows that Einstein did something astonishing, but very few people know exactly what it was." Well, that something was the General Theory of Relativity which marks its centenary this year, and the "few" Russell was referring to - the world's leading physicists - are meeting in Pennsylvania to discuss its ongoing importance.  Our science editor Tom Feilden looks at how Relativity shaped the course of 20th century science, and how it promises to do the same in the 21st.
0830
European leaders will meet later this month to discuss the European Commission's proposals to deal with the migrant crisis in the Mediterranean. Last week the chief of the EU's Frontex agency said there have been 100,000 illegal crossings of the EU's external borders since the start of the year. Yesterday the Royal Navy ship HMS Bulwark rescued more than 1,000 people off the coast of Libya today in about seven rescue missions. Jonathan Beale is our Defence Correspondent on the HMS Bulwark, which has been rescuing migrants off the coast of Libya and Izabella Cooper is spokesperson for the EU's Frontex agency.
0840
Back in 2010, the concept of the nudge was all the rage. How could people be subtly influenced into modifying their behaviour for the better? It was picked up the Conservatives who founded the Nudge Unit in Downing St – and it's now in its fifth year. The man who came up with that idea is Richard Thaler. His new book– called Misbehave, looks at the behaviour of us humans – which is erratic and unpredictable – and compares it to how economists build their predictive models.
0850
Early tomorrow morning, a Pakistani man called Shafqat Hussain is due to be executed for murder. His lawyers say he was still a child when he was prosecuted and that his conviction was based on a confession which was extracted from him after he was tortured. UN officials and human rights activists are calling on the Pakistani government to stop execution, saying to go ahead without properly investigating these allegations would be "utterly unacceptable and in flagrant contravention of Pakistan's national and international obligations". After the Peshawar school attacks last year, Pakistan partially lifted a moratorium on the death penalty for those convicted of terror offences and this was extended to cover all capital cases in March this year. Sarah Belal is Shafqat Hussain's lawyer and Executive Director of 'The Justice Project, Pakistan' a non-profit law firm which represents Pakistanis facing the death penalty, victims of torture and those detained in the War on Terror.
0855
The promoter Harvey Goldsmith says there are too many big music festivals and not enough big acts to sustain them. John Giddings is a music agent and promoter.
All subject to change.
Broadcast