Anita Dobson, Mary McCartney, Eugenia Cheng
Anita Dobson talks about her latest film, London Road. Eugenia Cheng explains why it's worth persevering with difficult maths. The story of Mr Muruga's nine year quest to develop a low cost sanitary pad for the women of India. There's an interview from the Woman's Hour archive with Linda McCartney discussing her photography. And, her daughter Mary McCartney cooks the perfect pea and watercress soup and talks photographing food.
Presenter: Jenni Murray
Producer: Ruth Watts.
Last on
Anita Dobson
London Road is based on the true story of the murder of five women in Ipswich in 2006. Originally a much acclaimed musical at the National Theatre, the new film production premieres on 8 June. Actor Anita Dobson joins Jenni to talk about her role as June, one of the residents of the road, and why taking part in the film was a 'form of closure' for her.
London Road has a live film premiere on 9 June and is on general release from 12 June
Women And Lies
Women tell lies more than men according to new research. 80 percent of the women surveyed admitted to telling lies and half-truths up to 30 times a day. This is in spite of three in five women believing that men are more likely to lie or exaggerate the truth. Jenni speaks to Telegraph columnist and regular fibber Judith Woods.
Mary McCartney Cooks The Perfect… Pea And Watercress Soup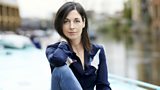 Mary McCartney - the eldest daughter of Paul and Linda McCartney - is best known for her photography, following in the footsteps of her mother Linda, who was renowned for her photos of rock musicians. But she also shares her mother's passion for vegetarian cooking, and as patron of Meat Free Mondays, she wants to encourage awareness of the impact of meat consumption on the climate. In her new cook book At My Table she has combined her photographic skills and love of cooking to create complete meat-free menus for every occasion, including Sunday lunch and BBQ's. She joins Jenni to talk about the family memories which inspired the cookbook, and she will prepare the perfect pea and watercress soup in the studio.
1983 Linda McCartney interview - from the Woman's Hour Collection: classic interviews from the history of Woman's Hour
Maths And Baking
Eugenia Cheng tells us what cooking has in common with mathematics and why she finds it's the perfect example for teaching some of the most abstract concepts. Her new book Cakes, Custard, and Category Theory aims to show that whilst many of us think maths is hard, it's actually there - like any good recipe - to make things easier.
Cakes, Custard and Category Theory by Eugenia Cheng is published by Profile Books 
The Man Who Wore Sanitary Pads
In 1997 Aruna Murugananthan (Mr Muruga) learned that his young wife was using an unhygienic rag to absorb her menstrual blood and that the women of his region were using not only rags, but also leaves, earth and even gravel, causing 70% of all reproductive illnesses. Mr Muruga was shocked that women were suffering in this way because of the expense of sanitary products and was determined to come up with a solution. Sarah Bradshaw has produced a Radio 4 drama telling the story of Mr Muruga's nine year quest to develop a low cost sanitary pad for the women of India, which saw him outcast by his village and disowned by his mother and wife.
BBC Radio 4 Drama - The Man Who Wore Sanitary Pads
Credits
| Role | Contributor |
| --- | --- |
| Presenter | Jenni Murray |
| Interviewed Guest | Mary McCartney |
| Interviewed Guest | Anita Dobson |
| Interviewed Guest | Eugenia Cheng |
| Interviewed Guest | Linda McCartney |
| Producer | Ruth Watts |