Main content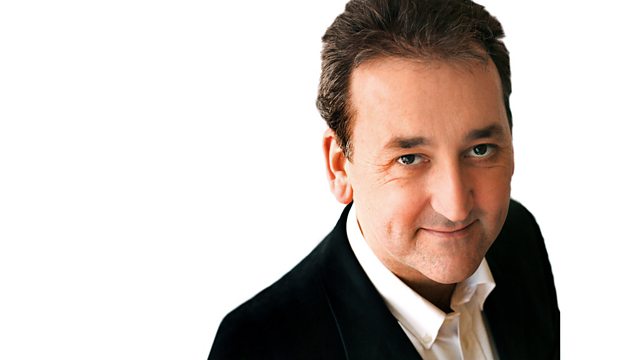 BBC Music Day
Ian Skelly presents live music from the BBC Concert Orchestra at Grange Park Opera and the British Paraorchestra in Bristol and a record-breaking duetting attempt from Patagonia.
Ian Skelly hosts Afternoon of 3 which continues to celebrate music in communities up and down the UK for the first BBC Music Day. The children of Pimlico Opera's Primary Robins visit Grange Park Opera for a live concert featuring the bass baritone Bryn Terfel and the BBC Concert Orchestra.
In Bristol, the British Paraorchestra teams up with young musicians from South West OpenUp Music Orchestra and singers from the Bristol Youth Choir and City of Bristol Choir under conductors Charles Hazlewood and David Ogden.
1400-1500
LIVE from Grange Park Opera with presenter Verity Sharp
Music to include:
Wagner: Siegfried Idyll (original orchestration)
Plus songs specially arranged by Andrew Cottee to feature members of the BBC Concert Orchestra and Pimlico Opera's Primary Robins, a community project that uses music and drama to enrich the lives of schoolchildren with little exposure to the arts.
There'll also be a guest appearance from opera superstar Bryn Terfel, currently playing Tevye in Grange Park's production of 'Fiddler on the Roof'.
Pimlico Opera's Primary Robins
BBC Concert Orchestra
Michael Collins (conductor)
Bryn Terfel (bass baritone)
Pimlico Opera's Primary Robins
BBC Concert Orchestra
Michael Collins (conductor)
1530-1545
LIVE from Colston Hall in Bristol with presenter in Alex Lovell in conversation with Charles Hazlewood
Radio 3 drops in on a concert conducted by Charles Hazlewood and David Ogden who bring together four musically diverse and cross-generational groups of musicians in a celebration of muisic making in Bristol. The South West OpenUp Music Youth Orchestra and Bristol Youth Choir are joined by City of Bristol Choir and Charles Hazlewood's Biritish Paraorchestra in works by Pachelbel arranged by David Ogden and Jonathan Dove. Presenter Alex Lovell discusses Charles Hazlewood's vision for musical diversity live on air.
Pachelbel arr. Ogden: The songs you learn by heart.
Jonathan Dove: There was a Child
South West OpenUp Music Youth Orchestra
Bristol Youth Choir & City of Bristol Choir
British Paraorchestra
Charles Hazlewood and David Ogden (conductors)
1620-1630
LIVE from Hoddinott Hall in Cardiff - simulcast with Radio Cymru and Radio Wales, presented by Nicola Heywood-Thomas
After discussions with Guinness World Records, we are going to attempt to set a new world record - The Greatest Distance Between Singers of a Duet.
It will happen at Hoddinott Hall, Wales Millennium Centre, and Y Wladfa in Patagonia, to the accompaniment of the BBC National Orchestra of Wales (conductor - John Quirk), and will be a live broadcast on BBC Radio Cymru, BBC Radio Wales and BBC Radio 3, simultaneously.
The song in question will be the Welsh hymn Calon Lan, with the first and second verses being sung as a duet between Shan Cothi in Cardiff and Andres Evans in Patagonia (7000+ miles away). So as well as celebrating the first ever BBC Music Day, we will also be part of the ongoing, year-long celebrations, noting 150 years since the first Welsh settlers left for Patagonia.
The first and second chorus, along with the third verse and repeated chorus at the end will be sung by a choir in Patagonia (Cor Ysgol Gerdd y Gaiman), and an inter-generational composite choir in Hoddinott Hall. The composite choir in Cardiff will be made up of the in-house Radio Cymru choir, members of the BBC NOW Chorus, members of the BBC Choir of the Year - Cor CF1, and Wales Millennium Centre/Only Kids Aloud Chorus (conducted by the Music Day ambassador - Tim Rhys Evans).
Last on
Broadcast

Featured in...
A collection of programmes, features and clips from Radio 3's celebrations of music.

Watch or listen to a day of BBC programmes celebrating music