Main content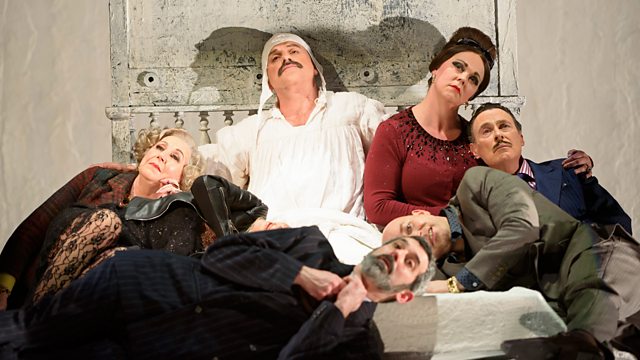 Falla's La vida breve and Puccini's Gianni Schicchi
From the Grand Theatre, Leeds, Jac van Steen conducts the Orchestra of Opera North in a double-bill of one-act operas: Falla's La vida breve and Puccini's Gianni Schicchi.
Recorded at the Grand Theatre, Leeds, Jac Van Steen conducts the Orchestra of Opera North in director Christopher Alden's feted, funny and brutally exciting double-bill of operatic masterpieces: Manuel de Falla's La Vida Breve and Puccini's Gianni Schicchi.
FALLA: LA VIDA BREVE
Anne Sophie Duprels (Salud)
Elizabeth Sikora (La Abuela)
Beth Mackay (Carmel)
Jesús Álvarez (Paco)
Gavan Ring (Manuel)
Brian Bannatyne-Scott (Uncle Salvador)
PUCCINI: GIANNI SCHICCHI
Christopher Purves (Gianni Schicchi)
Jennifer France (Lauretta)
Jesús Álvarez (Rinuccio)
Victoria Sharp (Nella)
Claire Pascoe (La Ciesca)
Elizabeth Sikora (Zita)
Daniel Norman (Gherardo)
Orchestra of Opera North
Jac van Steen (conductor).
Synopsis
La vida breve
Lyric drama in two acts
Music by Manuel de Falla
Libretto by Carlos Fernández Shaw
By arrangement with G. Ricordi & Co (London) Limited
Sung in Spanish
Act One
The grandmother of Salud is concerned by the love-sickness that affects her granddaughter,
who bewails the absence of her lover, Paco. She asks her grandmother, who already suspects
Paco of being unfaithful, to look out and see if he is coming. When Paco arrives he promises
to be faithful to Salud and she declares her passionate love for him. The grandmother watches
them happily until Uncle Sarvaor comes in, threatening to kill Paco. He explains that Salud is
being betrayed by Paco, who plans to marry another woman the very next day.
Act Two
A party is taking place to celebrate the wedding of Paco and Carmela. As a singer entertains
the guests, Salud looks on, seeing Paco with his bride. Sarvaor and the grandmother are
unable to comfort Salud, and they curse Paco.
Paco is trying to hide the discomfort he feels at Salud's unexpected presence. Manuel, Paco's
new brother-in-law, congratulates the bride and groom, then catches sight of Salud and
Sarvaor. He questions their presence. Salud angrily replies that she has come to see Paco,
to beg him to end the pain he is causing her. Paco tries to deny that he has betrayed her,
accusing her of lying. Salud cries that it is he who has lied and, despairing, kills herself.
Gianni Schicchi
Opera in one act
Music by Giacomo Puccini
Libretto by Giovacchino Forzano, based on a brief episode in Dante's Divine Comedy
Sung in Italian
Dante Alighieri, supreme poet of Italy, presents an episode from his ageless work, the
Divine Comedy.
The rich old Florentine Buoso Donati has died. His relatives gather, apparently to mourn
him. But a rumour spreads among them that Buoso has left all his wealth to Friars at Signa,
which prompts a frantic search for his will. Rinuccio finds it, but won't let anyone else see
it until he is promised by his aunt Zita that he will be allowed to marry Lauretta, daughter of
Gianni Schicchi.
Zita gives her permission and Rinuccio sends Gherardino to fetch Lauretta and her father, who
is famed for his cunning, but looked down on by the relatives because of his low birth. The
will is read and the relatives are distraught to learn that Buoso has indeed left all his money to
the Friars.
Schicchi arrives with Lauretta to a hostile reception. He makes to leave, but Lauretta begs him
to stay and make possible her marriage to Rinuccio. Schicchi devises a plan: the relatives will
keep Buoso's death secret long enough for Schicchi, disguised as Buoso, to make a new will
in which the money is left to the relatives.
The plan delights the relatives and Rinuccio is dispatched to fetch a lawyer. Each of the
relatives proceeds to bribe Schicchi to favour them over the others in the will. Schicchi
accepts all the bribes, but reminds the relatives that should the scheme be discovered the
full force of Florentine law will fall not only upon him, but upon them as well.
Rinuccio arrives with the lawyer and two witnesses. Schicchi, impersonating Buoso, dictates
a new will, leaving the best part of the estate to 'his dear, devoted friend – Gianni Schicchi'.
The relatives realise that they are helpless to do anything about it. After the lawyer leaves
there is uproar: insults fly and the relatives ransack the house. But Schicchi drives them all
out – it is, after all, his house now.
Rinuccio and Lauretta are united, and Gianni Schicchi asks if old Buoso's money could
possibly have been put to better use than this?