Main content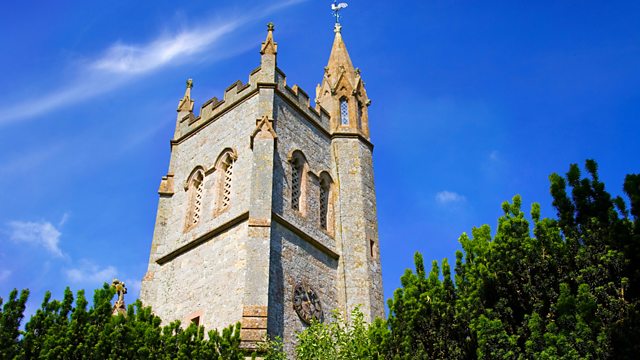 Meeting the Risen Jesus
International speaker and writer, Becky Pippert, is the preacher at Holy Trinity Platt in Manchester where she reflects on the Resurrection of Jesus. The service is led by the Rector Steve James with lively and uplifting hymns and worship songs directed by Olly Hamilton.
Script
Please note:
This script cannot exactly reflect the transmission, as it was prepared before the service was broadcast. It may include editorial notes prepared by the producer, and minor spelling and other errors that were corrected before the radio broadcast.
It may contain gaps to be filled in at the time so that prayers may reflect the needs of the world, and changes may also be made at the last minute for timing reasons, or to reflect current events.
Opening Anno:
BBC Radio 4, and now it's time for Sunday Worship which comes live from Holy Trinity, Platt in Manchester.  The preacher this morning is international speaker and author Becky Pippert and the service is led by the Rector, the Revd Steve James.
Steve
Good morning and a warm welcome on this Trinity Sunday.
Today, our focus is on "Meeting the Risen Jesus Christ"; how do we encounter such a one who has defeated death?  And how would this world -changing event transform us?
This is a diverse community of many nationalities – it's a vibrant inner city area, just a stone's throw from the city Centre, close to the Universities and hospitals and of course, Manchester's famous curry mile. 
Our church is part of Platt Fields Park, in 90 acres of green space within the urban expanse just South of Manchester's heart -  a real oasis enjoyed by students, families and wildlife. 
 
This morning, we want to share the joy of knowing our Trinitarian God – God who is Father, Son and Holy Spirit. In the last book of the bible, Revelation, John the apostle hears one of the songs of heaven.. Holy Holy Holy, Lord God Almighty. We join with all heaven as we sing this great Trinity Hymn.
Hymn: Holy, Holy, Holy
Steve
How do you describe the indescribable? Or understand someone who is so beyond us? I'm  grateful that this God loves to make himself known; through what He says and promises in Scripture, to what He says and does in Jesus and through what He says and does and works in us through His Spirit – this Living God of the Bible makes Himself known, even to us, today.
We are pleased to welcome author and speaker, Becky Pippert, whose  bestselling book, Out of the Salt Shaker, has influenced many lives. In her guide, Uncovering The Life of Jesus, she helps seekers and sceptics explore who Jesus truly is, and it is fast becoming a staple of many churches and University Christian Unions. Becky has written eleven books on Christianity and she has travelled the world sharing her faith and bringing the joy of knowing the Risen Christ.
And so now we come together to reflect on how we might feel in His Living presence.
Risen Lord Jesus. who took the nails of Calvary, and bore the guilt that should be ours. strengthen faith in us this morning
Risen Lord Jesus, who crushed the power of death – speak hope to us this morning
Risen Lord Jesus – you know the depth of my heart but love me the same – speak your grace to us this morning, that we may shine for you.
Amen
Here at Holy Trinity, Platt, we worship in a Grade II star listed building, one of Edmund Sharpe' terracotta churches, this one commissioned by Thomas Worsley, the owner of Platt hall in the 19C. Worsley wanted a church "that would teach Christian doctrine" – little did he know that, in future years, there would be a congregation from all corners of the world, spanning all the generations and with an average age in the early thirties. We feel the responsibility and the privilege of providing a spiritual home for so many young lives.
Music is important to us, as a way of responding to God and of declaring His greatness, not just in mental assent but, as we sing, using our whole bodies to praise Him. Psalm 150 encourages a wide range of instrumentation including loud clashing cymbals [!] and so with instruments and voices drawn from the RNCM and the university of Manchester, under the direction of Olly Hamiliton, we sing together,  Chris Tomlin's Indescribable.
 
Song:  From the Highest of Heights
In our first reading this morning we hear of how Jesus first appeared to a group of his disciples after his resurrection. Each group found their traditional world view shattered, as he opened their minds to understand God's extraordinary action that first Easter day. Here, two disciples who met the risen Jesus on the road to Emmaus ,run back to Jerusalem to tell the others what happened as he talked with them along that road. We pick up the story in Luke 24, verses 36-49.
 
Reading:
While the two were telling them this, suddenly the Lord himself stood among them and said to them, "Peace be with you."
They were terrified, thinking that they were seeing a ghost. But he said to them, "Why are you alarmed? Why are these doubts coming up in your minds? Look at my hands and my feet, and see that it is I myself. Feel me, and you will know, for a ghost doesn't have flesh and bones, as you can see I have."
He said this and showed them his hands and his feet. They still could not believe, they were so full of joy and wonder; so he asked them, "Do you have anything here to eat?" They gave him a piece of cooked fish, which he took and ate in their presence.
Then he said to them, "These are the very things I told you about while I was still with you: everything written about me in the Law of Moses, the writings of the prophets, and the Psalms had to come true."
Then he opened their minds so they could understand the Scriptures. He told them, "This is what is written: The Messiah will suffer and rise from the dead on the third day, and repentance for the forgiveness of sins will be preached in his name to all nations, beginning at Jerusalem. You are witnesses of these things. I am going to send you what my Father has promised; but stay in the city until you have been clothed with power from on high."
Song: I stand amazed in the presence

Becky Sermon Teaser
Several years ago I took some graduate psychology classes at Harvard University. One professor read us a case study and said, "Did you notice that in just ONE session the psychologist helped his client see that the cause of his depression was that he HATED his mother. Isn't that wonderful?!"
 
I thought: THAT's the good news? He hated his Mum? So I raised my hand and asked: "What if this client said: 'I HAVE been angry with my Mother. But now I'd like to love and forgive her.' I'm curious, what would a therapist say to such a request?"
 
The professor said: "Well, I think he'd say Good Luck!  It's asking a lot just to identify the problem! If you're looking for a changed heart, you are looking in the wrong department!"
 
 
Yet I ask you: WHO isn't looking for a changed heart?
 
The central question of human existence is: Can we overcome and be changed? Or are we forever stuck with our flaws and sins?
 
Nearly all the great thinkers have wrestled with the problem of human nature and our need to change. The French novelist, Albert Camus, an atheist who believed that human nature is flawed and we are responsible for our condition, wrote in his book, The Fall:
 
"We see we must change but how? How can one human being become another? Impossible. And God, being out of style, can not help us now."
 
Yet the wonderful news is that we can be changed! The Bible tells us that real, lasting change occurs: "Not by power, not by might...but by my Spirit, says the Lord."
 
 
Human change is possible because: God the Father sent His Son Jesus to die for our sins. And by the power of God's Spirit, Christ rose again from the dead. Father, Son and Spirit  - the triune God – makes human change possible. A wonderful reminder as today is Trinity Sunday.
The Resurrection is our objective data that we can be changed. Imagine if the Spirit of God could raise Jesus from death from life:  revitalize brain dead cells, restore collapsed lungs and cause amino acids to be lit and rekindled in a corpse – and Luke makes it clear that what happened to Jesus was far more than merely reconstituting a corpse - then clearly that same Spirit can cause us who are spiritually dead to become alive to God!
So let's look at the Resurrection today and discover why it gives us great hope.

Solo.. now the Green blade riseth

(Katie Ritson singing Now the Green Blade Riseth)
In our second reading…  we hear how St Peter's hope of the future resurrection transforms our lives today
Reading 2: 1 Peter 1:3-9
Praise be to the God and Father of our Lord Jesus Christ! In his great mercy he has given us new birth into a living hope through the resurrection of Jesus Christ from the dead, and into an inheritance that can never perish, spoil or fade. This inheritance is kept in heaven for you, who through faith are shielded by God's power until the coming of the salvation that is ready to be revealed in the last time. In all this you greatly rejoice, though now for a little while you may have had to suffer grief in all kinds of trials. These have come so that the proven genuineness of your faith—of greater worth than gold, which perishes even though refined by fire—may result in praise, glory and honour when Jesus Christ is revealed. Though you have not seen him, you love him; and even though you do not see him now, you believe in him and are filled with an inexpressible and glorious joy, for you are receiving the end result of your faith, the salvation of your souls.

 
Sermon
 
We read in both Luke and John's gospels that on the Sunday after Jesus died the disciples had locked themselves in a room because of fear and confusion. They banked everything on Jesus and now he was dead. Their hopes were crushed and their dreams gutted.
 
Yet remember that Jesus told the disciples repeatedly: "I will be beaten, rejected, I will die on the Cross and on the 3rd day I will resurrect." Now wouldn't you think ONE of the disciples would say, "Hold on! -  it's the 3rd day – I wonder if He'll appear?" But no one asks the question – nor seems to have even considered it.
 
So picture the disciples in this room with a barricaded door - and the text says: "Jesus himself stood among them and said 'Peace Be With You.'"
 
What was the disciple's response? Absolute terror! They thought they were seeing a ghost!
So Jesus appeals to their physical senses and says:
 
"..Why do you doubt…look at my hands and feet. It is I myself. Touch me and see." But they are having none of it!
 
So Jesus says: "Do you have anything here to eat?"  He then eats a piece of broiled fish and asks: "Could a ghost eat a fish? "
 
Now I ask you: Does this sound like Resurrected God talk? Eating  "fish and chips"? This isn't exactly the big splash of Divine Glory we expected! It's so normal!
Luke writes that the disciples "disbelieved for joy and amazement!" If this was really Jesus - do you realize what it means? Everything He claimed about himself was true! He really was God's son who had come to rescue a planet in deep trouble. HE WAS ALIVE!
 
The 1st time I read this account I was an agnostic. I wasn't raised in a religious home.  I thought the Bible was simply a propaganda piece. But as a thinking person I knew I couldn't reject something I had never investigated.
 
I remember reading this passage and thinking: "I can't BELIEVE this is in the Bible! I expected the disciples to say, "We knew you'd come back! Never doubted it!" I wondered WHY would Luke write something that puts the disciples in a bad light … unless it really happened? The very honesty and humanity of the account had a ring of truth.
 
What impact did seeing the Risen Christ have on them?
•      Every apostle (except John) would die as a martyr.
Historians have never come up with a better explanation for the remarkable explosive growth of Christianity in the 1st century AND for what changed the apostles from being frightened and disillusioned to being ready to die for their faith – apart from the fact that the tomb was empty, Jesus was alive and His followers had seen Him face to face.
 
 
What else transformed the disciples? They saw Jesus' wounds.
What do human wounds represent?
 
Our wounds represent the places where we've been torn and hurt. According to the Bible all of us are walking wounded.
 
We can't live on this planet for long without asking: Why is life so unfair? Why is there so much brokenness and suffering?
 
The Bible tells us that– life, as we see it now, was never God's intention.
 
God created us to live in love, peace and harmony in relationship with Him.
 
But the Bible says at some point human beings decided to reject God's authority and run their own lives. They tried to build their identity on things other than God.
 
When that happened - everything unraveled. Their intimate, peaceful, loving relationship with God was inevitably changed. Nothing remained quite the same.

Therefore, all the mess we see  - around us and in us – is ultimately the result of our refusal to let God be God.
 
But what do Jesus' wounds represent?:
 
Jesus wasn't BORN wounded by sin. He CHOSE TO BE wounded for our sake. He lived the life we were meant to live and faced the judgment we deserved.
With all the suffering in our world I think it would be hard to trust a God who had not suffered. But Jesus HAS suffered and he didn't have to! Jesus reveals his wounds and says in effect: "I can give you wholeness, a fresh start and a new beginning because I paid the price for all sin! Put your hand in mine. Believe in me, acknowledge your sin and receive my gift of peace."
 
When we put our trust in Christ, God meets us in our brokenness, He walks along side of us in love and He asks us to show others the same grace we have received from God. Let me tell you a story that illustrates this.
 

Many years ago I met Bill, a University student who wore typical student garb- tee shirt and worn out blue jeans -with the added distinction of never wearing shoes.
 
Bill had just become a Christian and went to church for the first time. But the church was very buttoned down and formal. Bill walked in late and couldn't find a seat so he walked to the front of the church and sat down on the carpet.
 
The Church members thought: "How dare he come into church looking like that!" Then everyone noticed that an elderly Deacon was making his way to Bill. He had a walking stick and it seemed to take forever to reach Bill. But the church members all thought: "How can you blame this 80 year old man for what he is going to do? How can he understand this hippie kid sitting on the floor?"
 
As the Deacon approached Bill everyone held their breath. With all eyes fixed on the old man he took his walking stick …and dropped it to the floor. And with great difficulty he lowered himself to the carpet and sat down on the floor with Bill for the rest of the service.
 
 
Then the minister said, "What I'm about to preach you will never remember. What you have just seen you will never forget. Because seeing a glimpse of the beauty of Jesus and the power of his love in another -  changes us. So I want to thank God this morning for grace. The grace that says 'I've been searching for you, and waiting for you. And now you are Home, at last."
 
Why would we resist God's offer? In my case it was because I didn't want to admit I was wrong and give up control.
 
I also worried: would I even recognize myself if I surrendered my life to Christ? What would my cynical friends say? Would I have to give up my love of jazz and dance?
 
But when I finally surrendered my life to God it was liberating.
 
The amazing message of the gospel is that while Jesus radically transforms us, He makes us more ourselves than we ever dreamed possible.
 
Song:  Hear the call of the Kingdom

Steve
Stuart Townend, Keith Getty & Kristyn Getty's Hear the Call of the Kingdom
Ross Allatt, a member of our 9.45 families service, now leads us in prayer.
Prayers - Ross
Living Lord, you are the God who alone bears scars. You know suffering.. yet your death on our behalf healed that relationship between us and God – Thank you for your scars.
Living Lord,, amidst all our fears,  your resurrection brings us the certain expectation of eternal life. For those who are facing death; for those who fear death; may we find hope in your scarred hands.
For this broken world, with the homeless in Nepal after the earthquakes, and the bereaved there; for those suffering in India under its heatwave.. grant help in practical and spiritual ways – for this broken world, may your Kingdom come.
For the weak whom others exploit, for the children trafficked, the vulnerable abused, Lord may you haste the day when you put every wrong right – may your Kingdom come.
 
Living Lord, for your church, persecuted, weak or faithless, grant to us your resurrection hope – for as your scars brought salvation to many,
may our scars of faith, particularly those of the persecuted church, become a shining light in a dark world to show that Jesus lives; Lord, may your Kingdom come
All these things we pray in Jesus name. Amen
Lords Prayer.
Our Father in heaven,

hallowed be your name.

Your Kingdom come, 

your will be done, 

on earth as in heaven

Give us today our daily bread.

Forgive us our sins,

as we forgive those who sin against us. 

Lead us not into temptation, 

but deliver us from evil. 

For the kingdom, 

the power and the glory are yours. 

Now and for ever.
Amen.
 
Steve
It's been a joy to worship with you this morning and to praise our Living Lord.  As Christians we live in the hope of meeting the risen Christ face to face – one day we shall see him – crowned with Many Crowns,  and  bearing the wounds he bore for us.  Our final hymn, Crown Him with many Crowns.
Hymn: Crown Him with Many Crowns

Steve
Many the Living God, Father, Son and Spirit, in all the circumstances of your life, Meet you in your needs, strengthen you in your faith, and raise you to fullness of life in Him.
Amen
MUSIC TO CLOSE