Main content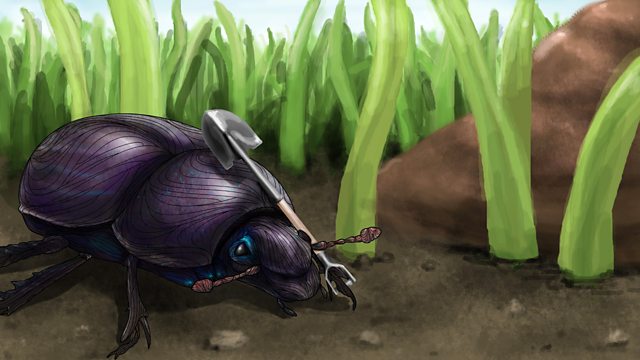 Beetles
Beetles represent 20 per cent of all living species. Brett Westwood explores how they have influenced arts and science around the world.
Beetles, in the group of insects known as Coleoptera or 'sheathed wing', make up roughly one quarter of all known living species on the planet, that's about 400,000 species. It's perhaps not surprising that beetles are at the heart of the many ways we take inspiration from nature.
"Ladybird, ladybird, fly away home,
Your house is all burned and your children are gone....."
This nursery rhyme is one of many across Europe that demonstrates our close relationship with ladybirds. Peter Marren, leading wildlife author, explains the story behind the rhyme and why the ladybird in folklore is seen as 'Our Lady's Bird'. The beetles collection at the Natural History Museum reveals the gold and silver beetles of the Cloud Forests of Costa Rica collected by Walter Rothschild in 1894. These beetles have evolved to evade predators with wing covers that reflect light and mimic drops of rain. Scarab beetles found in Ancient Egypt had a huge impact on both the ecology and culture of the region and we find out why they were revered as sacred.
In many cultures across the world, from Asia and India to the Americas, beetle wings have been gathered for centuries and crafted into textiles and jewellery. In the Amazon region, the Shaur tribe incorporated beetle wings into ceremonial dress to enhance their prowess as warriors.
With poetry by John Clare and a nursery rhyme written by A.A. Milne, we celebrate the beetle and the role it plays as both an exotic and mundane creature whose biology is so extraordinary that some scientists now wish to copy it. The new science of Biomimetics is evolving fast and beetles, with all their varied forms and irresistible structural colours, may yet prove as invaluable in our future as they have been in our past.
Last on