Main content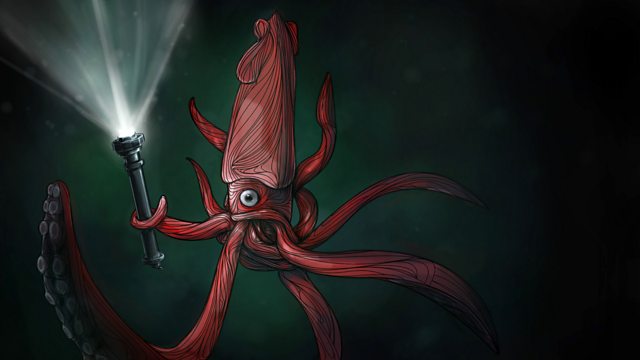 Giant Squid
Brett Westwood delves into the mysteries surrounding giant squid to ask why it is portrayed as a Kraken lurking in the deep when studies show a timid, misunderstood creature.
Brett Westwood tries to uncover the truth about the elusive giant squid. Is it the monster literature portrays lurking in the deep of the ocean or a timid misunderstood creature?
Tennyson evokes the deep, slumbering Kraken as a monster slumbering in the cold, dark depths of the ocean. Twenty Thousand Leagues brings that monster into focus as it tries to drag a ship underwater and devour the terrified crew. Where did these stories come from?
The Odyssey was the first known piece of literature to suggest a tentacle beast of the sea and it has never left our imagination. Yet when a giant squid was filmed by Japanese scientists, and then one was fished out of the ocean near the Falklands, we now see that giant squid are extraordinary, rather beautiful creatures.
Far from being a terrifying monster they peck delicately at their food and are afraid of loud noises. For a monster they are remarkably timid. With recent discoveries and increasing knowledge have we vanquished the monster from the deep? Or will our need for monsters mean we create another, even stranger beast? Or perhaps now that our sea faring days exploring the unknown oceans are over will our monsters come from outer space, the last frontier?
Will we always need a monster to scare us? Many academics say yes - if you want to know what a society is frightened of, look at its monsters.
Last on
Yes, they really do have beaks and doughnut-shaped brains.
Clips

Broadcasts