Main content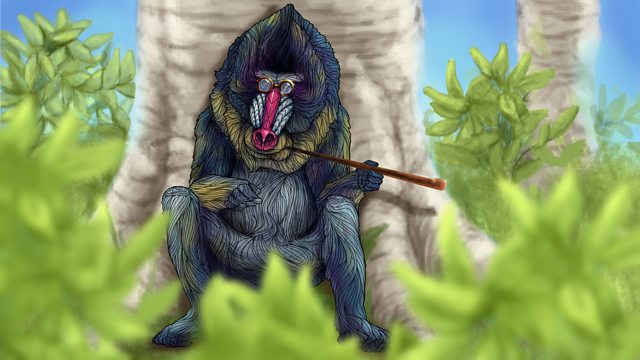 Monkeys and Apes
New series exploring nature that has had a profound impact on human culture and society across history. Staring into the eyes of an ape is like looking in the mirror of humanity.
Happy Jerry was a mandrill who found his way to London on a slave ship and ended up smoking a pipe and having dinner with the king. It is a curious tale of humanity in search of itself.
Peering into the eyes of a primate we see a reflection of ourselves and that has been an enduring fascination through time. It was thought in the 18th Century that the only reason chimps didn't talk in front of people was because they were afraid we would enslave them.
From King Kong to the PG Tea chimps, we have exploited their similarity to ourselves to create fear and humour. They are so similar yet so different, so close to our behaviour yet they shock and appal us with their distinctly animal like traits.
In Victorian times gorillas were often presented in museums in a ferocious pose charging towards the observer, a pose more reflecting the fact it was being shot at and defending itself rather than a true likeness of the reality of ape life. Today however they are seen as dignified vegetarians of the forest, huge yet gentle, demanding our hushed respect.
Documentaries on primates are always amongst the most popular as we pick apart their lives for yet ever more detailed clues about how we are alike yet still worlds apart.
Last on
Fascinating facts about the creatures most like us.

Mr A. Mandrill has had enough. He's trying to bring a legal case against the human race.

Richard Sabin explains why comparative anatomist Edward Tyson is his Natural History Hero.

Natural Histories producer Mary Colwell writes about our attempts to understand apes.
Broadcasts

Featured in...
A selection of programmes and clips about monkeys and apes.

A collection of programmes about natural history.