Main content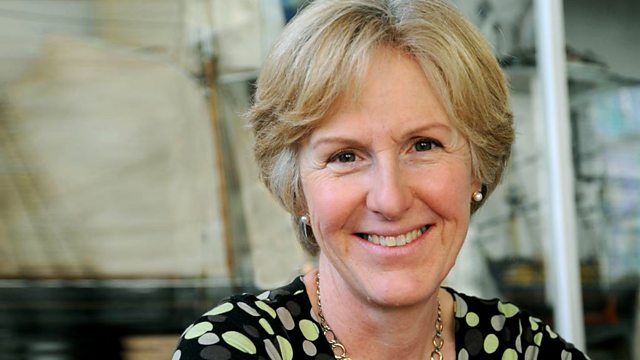 Haydn from Sweden
Catriona Young's selection incldudes the Swedish Radio Symphony Orchestra performing music by Haydn.
Haydn from the Swedish Radio Symphony Orchestra. With Catriona Young.
12:31 AM
Haydn, Joseph
Symphony no. 94 in G major H.1.94 (Surprise)
Swedish Radio Symphony Orchestra; Philipp von Steinaecker
12:56 AM
Haydn, Joseph
The Seasons: Spring; Summer
Dorothea Röschmann (soprano), Joachim Bäckström (tenor), Andrew Foster-Williams (baritone), Swedish Radio Symphony Orchestra, Philipp von Steinaecker (conductor)
2:06 AM
Wikander, David [1884-1955] [text by Jandel, Ragnar]
Forvarskvall (An evening early in spring)
Swedish Radio Choir, Eric Ericson (conductor)
2:11 AM
Wikander, David (1884-1955) [lyrics Bengt E. Nyström]
Varen är ung och mild
Swedish Radio Choir, Gustav Sjökvist (conductor)
2:14 AM
Strauss, Richard [1864-1949]
Till Eulenspiegels lustige Streiche (Op.28)
Warsaw Philharmonic Orchestra, Miguel Gomez Martinez (conductor)
2:31 AM
Halevy, Jacques-Francois [1799-1862]
Aria: "Quand de la nuit l'epais nuage" (from "L'eclair", Act 3)
Benjamin Butterfield (tenor); Canadian Opera Company Orchestra; Richard Bradshaw (conductor)
2:37 AM
Bizet, Georges [1838-1875]
L'Arlesienne - suite no.1 ]
RTV Slovenia Symphony Orchestra; Marko Munih (conductor)
2:55 AM
Buxtehude, Dietrich [1637-1707]
Prelude in G minor (BuxWV.149)
Lorenzo Ghielmi (harpsichord)
3:02 AM
Beethoven, Ludwig van (1770-1827)
Sonata in C major Op.102'1 for cello and piano
Sol Gabetta (cello), Bertrand Chamayou (piano)
3:18 AM
Elgar, Edward [1857-1934]
Cockaigne (In London Town)- overture Op. 40
BBC National Orchestra of Wales, Jac van Steen (conductor)
3:33 AM
Françaix, Jean (1912-1997)
Le Gai Paris for wind ensemble
Wind Ensemble of the Hungarian Radio Orchestra
3:44 AM
Dvorák, Antonín (1841-1904)
Prague Waltzes (Prazske valciky) (B.99)
Slovak Radio Symphony Orchestra Bratislava, Stefan Róbl (conductor)
3:52 AM
Couperin, Francois (1668-1733) arranged by Bartók, Béla (1881-1945)
Les Barricades mysterieuses
Jan Michiels (piano)
3:55 AM
Monteverdi, Claudio (1567-1643); text: Ottavio Rinuccini (1562-1621)
Lamento della ninfa (from libro VIII de madrigali - Venice 1638)
Concerto Italiano; Rinaldo Alessandrini (harpsichord & director)
4:01 AM
Salieri, Antonio (1750-1825)
Overture La grotta di Trofonio
Stavanger Symphony Orchestra, Fabio Biondi (conductor)
4:07 AM
Chopin, Frédéric (1810-1849)
Barcarolle for piano (Op.60) in F sharp major
Ronald Brautigam (piano - Erard Grand of 1842)
4:16 AM
Boccherini, Luigi [1743-1805]
La Musica Notturna delle strade di Madrid Quintet No 6, Op 30 (G.324)
Polish Radio Symphony Orchestra, Wojciech Rajski (conductor)
4:31 AM
Prokofiev, Sergey (1891-1953)
Cinderella's waltz from Zolushka - suite no.1 (Op.107)
BBC Philharmonic, Vassily Sinaisky (conductor)
4:36 AM
Vivaldi, Antonio (1678-1741)
Nulla in mundo pax sincera for soprano and orchestra (RV.630)
Emma Kirkby (soprano), Academy of Ancient Music, Andrew Manze (director) (Encore)
4:43 AM
Jeanjean, Paul (1874 - 1928)
Prelude and Scherzo for bassoon and piano
Bálint Mohai (bassoon), Monika Michel (piano)
4:52 AM
Dvorak, Antonin [1841-1904]
Polonaise for orchestra in E flat major
Slovak Radio Symphony Orchestra in Bratislava, Ludovít Rajter (conductor)
4:59 AM
Kapsberger, Giovanni Girolamo [c.1580-1651]
Toccata arpeggiata, Toccata seconda, and Colascione for chittarone
Lee Santana (theorbo)
5:07 AM
Debussy, Claude (1862-1918)
Sonata for violin and piano in G minor
Janine Jansen (violin), David Kuyken (piano)
5:22 AM
Bach, Johann Sebastian (1685-1750), orch. Schoenberg, Arnold (1874-1951)
Chorale Prelude (BWV.654)
Sydney Symphony Orchestra, Edo de Waart (conductor)
5:30 AM
Brahms, Johannes (1833-1897), orch. Arnold Schoenberg in 1937
Piano Quartet in G minor, Op.25
Sydney Symphony Orchestra, Edo de Waart (conductor)
6:12 AM
Farkas, Ferenc (1905-2000)
5 Ancient Hungarian Dances for wind quintet
Galliard Ensemble
6:22 AM
Piazzolla, Ástor Pantaleón (1921-1992)
Adiós Nonino
Ingrid Fliter (piano).