Main content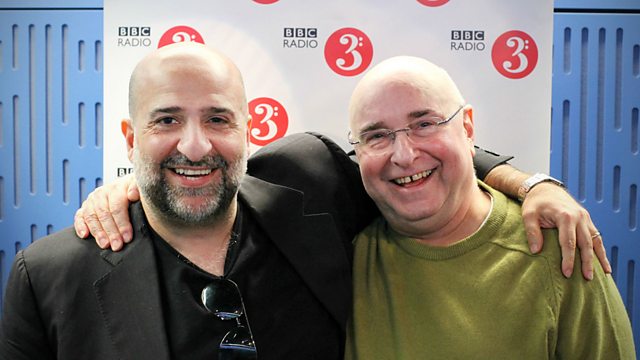 Thursday - Rob Cowan with Omid Djalili
With Rob Cowan. Including Five Reasons to Love Dvorak's Slavonic Dances; Musical challenge; Artist of the Week: pianist Grigory Sokolov, featured in Chopin's Preludes, Op 28.
9am
A selection of music including '5 reasons to love... Dvorák's Slavonic Dances'. Dvorák's dances were an instant hit on their publication in 1878, propelling the Czech composer to international fame. A second set brought the total to sixteen dances. Throughout the week Rob makes the case for these miniature masterpieces, showcasing interpretations by conductors including Rafael Kubelik, Jean Martinon and Václav Talich.
9.30am
Take part in our daily musical challenge: listen to the story and tell us what happens next.
10am
Rob's guest is the stand-up comedian and actor Omid Djalili. Omid has a varied career across stage and screen and is well known for his popular sketch shows and sell-out international tours. He will be sharing a selection of his favourite classical music with Rob every day at 10am.
10.30am
Following on from Offenbach's Tales of Hoffman on Monday, Rob explores other works with literary connections.
11am
Rob's artist of the week is Russian pianist Grigory Sokolov, whose performances display virtuosity, poetry and insight in equal measure. Sokolov is regarded as one of the greatest living pianists in Europe, but his refusal to make studio recordings has meant a relative lack of recognition in the UK and USA. This is starting to change following his recent contract, for live recordings only, with Deutsche Grammophon. Throughout the week Rob explores Sokolov's penetrating interpretations of masterpieces from Bach to Prokofiev and Stravinsky, by way of Mozart, Beethoven, Chopin, Brahms and Scriabin.
Chopin
Preludes, Op 28.
Imperfect Harmony
The two pieces played simultaneously were:
Rimsky-Korsakov 
Sheherazade: The Festival at Baghdad – The Sea – Shipwreck - Conclusion 
Kirov Orchestra 
Valery Gergiev (conductor) 
DECCA 470 840-2
Brahms 
Symphony No. 4: 4th movement 
Vienna Philharmonic Orchestra 
Carlos Kleiber (conductor) 
DG 457 7062