Main content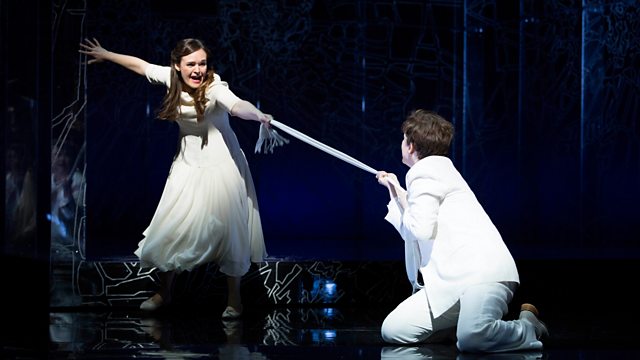 Gluck's Orfeo ed Euridice
From the Theatre Royal in Glasgow, Gluck's opera Orfeo ed Euridice, based on the Greek myth. Featuring Caitlin Hulcup as Orfeo and conductor Kenneth Montgomery.
Tonight's opera Gluck's Orfeo ed Euridice based on the Greek myth, follows the fortunes of Orfeo (sung by Caitlin Hulcup) who is distraught at the loss of his lover Euridice (sung by Lucy Hall) and will do anything to get her back. With the help of Amore (Ana Quintans) Orfeo is given permission to retrieve Euridice from the Underworld so long as he does not look at her until they are safely returned. The inevitable misunderstandings and upset arise between the lovers and a tragic ending is only averted through a second intervention by Amore who decides that Orfeo has proved his love and Euridice can be saved after all. Ashley Page highlights the story with the inclusion of contemporary dance sequences in the Underworld and chorus scenes. Kenneth Montgomery conducts this new production recorded at the Theatre Royal, Glasgow.
Orfeo.....Caitlin Hulcup (mezzo-soprano)
Euridice.....Lucy Hall (soprano)
Amore.....Anna Quintans (soprano)
Orchestra of Scottish Opera
The Chorus of Orfeo ed Euridice
Kenneth Montgomery (conductor).
Synopsis
ACT I. 
The poet and singer Orfeo grieves before the tomb of his young wife, Euridice, as a group of shepherds and shepherdesses place tributes on her grave ("Chiamo il mio ben così"). Orfeo is touched by their laments, but his sorrow is acute and he asks to be left alone. He calls on the spirit of his beloved wife to hear his despair; then, cursing the gods for having taken Euridice from him, he resolves to descend to Hades and brave the Furies to find her. As he speaks, Amor, the god of love, appears and announces that the other gods, moved by Orfeo's despair, will allow him to reclaim his wife from the underworld ("Gli sguardi trattieni"). There is one condition, however: He must not look at her until they have returned to the upper world. Alone once more, Orfeo can scarcely believe what has happened, but, conquering his fears, he sets out for the infernal regions, using his lyre as a shield.
ACT II
At the entrance to the underworld, the Furies who stand guard demand to know the identity of the bold intruder. Orfeo plays his lyre and begs them to take pity on his tears. At first they refuse and try to frighten him away. But the Furies at last respond to his eloquent song; when Orfeo repeats his request, they recede, allowing him to approach the gates of hell.
In the Elysian Fields, a group of blessed spirits dances serenely. They depart, and Orfeo enters searching for his wife. Though he pauses to delight in the scene, he says that only the sight of Euridice can ease his grief ("Che puro ciel"). The Shades, hearing his plea, lead in the veiled Euridice. Orfeo joyfully grasps her hand and, taking care not to look at her, begins the journey back to the upper world. As they leave, the blessed spirits wish them well ("Torna o bella").
ACT III. 
Orfeo urges his wife to hurry as he leads her toward the upper world. He has obeyed the gods' injunction that he must not look at her throughout their journey. Euridice, stopping for a moment to celebrate her reunion with her husband, soon becomes anxious. Why will Orfeo not look at her? Has death faded her beauty? With difficulty Orfeo keeps his face turned away and exhorts his wife to have faith and continue their ascent. Euridice laments that she has been liberated from death only to face the colder fate of unrequited love ("Che fiero momento"). Unable to resist her anguished pleas, Orfeo defies the gods' command and turns to embrace his wife, who at once breathes a farewell and dies. Overcome with grief and remorse, the poet cries that life has no meaning for him without Euridice ("Che farò senza Euridice?"). Preparing to take his own life, he resolves to join his wife in death. Before he can do so Amor appears and announces that Orfeo has passed the tests of faith and constancy and restores Euridice to life. The happy couple returns to the upper world, where they are greeted by friends, who perform dances of celebration. Orfeo, Amor and Euridice praise the power of love.