Main content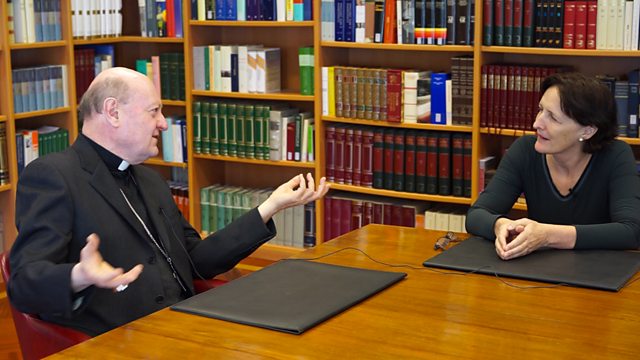 Contemporary Art and the Church
Fiona Shaw questions the perceived contradiction that exists between contemporary art and the Christian church. With Monsignor Gianfranco Ravasi, Cornelia Parker and Dorothy Cross.
Inspired by the Vatican's new initiative to have its own pavilion at the world's greatest contemporary art show, the Venice Biennale, Fiona Shaw travelled to Rome to meet Gianfranco Ravasi, the Cardinal pushing to reignite the Holy See's relationship with new art.
With recordings from the 56th Venice Biennale 2015 (when this programme was first broadcast).
Since the big bust up with contemporary art at the beginning of the 20th century; the so-called "evil" force of Modernism that Pope Pius X believed "led to the annihilation of all religion", the Christian church has been a cautious commissioner of contemporary art. But a voice from within, that of Ravasi, President of the Pontifical Council for Culture, is set to end the stand-off.
Fiona hears Ravasi's passion to reinstate "the marriage between art and faith".
Ravasi has said, "There is an insoluble problem in the coexistence of art and religion and faith, but there's no need for the Catholic Church to retreat and lose contact with the contemporary art world by remaining stuck in the "reliable" neo-Gothic, neo-Romantic, neo-Classical styles that are perfectly coherent with religion...It's time to grow our relationship with the creative artists and creative energy of the artist... "
The Anglican church of St-Martin-in-the-Fields has been reaching out to contemporary artists for a decade while Canon Mark Oakley at St Paul's Cathedral in London is equally committed, recently commissioning American video artist Bill Viola to create Messenger for the cathedral.
Artists Cornelia Parker and Dorothy Cross discuss the inspiration of Christian stories and iconography in their own work and reflect on the contradiction of contemporary art and the Church, given that art sets out to ask questions, while the Church exists to console, to answer questions.
First broadcast in May 2015.
Last on
Broadcasts