Main content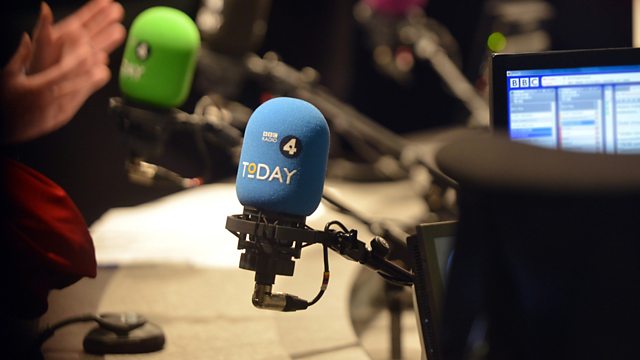 28/05/2015
Morning news and current affairs. Including Sports Desk, Yesterday in Parliament, Weather and Thought for the Day.
Clips

Today's Running Order
0650
FIFA president Sepp Blatter is due to make his first public appearance since yesterday morning's arrests of senior FIFA officials at the opening of their meeting in Zurich. US prosecutors have accused several officials from FIFA of racketeering, fraud and money laundering involving tens of millions of dollars.
Jon Arnold is an editor at the U.S. edition of Goal.com and an expert in the Confederation of North, Central American and Caribbean Association Football.
0710
The Methodist Church in Britain publishes a report today that tries to assess the extent of physical and sexual abuse related to the church in most of the post-war era.
Jane Stacey, former Deputy Chief Executive of Barnardo's, led the review.
0715
FIFA – see above. Stefan Szymanski is Professor of Sports Management and Economics at the University of Michigan. His book 'Money and Football' is being published next week.
0720
Joseph Mitchell set out for New York in 1929, with the dream of becoming a reporter; he would go on to become an acclaimed chronicler of life in the city, winning a keen following for his work in the New Yorker. Over a period of time though, the gaps between his published articles grew until there were decades in which his by-line barely appeared.
His biographer is Thomas Kunkel.
0730
As the EU Referendum Bill is introduced to Parliament today, David Cameron begins a frantic tour of the European Union aimed at convincing other European leaders of his vision of a new agreement with the EU.
Lord Jay is former Permanent Under-Secretary at the Foreign Office and was involved in negotiating with Denmark.
0745
FIFA – see above. Yesterday's charges laid against international football officials by the FBI has put the new US Attorney General, Loretta Lynch in the spotlight.
Correspondent Gary O'Donoghue reports from New York.
0750
Methodist Church in Britain abuse inquiry – see above. The church acknowledges that many of those who suffered weren't given a proper hearing.
Abuse survivor Frank (not his real name) spoke to us. Gareth Powell is the assistant Secretary of Conference from the Methodist Church.
0810
FIFA – see above. Lord Goldsmith was a member of the Independent Governance Committee set up to reform FIFA in 2011 and 2012.
Lord Triesman was Head of the FA and the Chair of the Board of the England 2018 World Cup bid, until he resigned after being caught in a newspaper sting accusing other countries of using bribes in the bid process.
0820
Why do literary types look down on "genre" fiction? Are genre labels like "fantasy" and "science fiction" pejorative terms, or labels to be proud of?
Novelist Kazuo Ishiguro's latest book, The Buried Giant, uses fantasy motifs. He is in discussion with Neil Gaiman, one of the world's most successful writers.
0840
EU Referendum Bill – see above. We'll hear from foreign secretary, Philip Hammond.
0850
In the next fortnight, Turkey goes to the polls in an election that will be a key indicator of the strength of the ruling AK party.
Correspondent Mark Lowen is travelling across Turkey. 
All subject to change.<?xml:namespace prefix = o ns = "urn:schemas-microsoft-com:office:office" />