Main content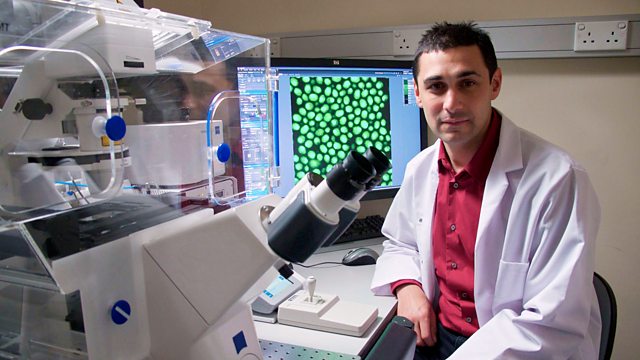 The Business of Genetic Ancestry
A credit card and a tube of saliva is all you need to take a DNA ancestry test. Adam Rutherford investigates what cheap gene sequencing can and cannot tell us about our ancestry.
A DNA test can help you find your long lost parents and allow you to build your family tree, but when it comes to our deep ancestry, the story is a lot more uncertain, despite what commercial testing companies may claim.
Dr Adam Rutherford investigates what modern gene sequencing can (and can't) tell us with scientific certainty and separates the hype and hyperbole from the often complex picture presented by modern gene sequencing
At "the world's biggest family history show": Who Do You Think You Are? at the NEC in Birmingham, he talks to the super sleuths tracking down their ancestors and he hears the moving story of Helen and Julia, mother and daughter. Julia spent 20 years fulfilling a promise made when she was just ten years old... to find the identity of her mother's birth parents. Through DNA she found her mother's American GI father and discovered her four half siblings, despite the fact every single piece of information in the adoption file was wrong!
But when it comes to our deeper history, we have millions, even billions of ancestors, and from a mitochondrial DNA or Y chromosome DNA test, being told you're descended from the Romans, the Vikings, the Celts, or that you're a direct descendant of Charlemagne or Genghis Khan is both true, and meaningless. Some population geneticists have likened such story-telling to "genetic astrology".
Adam talks to Professor Mark Jobling from the University of Leicester, Professor Mark Thomas from University College London and to Debbie Kennett, author, blogger and member of the International Society of Genetic Genealogy, about the scientific lines they believe some genetic ancestry companies cross, when they provide people with stories about their ancient ancestors and their ancient genetic homelands.
Producer: Fiona Hill.
Last on
Broadcasts