Main content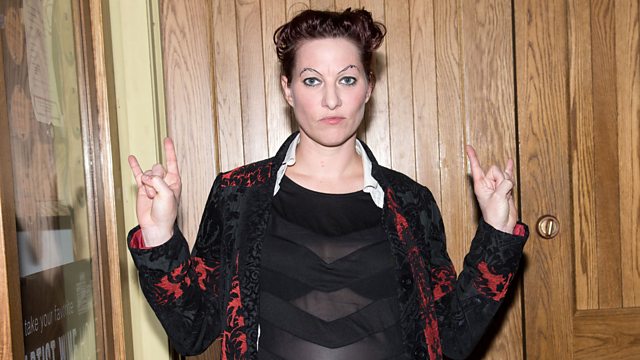 Rock Star Amanda Palmer on the Art of Asking
Rock star Amanda Palmer asks why people are afraid to ask for help. Plus Labour leadership candidate Mary Creagh, money and relationships and 4 Girls 4 Harps. Jane Garvey presents.
American performer Amanda Palmer gave a TED talk in 2013 entitled the Art of Asking She has since expanded it into a book of the same name. She draws on her own personal experiences in life and as a performer to explore what it means to ask.
Labour leadership candidate Mary Creagh the MP for Wakefield on why she wants to be the next Leader of the the Party.
What can you do if your child is overweight? At what point do you decide their weight is a problem? And how should it best be tackled?
Plus money and relationships, Relate Ambassador, Anjula Mutanda, on how to achieve financial harmony.
And live music from 4 Girls 4 Harps.
Presented by Jane Garvey.
Producer Beverley Purcell.
Chapters
AMANDA PALMER

Duration: 10:28

MONEY AND RELATIONSHIPS

Duration: 05:07

MARY CREAGH

Duration: 10:06

WEIGHT PROBLEMS IN CHILDREN

Duration: 09:19

4 GIRLS 4 HARPS

Duration: 05:44

AMANDA PALMER

American performer Amanda Palmer gave a TED talk in 2013 entitled the Art of Asking that has since been viewed by over seven million people.   She has since expanded it into a book of the same title, which rapidly turned into a New York Times bestseller. Amanda initially came to fame as one half of The Dresden Dolls and most recently as lead singer and songwriter of Amanda Palmer and the Grand Theft Orchestra. She has always been very engaged with her fan community and through crowdfunding  and the support of her fans, she raised over $1 million dollars to pay for her album, Theatre is Evil, She was heavily criticised afterwards when she announced on her website that, as usual, she was seeking fans to play for free with her Grand Theft Orchestra on her 2012 tour.  She drew on this as well as other experiences in her personal life and life as a performer to explore what it means to ask.

The Art of Asking or How I Learned to Stop Worrying and Let People Help is out now

MONEY AND RELATIONSHIPS

Following the revelation that some wealthy American bankers' wives are being paid an annual 'bonus' by their husbands, how can couples make sure the financial aspects of their relationship work for both of them?  A survey by Relate, which provides support and counselling for all types of relationships, asked people to identify the top challenges. This revealed that money worries were the biggest problem, with 62% of people saying they are one of the biggest strains to relationships.  So how can couples make sure disagreements about money don't come between them?  Anjula Mutanda is a Relate Ambassador, Psychologist and author of 'How To Do Relationships.'  She joins Jane to reveal the secrets of financial harmony.

MARY CREAGH

Labour leadership candidate Mary Creagh the MP for Wakefield  talks to Jane Garvey about why she wants to lead the Party.  What's her vision for Labour as it seeks to rebuild itself after failing to persuade the British people to elect it into Government. 

WEIGHT PROBLEMS IN CHILDREN

Children born since the 1980s are up to three times more likely than older generations to be overweight or obese, and a fifth of boys and quarter of girls born after 1990 are obese by the time they are 10. That's according to new research announced this month by University College London. The head of the NHS, Simon Stevens, warned the nation's children are facing a 'rising tide' of cancer, heart disease, and diabetes, and Health Secretary Jeremy Hunt has vowed to make tackling the problem a Government priority. So what can you do as a parent if your child is overweight? At what point do you decide their weight is a problem? And how should it best be tackled? Jane is joined by GP and Associate Professor at Imperial College London Dr Sonia Saxena, who has conducted a 5 year research project on childhood obesity for the National Institute of Health Research.

 

4 GIRLS 4 HARPS

4 Girls 4 Harps is an all-female ensemble made up of four friends all aged in their early 30's. They've been together for 15 years and in that time has created over 40 new pieces of works and arrangements for harp quartet. They join Jane to talk classical music, women in music and perform live on the programme.




Credits

| Role | Contributor |
| --- | --- |
| Presenter | Jane Garvey |
| Interviewed Guest | Amanda Palmer |
| Interviewed Guest | Mary Creagh |
| Performer | Harriet Adie |
| Performer | Eleanor Turner |
| Performer | Keziah Thomas |
| Performer | Elizabeth Scorah |
| Interviewed Guest | Anjula Mutanda |
| Interviewed Guest | Sonia Saxena |
| Producer | Beverley Purcell |