Main content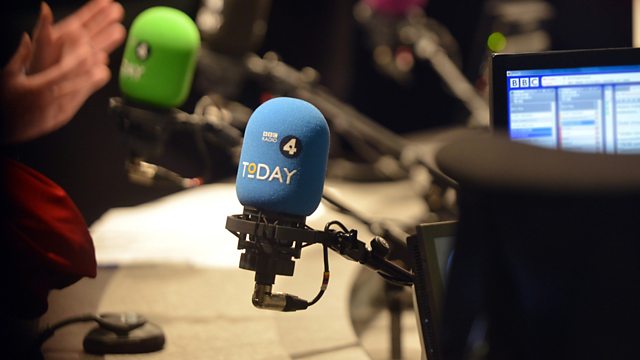 26/05/2015
Morning news and current affairs. Including Sports Desk, Weather and Thought for the Day.
Today's running order
0650
The National Trust has spent more than a million pounds on a stretch of coastline in north Wales. The acquisition of land on Great Orme is part of its campaign to protect special seaside areas. Dame Helen Ghosh is director general of the National Trust.
0710
It is possible that this year may be one of the hottest on record.  This is because of the El Nino effect which was confirmed in Australia this month after months of analysis and speculation.  Now the first data is released by the Australian Bureau of Meteorology since it declared that El Niño has officially started. Dr Andrew Watkins is climate prediction manager for the Australian Bureau of Meteorology. Emily Black is climate scientist at the National Centre for Atmospheric Science.
0715
Figures obtained by BBC 5 Live show that more than half a million pre-payment gas and electricity meters have been forcibly installed in people's homes under court warrant over the past six years.  The energy regulator, Ofgem, has begun an investigation and says the practice should be used only as a last resort.  Philip Cullum is consumers & sustainability partner at Ofgem.
0720
The cost of labour in France has long been a point of criticism of its economy, although the French model of high taxation and generous benefits is hailed by its supporters as bringing relative equality to the workforce. However, over the past few years, France has seen a fracture in that workforce, amid a dramatic shift in jobs and working practices. In the first of a special series on the French economy, our Paris correspondent Lucy Williamson has been to Cannes on the French Riviera, to explore this new divide.
0730
Tomorrow's Queen's Speech will include a Housing Bill that will aim to deliver the Conservatives' manifesto promise to extend Right to Buy to 1.3 million housing association tenants. The original 1980s policy, extended in 2012 with bigger discounts, applies only to homes owned by local authorities. Greg Clark is secretary of state for communities & local environment.
0745
You might remember five years ago when a huge cache of treasure was unearthed in Staffordshire, dating back to the 7th century. Painstaking work has been going on since then to identify all of the fragments, and today two previously unseen artefacts are going on display. Conservators have grouped together hundreds of pieces into the remains of a high status warrior helmet; a unique sword pommel has also been identified. Pieta Greaves is lead conservator on the Staffordshire Hoard.
0750
The week since the city of Ramadi in Iraq fell to Islamic State has been marked by very different assessments from the Iraqi and the American governments. The US says the Iraqis showed 'no will to fight', the Iraqi prime minister says his troops could take Ramadi back in days, as long as they had more coalition support. The journalist Ayman Oghanna left Ramadi just before it was overrun by IS.
0810
Former Scottish Secretary Alistair Carmichael is facing more calls for him to resign over his leaked memo about Nicola Sturgeon. The SNP candidate who stood against him says his position is untenable. Speaking to BBC Radio Orkney, Mr Carmichael said: "I have said already that I very much regret the position I am in. I have been the Member of Parliament for Orkney and Shetland for the last 14 years. I have worked hard for local people and believe that's the record on which I am entitled to rely and that's the job that I am now going to be getting on with. None of that has changed." Sir Malcolm Bruce is former deputy leader of the Lib Dems.
0820
We all know the story of the space race: After being caught on the hop when the Russians launched the first man into space, the Americans got their act together and from then on it was one triumph after another culminating in those famous words as Neil Armstrong stepped out onto the surface of the moon.  Well, that's one version. In fact it was the Russians who led the way in space and many thought that it would be a Russian cosmonaut, rather than an American astronaut, who'd be the first to walk on the moon.  That 'unsung' history is to be the subject of a new exhibition at the Science Museum in London, opening in September. Our science editor Tom Feilden reports.
0825
France and Germany have jointly outlined their vision for deepening integration within the Eurozone. The document was seen by the French newspaper Le Monde who reported it as sent to the European Commission President Jean-Claude Juncker. Calls to deepen integration are WITHIN the current treaties and there is no mention of changing the treaties themselves. This could make David Cameron unhappy just when he's started his charm offensive to woo European leaders on the changes that he wants for the UK. Katya Adler is the BBC's Europe Editor.
0835
Figures obtained by BBC 5 Live show that more than half a million pre-payment gas and electricity meters have been forcibly installed in people's homes under court warrant over the past six years (see 0715). Audrey Gallacher is director of energy at Citizens Advice. Lawrence Slade is chief executive of Energy UK.
0845
On the publication of multi-million selling pop-economics book Freakonomics ten years ago, the authors, Steven Levitt and Stephen Dubner, set up a blog to explore the stranger aspects of our economic behaviour. Now, 8,000 blog posts on, they've released a book of the best, pondering the rate of return of bank robbery and the possibility of a sex tax, among the multitude of topics. Stephen Dubner is co-author of Freakonomics and new book When to Rob a Bank.
0850
As part of the government's GREAT campaign, Couturier Nicholas Oakwell has made a gown to celebrate the finest that Britain has to offer. The dress, covered in just under 200,000 individual feathers, hand-dyed into 18 different colours, and 450 rubies, will start a tour of the world next week, covering Paris, Milan, Berlin, and the Americas before heading back to the UK. We speak to Couturier Nicholas Oakwell.
0855
Will new parties be created and will the old ones fade, or transform into something new, under the weight of their own contradictions? For instance, a new pro-union party of the left in Scotland.  And UK wide, are people more likely to become involved with single issue campaigns rather than traditional parties? Pamela Nash is former Labour MP for Airdrie and Shotts and was the baby of the house. Mel Usher is a Frome Town Council independent Councillor and is part of the "Flatpack Democracy" project.
All subject to change.