Main content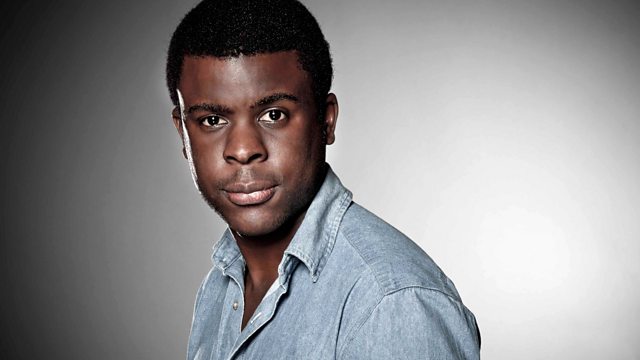 Samuel Johnson - Rasselas, Prince of Abyssinia
4 Extra Debut. Rasselas and companions follow a quest for happiness to Cairo, encountering Arab Spring revolutionaries. Stars Ashley Zhangazha.
An intriguing, contemporary take on Samuel Johnson's classic tale of an African prince in search of happiness.
A star cast is led by Ashley Zhangazha as Rasselas, Jeff Rawle as Samuel Johnson and Lucian Msamati - the RSC's first black Iago - as the poet Imlac. Singer and actor Cynthia Erivo makes her BBC radio drama debut as Princess Nekayah.
Recorded on location at Dr Johnson's House, 17 Gough Square, in the City of London - the very place where over 260 years ago, Johnson compiled his famous dictionary and then in January 1759, wrote his instant bestseller 'Rasselas' in a week, to pay for his mother's funeral.
Acclaimed 18th century philosophy fuels a contemporary desert road trip in this inventive and playful adaptation by Jonathan Holloway. Period and modern collide in a satirical fantasy as Rasselas and his companions follow their quest for happiness and purpose to Cairo, where they encounter Arab Spring revolutionaries.
Jonathan Holloway's drama also incorporates a compelling glimpse of Johnson himself - the lonely, 50-year-old celebrity and writer, in debt, in poor health, and missing his young Jamaican manservant, Francis Barber, who had run away to sea. Born a slave, Barber was freed at Johnson's insistence and
treated kindly by him.
Johnson had struggled through many years of poverty before moving to Gough Square and becoming a highly respected writer. 'Rasselas', his singular, progressive rumination on human happiness, is his only novel and his most popular work.
Samuel Johnson ..... Jeff Rawle
Arthur Murphy ..... Kevin Trainor
Princess Nekayah ..... Cynthia Erivo
Prince Rasselas ..... Ashley Zhangazha
Imlac ..... Lucian Msamati
Aeronaut ..... Richard Cordery
Pekuah ..... Adjoa Andoh
AJ ..... Gabriel Mokaké
Ahmed ..... Amir El-Masry
Mohammed / Intelligence Man ..... Zubin Varla
Sound design: David Chilton
Director: Amber Barnfather
A Goldhawk Essential production for BBC Radio 4 first broadcast in 2015.
By Celine Luppo McDaid, Curator, Dr Johnson's House
Credits
| Role | Contributor |
| --- | --- |
| Samuel Johnson | Jeff Rawle |
| Arthur Murphy | Kevin Trainor |
| Princess Nekayah | Cynthia Erivo |
| Prince Rasselas | Ashley Zhangazha |
| Imlac | Lucian Msamati |
| Aeronaut | Richard Cordery |
| Pekuah | Adjoa Andoh |
| AJ | Gabriel Mokake |
| Ahmed | Amir El-Masry |
| Mohammed | Zubin Varla |
| Intelligence Man | Zubin Varla |
| Author | Samuel Johnson |
| Director | Amber Barnfather |
| Producer | Amber Barnfather |