Main content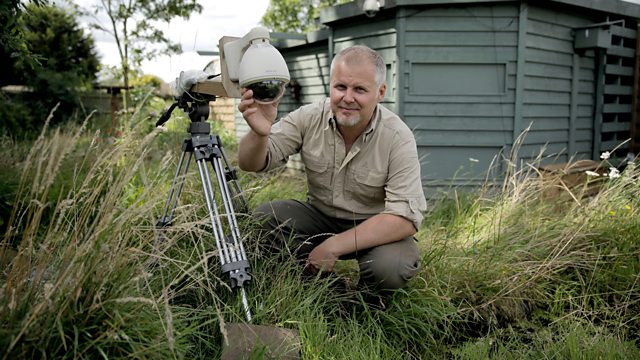 The Great British Garden Watch
Documentary series about life in contemporary Britain. A look at amateur naturalists in Britain who have transformed their gardens into intense wildlife filming environments.
Lucy Cohen's film goes behind the net curtains to discover amateur naturalists all over Britain who have transformed their gardens into intense filming environments in the pursuit of capturing the daily and nightly goings-on amongst the wildlife population. From foxes treated like family to the social lives of hedgehogs, these dogged naturalists will stop at nothing to capture that elusive shot.
We meet Jason, who has set up a network of over 30 cameras, a gadget lab in the garden and a multi-screen viewing station in the family home. With thousands of pounds invested and over a decade mastering the art of filming, nothing beats the thrill of seeing his garden chicks fledge. However, this year a predatory cat is on the prowl. Will the baby birds survive long enough to take flight?
In Somerset, LB Loxley's passion for nature is expressed in quite a different way. His garden may be small, but it is the perfect arena to hone his skills as an amateur wildlife presenter. With his wife Amanda behind the camera, there is no limit to his ambition or enthusiasm. But when an opportunity arises to flaunt his talents beyond the 12ft garden, Loxley's determination is well and truly put to the test.
Mark and Rod are a London couple whose efforts to support the plight of urban foxes sees them treat the creatures' ailments with herbal remedies. Retired couple David and Lorna are getting to grips with new technology in the hope of attracting swifts to their garden. Teenage naturalist Georgia's filming ventures take her to the school field, while twelve-year-old Findlay and his younger brother Harley would turn down an afternoon video gaming any day for the chance to explore the species in the garden.
Combining a love of nature with huge advances in amateur camera technology, this film explores the extraordinary lengths taken to capture the activities of birds, foxes and pond life, while offering a charming insight into the British population's relationship with their gardens. While the people we meet are drawn to their gardens for all sorts of reasons, what becomes clear is that they learn as much about themselves as the animals they capture on film.
Credits
| Role | Contributor |
| --- | --- |
| Producer | Lucy Cohen |
| Director | Lucy Cohen |
| Executive Producer | Mark Raphael |
| Executive Producer | Jessie Versluys |
| Production Company | Dragonfly Film and Television |