Main content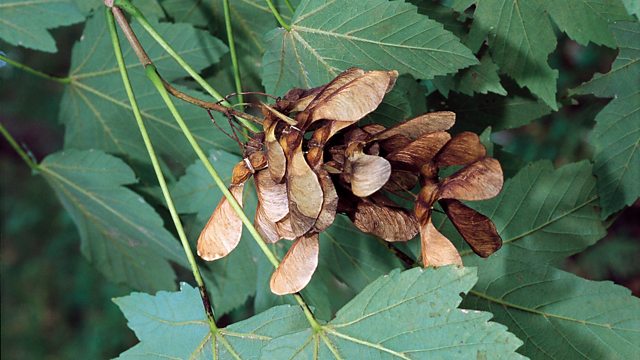 Fiona Stafford discusses the holly tree, which reaches huge proportions if not pruned annually for Christmas and has wood so dense it sinks in water.
People don't think of holly as a tree, but it is very much a tree. In fact, it is one of our oldest, most enduring trees. A major meaning of Holly is timelessness - it was around in its current form long before the dinosaurs, over 160 million years of endurance of what we see today. That is an unusual achievement and proves its meaning as perfect design. Unlike the majority of trees, Holly also symbolises the separation of the sexes, having both male and female trees. Holly also means food and capture - the berries for birds, and its bark is boiled to produce sticky bird lime which is painted onto tree barks to catch song birds for food in the many countries that did and still do eat them.
The meaning of its name is holy, long being associated with Christmas and for centuries known as the holy tree. It also meant safety from witches, holly trees growing out of the tops of hedges were reputed to stop witches running along the hedge tops.
Holly wood is slow growing and so is very hard. It's whiteness gives good staining properties, so it was coloured black and passed off as much more valuable ebony. The wood of the holly became a global name thanks to its Californian suburb and a mistake.
A third series of these popular tree essays is again written and presented by experienced essayist, Fiona Stafford, Professor of Literature at Somerville College Oxford, explores the symbolism, importance, topicality and surprises of five more trees common in the UK. Across the series of essays, our ambiguous relationship with trees is explored. The three series have prompted an illustrated book of the essays planned for 2015.
Producer - Turan Ali
A Bona Broadcasting production for BBC Radio 3.
Last on
Broadcasts