Main content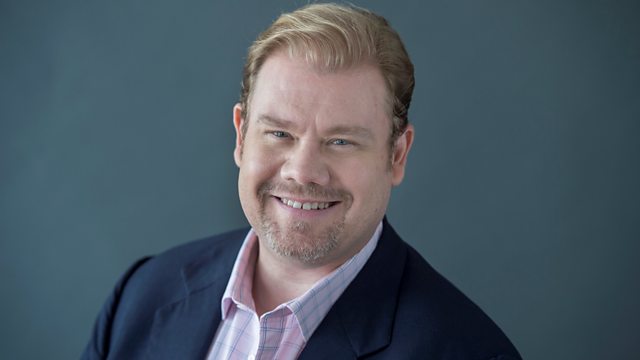 Beethoven - Fidelio
Katie Derham presents the BBC Philharmonic in a concert performance of Beethoven's opera Fidelio, with a cast including Rebecca von Lipinski and Stuart Skelton.
In today's Thursday Opera Matinee, Katie Derham presents a concert performance of Beethoven's Fidelio, given by the BBC Philharmonic at the Bridgewater Hall, Manchester earlier this month. Florestan is trapped in a dungeon, imprisioned by Pizzaro whose crimes he tried to expose. His wife Leonore decides to disguise herself as a boy in order to get work in the prison and somehow rescue him. Stuart Skelton sings Florestan, and Rebecca von Lipinski his wife and saviour.
2pm
Beethoven Fidelio
Florestan, a prisoner..... Stuart Skelton (tenor)
Leonore, his wife..... Rebecca von Lipinski (soprano)
Rocco, gaoler..... Stephen Richardson (bass)
Marzelline, his daughter..... Lucy Hall (soprano)
Jaquino, assistant to Rocco..... Benjamin Hulett (tenor)
Don Pizarro, governor of prison..... Detlef Roth (bass-baritone)
Don Fernando.King's minister..... Andrew Greenan (baritone)
First Prisoner..... Tim Ochala-Greenough (tenor)
Second Prisoner..... Edward Price (bass)
London Symphony Chorus
BBC Philharmonic
Juanjo Mena (conductor)
Followed at approx. 3.50pm by
Beethoven Symphony No 5 in C minor
BBC Philharmonic, Gianandrea Noseda (conductor).
Synopsis - Act I
SYNOPSIS
Leonore reflects back upon the day on which she managed to secure the freedom of her husband Florestan. He had been abducted and illegally imprisoned by Pizarro, Governor of the State Prison, whose arbitrary abuses of power Florestan himself had  been trying to expose. Leonore had disguised herself as a man and, under the name of Fidelio, found work as assistant to Rocco, head jailer at the prison.
ACT ONE THE PRISON COURTYARD
No. 1 Duet ('Jetzt, Schätzchen, jetzt sind wir allein') Jaquino, the prison porter, tries to propose to Rocco's daughter Marzelline, despite repeated interruptions and her indifference. Left to herself, Marzelline muses that she liked Jaquino well enough before Fidelio arrived on the scene.
No. 2 Aria ('O wär ich schon mit dir vereint')
Marzelline daydreams about what life would be like if she were married to Fidelio. Rocco arrives in time to meet Fidelio on his return from town laden with provisions, chains and the Governor's post. While Jaquino hovers jealously in the background, Rocco praises his new assistant for his
hard work and promises that his reward will not be long delayed.
No. 3 Quartet ('Mir ist so wunderbar')
Separately, each of the four gives inner voice to their emotions: Marzelline to her joy in Fidelio's love; Rocco to his pride in this 'perfect couple': Jaquino to his jealous despair: and Leonore to her confusion at this unexpected turn of events. But, Rocco reminds them, love isn't everything …
No. 4 Aria ('Hat man nicht auch Gold beineben') Only money can banish care and guarantee a happy life. Just as precious, though, Leonore replies, is trust. Why does Rocco never allow Fidelio to help him with the special prisoners down in the dungeons? Rocco agrees to ask the Governor's permission, but says there is one prisoner he is sure Fidelio will never be allowed to see. Not that the man can live much longer, he adds, since Pizarro has ordered that he be slowly starved to death. Marzelline begs her father to spare Fidelio so shocking a sight, but Leonore insists that she has the strength and courage even for that.
No. 5 Trio ('Gut, Söhnchen, gut, hab immer Mut')
As Rocco reflects that familiarity will soon harden Fidelio's heart to hardship, and Marzelline promises that her love will assuage the pain, Leonore looks forward to attaining her ultimate reward. Rocco announces that he is going to ask the Governor's permission for Fidelio not only to help in the dungeons but also to marry Marzelline.
No. 6 March
A platoon of guards signals the Governor's arrival. Among his dispatches, Pizarro finds a letter warning him that the Minister has heard of his illegal excesses and is planning a surprise tour of inspection. What if he should find Florestan alive?
No. 7 Aria with chorus ('Ha, welch ein Augenblick!') Pizarro resolves to murder Florestan without delay and exults at the prospect of avenging himself on the man who would have ruined his career. He posts a trumpeter on the prison tower to warn him as soon as the Minister is seen approaching
.
No. 8 Duet ('Jetzt, Alter, jetzt hat es Eile!')
Playing on Rocco's avarice, Pizarro attempts to bribe him into committing the crime. Rocco refuses, protesting that murder is not one of his duties. He agrees, however, to go down to the dungeon to dig the grave. The Governor himself can then follow to strike the fatal blow.
No. 9 Recitative and aria ('Abscheulicher!')
As the Governor and jailer go about their dirty work, Leonore, fearing the worst, calls upon hope and love to help her achieve her goal. When Rocco returns, Leonore begs him to open up the cells and let the prisoners out to breathe the air, secretly hoping to find Florestan among them. Conscious that Pizarro now owes him a favour, Rocco agrees, and goes off to distract the Governor's attention.
No. 10 Finale ('O welche Lust')
As the prisoners slowly emerge into the sunlight, their joy at this unexpected taste of freedom is overshadowed by their fear of being watched. Rocco returns to tell Leonore that Pizarro has agreed to both his requests, and that Fidelio can start his new duties  straightaway – by helping to dig the unknown
prisoner's grave. As Leonore steels herself to descend to the dungeons, possibly to dig her own husband's grave, Pizarro storms in, furious at the prisoners' release. Despite Rocco's protests, the Governor orders his jailer back to work, and the prisoners back to their cells.
Act II
ACT TWOSCENE ONE: THE DEEPEST DUNGEON OF THE PRISONNo. 11 Introduction and aria ('Gott, welch Dunkel hier!')Alone in the darkness, and feverish from hunger and cold, Florestan finds comfort in the knowledge that he has remained loyal to the pursuit of truth. Before passing out, he has a vision of Leonore, in the form of an angel, leading him to heaven. 
No. 12 Melodrama and duet ('Wie Kalt ist es in diesem unterirdischen Gewölbe!')Leonore and Rocco arrive to begin their grave-digging. Unable to recognise the sleeping prisoner in the dark, Leonore resolves to rescue him, whoever he may be. But, as he stirs, she recognises first her husband's voice and then his face. Unrecognised by him in turn, she offers him a sip of Rocco's wine.
No. 13 Trio ('Euch werde Lohn in bessern Welten')As Florestan prays that his unknown benefactor may be rewarded in a better world, Leonore persuades Rocco to allow her also to give the starving man a crust of bread. Rocco gives the signal for the Governor to come down.
No. 14 Quartet ('Er sterbe!')As Pizarro draws his knife on Florestan, Leonore hurls herself between them, exclaiming 'First, kill his wife!' In the ensuing confusion, a trumpet call sounds out, signalling the arrival of the Minister. Rocco orders Jaquino to escort the Governor upstairs.
No. 15 Duet ('O namenlose Freude')Reunited at last, husband and wife can hardly find words to express their joy.
SCENE TWO: THE CASTLE PARADE GROUNDNo. 16 Finale ('Heil sei dem Tag')As the assembled crowd hails the coming of the day of justice, Don Fernando, the Minister, proclaims that the King has sent him to banish tyranny: 'A brother has come to seek his brothers, to help them, if he can, with all his heart.' 'Then here is one who needs your help!' interrupts Rocco, leading in Leonore and Florestan, still in irons. He then recounts Pizarro's murderous plot and Leonore's heroic rescue. The crowd demands Pizarro's punishment. As the Governor is removed, Don Fernando leaves it to Leonore to free Florestan from his chains. All unite in praise of her wifely devotion.Synopsis © Mark Pappenheim