Main content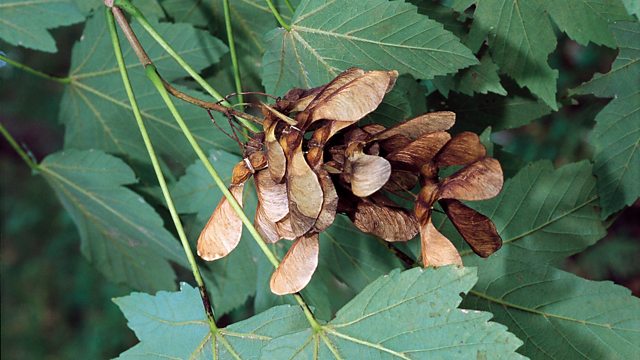 Professor Fiona Stafford discusses the horse chestnut, a tree imported from Balkans. A showy, ornamental variety, it has little use apart from conkers.
Despite being a much loved tree, the Horse Chestnut actually symbolises being there for sentiment rather than purpose, it is actually a pretty useless tree. By all means enjoy the ornamental aspect of the trees but the timber from horse chestnut is not good quality - there is plenty of it as the tree can gain bulk and volume quickly, but the wood is soft, weak and perishes easily. Its so-called chestnuts are pretty useless too. The poisons in them make processing them for food too costly. But its as conkers that its nuts make it have important meaning for us, as play and togetherness. An incomer and an imposter - from the Balkans, the name stuck, due to the horseshoe shape scars left in its trunk when the leaves fall off. It was such a raging fashion after its UK arrival that Capability Brown planted 4800 in one estate in Wiltshire alone. No wonder it has remained everywhere in the UK since. Its conkers and majestic presence will always endear it to us and this was enough for Anne Frank, who also succumbed to its charms, writing about a horse chestnut tree in the centre of Amsterdam, thus also a symbol of hope, of escape and of one day, a return to normality.
A third series of these popular tree essays is again written and presented by experienced essayist, Fiona Stafford, Professor of Literature at Somerville College Oxford, explores the symbolism, importance, topicality and surprises of five more trees common in the UK. Across the series of essays, our ambiguous relationship with trees is explored. The three series have prompted an illustrated book of the essays planned for 2015.
Producer - Turan Ali
A Bona Broadcasting production for BBC Radio 3.