Main content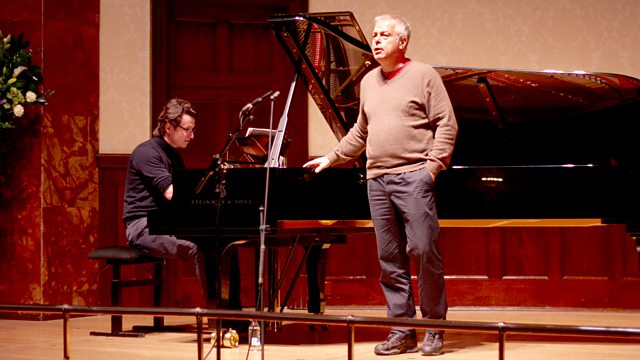 Wigmore Hall Mondays: Christoph Pregardien and Daniel Heide
German tenor Christoph Pregardien is joined by pianist Daniel Heide in a live recital that features songs by Schubert and Schumann's Dichterliebe, Op 48.
German tenor Christoph Prégardien is joined by pianist Daniel Heidein in a recital of lieder by Schubert and Schumann, broadcast live from Wigmore Hall, including Schubert settings of texts by Hölty and Goethe and culminating with a performance of Schumann's Op. 48, Dichterliebe (A Poet's Love) a cycle of songs based on poems by Heinrich Heine.
Presented by Sara Mohr-Pietsch
Christoph Prégardien (tenor)
Daniel Heide (piano)
Schubert: An den Mond, D 259
Schubert: Schäfers Klagelied, D 121
Schubert: Erster Verlust, D 226
Schubert: Rastlose Liebe, D 138
Schubert: Wandrers Nachtlied 2, D 768
Schubert: Willkommen und Abschied, D 767
Schumann: Dichterliebe, Op 48.