Main content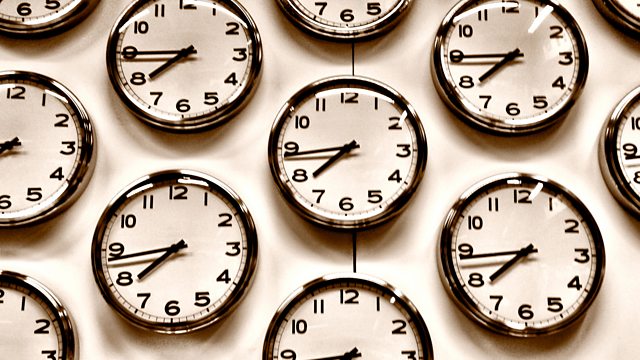 Clockwise
A sequence of poetry, prose and music on the theme of clocks and timekeeping, with readings by Toby Jones and Romola Garai.
Clockwise: The award-winning actors Toby Jones and Romola Garai explore our obsession with clocks and timekeeping. The imperious shrilling of the alarm clock; the way ticking sometimes sounds like fate approaching; the moments elongated or abbreviated by emotion: the way the imagination tends to go blank before the notion of eternity: these are all part of a meditation on why and how we measure time - from Handel's pieces for musical clocks to St Augustine's Confessions ... and all in the time it takes your average chronometer to tick from five thirty in the evening to six forty-five.
Producer: Zahid Warley.
Music Played
Timings (where shown) are from the start of the programme in hours and minutes
Russell Hoban

The Mouse and His Child read by Toby Jones

Sylvia Plath

Morning Song read by Romola Garai

ee cummings

There are so many tictoc read by Romola Garai

Richard Wilbur

Bell Speech read by Romola Garai

Douglas Dunn

At Cruggleton Castle read Toby Jones

W H Auden

As I walked out one evening read by Romola Garai

George Woodcock

From The Tyranny of the Clock read by Toby Jones

St Augustine

From Chapter X1, Confessions read by Toby Jones

James Thurber

The Thirteen Clocks read by Romola Garai

Stephen Edgar

Incident at Grantley Manor read by Toby Jones

Anonymous

Epitaph read by Toby Jones