Main content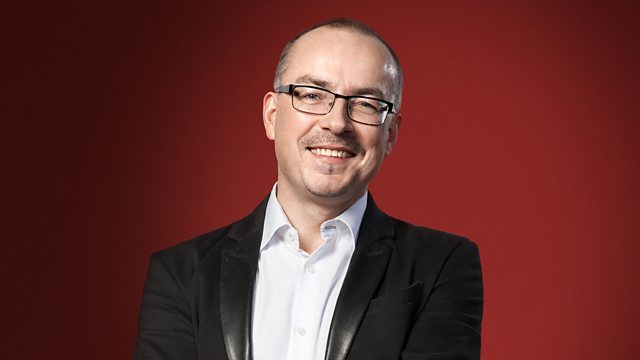 Building a Library: Mozart: horn concertos
With Andrew McGregor. Including Building a Library: Mozart: horn concertos; New releases reviewed and assessed; Disc of the Week.
9.00am
Re-Sound Beethoven: Symphonies Nos. 1 & 2
BEETHOVEN: Symphony No. 1 in C major Op. 21; Symphony No. 2 in D major Op. 36
Orchester Wiener Akademie, Martin Haselbock (conductor)
ALPHA ALPHA470 (CD)
MAHLER: Symphony No. 9
Budapest Festival Orchestra, Ivan Fischer (conductor)
CHANNEL CCSSA36115 (Hybrid SACD)
HANDEL: L'Allegro, il Penseroso ed il Moderato
Gillian Webster (soprano), Laurence Kilsby (treble), Jeremy Ovenden (tenor), Peter Harvey (baritone), Ashley Riches (bass), William Whitehead (organ), Gabrieli Consort and Players, Paul McCreesh (conductor)
SIGNUM SIGCD392 (2CD mid-price)
Shostakovich: Cantatas
SHOSTAKOVICH: The Execution of Stepan Razin Op. 119; The Sun Shines on Our Motherland Op. 90; The Song of the Forests Op. 81
Aleksei Tanovitski (bass), Kostiantin Andrejev (tenor), Estonian National Symphony Orchestra, Narva Boys Choir, Estonian Concert Choir, Paavo Jarvi (conductor)
ERATO 2564616666 (CD)
9.30am Building a Library
Jonathan Freeman-Attwood compares recordings of Mozart's Horn Concertos and makes a personal recommendation.
Top recommendation:
Mozart - Horn Concertos & Horn Quintet
MOZART: Horn Concertos Nos. 1-4 (complete); Horn Quintet in E flat, K407
David Pyatt (horn), Academy of St. Martin in the Fields, Sir Neville Marriner (conductor), Kenneth Sillito (violin), Robert Smissen, Stephen Tees (violas), Stephen Orton (cello)
APEX 2564681619 (CD budget)
10.20am Martha Argerich & Friends: Lugano 2014
Martha Argerich & Friends: Live from Lugano 2014
BEETHOVEN: Variations (7) on "Bei Mannern, welche Liebe fuhlen", for Cello and Piano, WoO 46
BORODIN: Piano Quintet in C minor
BRIDGE: Cello Sonata in D minor, H125
MENDELSSOHN: Symphony No. 1 in C minor Op. 11
MILHAUD: La Creation du Monde for piano quintet Op. 81b
MOZART: Piano Concerto No. 20 in D minor, K466
POULENC: Sonata for Piano Four Hands (a mademoiselle Simone Tilliard); Cello Sonata Op. 143
SCRIABIN: Fantasy in A minor Op. post.
WEINBERG: Sonata for Violin & Piano No. 5 Op. 53
Martha Argerich (piano), Mischa Maisky (cello), Alexander Mogilevsky (piano), Andrey Baranov (violin I), Geza Hosszu-Legocky (violin II), Nora Romanoff (viola), Jing Zhao (cello), Gautier Capucon (cello), Gabriela Montero (piano), Akane Sakai (piano), Lilya Zilberstein (piano), Anton Gerzenberg (piano), Daniel Gerzenberg (piano), Eduardo Hubert (piano), Dora Schwarzberg (violin I), Michael Guttmann (violin II), Mark Drobinsky (cello), Orchestra della Svizzera italiana, Jacek Kaspszyk (conductor), Dagmar Clottu (piano), Francesco Piemontesi (piano), Daniel Rivera (piano), Gidon Kremer (violin)
WARNER CLASSICS 2564613460 (3CD budget)
10.45am New Releases
Andrew is joined by John Bridcut to discuss some recent discs of music from composers who fought during the Great War.
Mélodies: Prescience – Conscience
HALPHEN: Pour Cythère
FÉVRIER: La dernière chanson
JÜRGENS: Das Treue Paar; Der Geworbene; Deh Nicht; Fromm
RAVEL: Trois Chansons
BUTTERWORTH: On the idle hill of summer; Loveliest of trees; The lads in their hundreds
KELLY: Shall I Compare Thee?
FAURÉ: C'est la paix op. 114
FARRAR: 3 pièces pour piano, op. 23
DEVAERE: La flûte amère de l'automne op. 1; Grave et poignant, pour piano
STEPHAN: Pappel im Strahl; Heimat; Abendfrieden
DEBUSSY: Noël des enfants qui n'ont plus de maison
HAHN: Le plus beau présent
SCHULHOFF: 5 Gesänge op. 39
Marc Mauillon (baritone), Anne Le Bozec (piano)
EDITIONS HORTUS 704 (CD)
La naissance d'un nouveau monde
SCHULLHOFF: Sonata for cello and piano op. 17
BRIDGE: Sonata for cello and piano in D minor
GRANADOS: Madrigal
DE LA PRESLE: Guitare
Thomas Duran (cello), Nicolas Mallarte (piano)
EDITIONS HORTUS 705 (CD)
Les altistes engages
VAUGHAN WILLIAMS: Romance
HINDEMITH: Viola Sonata Op. 11 – 4
SCHMITT: Légende
KOECHLIN: Viola Sonata Op. 53
EDITIONS HORTUS 707 (CD)
Concertos pour la main gauche
BRITTEN: Diversions, for piano left hand and orchestra
KORNGOLD: Concerto for piano left hand in C sharp, Op. 17
Nicolas Stavy (piano), Orchestre National de Lille, Paul Polivnick (conductor)
EDITIONS HORTUS 710 (CD)
11.35am Disc of the Week
Shostakovich: Symphony No. 9 & Violin Concerto No. 1
SHOSTAKOVICH: Symphony No. 9 in E flat major Op. 70; Violin Concerto No. 1 in A minor Op. 99
Leonidas Kavakos (violin), Mariinsky Orchestra, Valery Gergiev (conductor)
MARIINSKY MAR0524 (Hybrid SACD)