Main content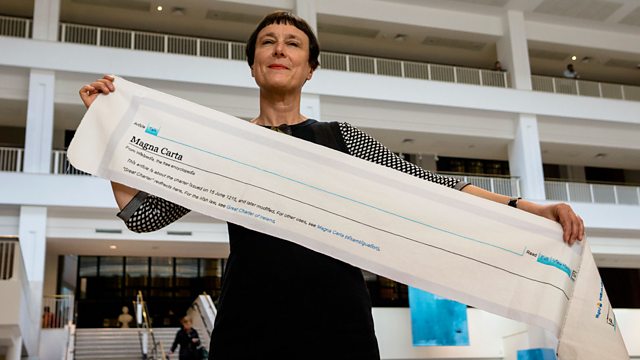 21/05/2015
Reinventing Magna Carta through the eyes of artist Cornelia Parker, and an update on the continuing humanitarian crisis in Syria. Jenni Murray presents the female perspective.
Re-inventing the Magna Carta through the eyes of artist Cornelia Parker. As the conflict in Syria slips down the news agenda, we've an update on the country's continuing humanitarian crisis. The Bank of England wants the public to suggest the name of a visual artist they'd like to see on a new £20 note, we discuss the female artists who would be eligible. We've more in our series of audio snapshots in which women answer personal questions about their lives. And how should women in the clergy dress for work?
Presenter: Jenni Murray
Producer: Anne Peacock.
Cornelia Parker's Magna Carta
Artist Cornelia Parker admits she can't sew very well. So when she was commissioned to create a piece to commemorate the 800th anniversary of the Magna Carta she chose to produce a 13 metre long piece of embroidery: an enormous reproduction of the Wikipedia entry about the Magna Carta. Completion required she enlist the help of many, many others: 200 to be precise. It is on display in the British Library with pertinent contributions by judges, prisoners, pop stars, Cornelia and even the founder of Wikipedia, Jimmy Wales. Catherine Carr speaks to Cornelia Parker about her creation.
Syrian Hospital for Women and Children - Rola Hallam
There are fears today that the world heritage site in the ancient city of Palmyra might be destroyed as so called Islamic State militants have seized the city.  But what about the civilians caught up in the humanitarian crisis which has worsened in the last year? The four year conflict has killed over 200,000 people and displaced around 8 million Syrians. Women and children have been disproportionately impacted by the destruction of health facilities and the country is losing its specialist doctors who have leaving at an alarming rate. A Syrian NGO ''Hand in Hand for Syria ' together with Oxfam and 20 other aid groups published a report in March which claims that the United Nations Security Council is "failing Syria" by not implementing its own resolutions to protect and assist civilians in Syria. They are now calling on the international community to act on this report and the UN resolution to end civilian suffering. Jenni is joined by Rola Hallam, the Medical Director of Hand In Hand to talk about the small hospital which her NGO has established to provide medical care for women and children and why she believes that despite the obstacles, there are still opportunities to help. 
Bank Note Choice
The Bank of England is asking for nominations from the public for a visual artist to appear on the new £20 note.  They're looking for someone who is non-fictitious, British and no longer alive and they could come from any of the visual arts – painting, architecture, fashion design, sculpture and so on.  Two years ago the process to choose the new face on the £10 note led to a campaign to ensure the note featured a woman – and the final decision was Jane Austen.  So how about a female visual artist on the £20 note and who would be a good choice?  Jenni is joined by Professor Geraldine Johnson, Head of the Department of the History of Art at the University of Oxford and Arts Journalist, Rosie Millard to consider some possible choices.
Faith and Fashion
There are limited options for women priests and ministers to wear to work. Camelle Daily grew up a church-goer, and is the founder of House of Ilona - a clothing line that specialises in fashion dress wear for women of the church. The Reverend Sally Hitchiner is the co-ordinating Anglican Chaplain and Inter Faith Advisor at Brunel University London.
Women in One
Reporter Abigail Hollick was inspired to interview strangers and find out what makes them tick after she spent weeks pushing her new born son in his buggy up and down the same streets and smiling at the same faces, wondering what they were thinking and whether they too had had two hours sleep. Abigail's first confessional series, '
Street Talk
', focused on her neighbourhood but this time she turns her attention to women around the UK, starting in Leeds. 'Women in One' is a new Woman's Hour collection of one minute (or thereabouts) interviews with strangers Abigail bumps in to. A diverse range of women express their fears, loves, losses and answer personal questions such as 'What's your relationship like with your mother?', 'Who broke your heart?' and 'What keeps you up at night?'. The series starts in Leeds where women in Roundhay Park, Kirkgate Market, The Corn Exchange and Trinity Shopping Centre were more than happy to open up.
Credits
| Role | Contributor |
| --- | --- |
| Presenter | Jenni Murray |
| Producer | Anne Peacock |