Main content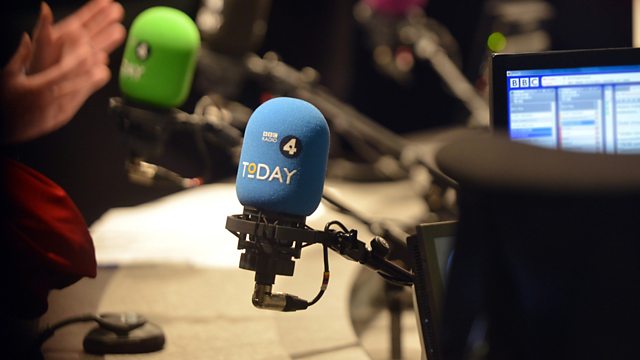 21/05/2015
Morning news and current affairs. Including Sports Desk, Weather and Thought for the Day.
Today's running order
0710
David Cameron is setting out new measures to curb immigration and crack down on illegal immigration in a speech today. He will say an Immigration Bill -- which will be included in the Queen's Speech later this month -- will create a new offence of "illegal working" to close the loophole which means people who are here illegally can't benefit from working and police can seize wages as proceeds of crime. The Bill will also make it an offence for businesses and recruitment agencies to recruit abroad without advertising in the UK and created a new agency to crack down on the worst cases of labour market exploitation. Saira Grant is a lawyer and the legal and policy director for the Joint Council for the Welfare of Immigrants.
0715
An Ofsted report into the treatment of children held at a secure facility in Northamptonshire has found they were handled in a degrading way and subjected to racist comments by staff under the influence of illegal drugs. The unit, Rainsbrook, received an 'inadequate' rating. It is run by the security and outsourcing firm G4S which says it took swift action at the time of the inspection in February. Paul Cook is the Managing Director of G4S Children's Services.
0720
This week some of the country's top scientists have been persuaded to leave their labs and talk about the latest developments in science in pubs. Among the more eye-catching topics among the Pint of Science events are "how to win a nobel prize" and "the psychology of pornography".
0730
Islamic State militants have captured the ancient Syrian city of Palmyra from pro-government forces. The strategically important town links the east and west of the country and brings the militants closer to the capital, Damascus. Syrian state television says government troops have withdrawn from the area and most of the residents have been evacuated. There are fears that the militants will destroy Palmyra's two-thousand year old ruins, as they have done with other pre-Islamic archaeological sites. Frank Gardner is the BBC's security correspondent.
0740
A new set of words is shortly going to make it onto our Scrabble boards. Collins has added 6500 new entries to its official dictionary for the board game, which is being published today. Vocabulary used on social media, in texts and on the streets will be included in the new list. Elaine Higgleton is international publisher for Collins Learning
0745
EU leaders are gathering later today in the Latvian capital Riga for a summit that is supposed to focus on Ukraine and other countries beyond the EU's eastern borders. But it'll also be the first time since his election victory that David Cameron has a chance to talk face to face with European colleagues about the kind of change he wants to achieve before Britain holds a referendum on EU membership. Europe correspondent Chris Morris reports.
0750
A midwife who worked at a maternity unit where eleven babies died unnecessarily has been struck off the profession's register. Marie Ratcliffe is the first of six midwives from the Morecambe Bay NHS trust to appear before a Nursing and Midwifery Council disciplinary panel. Her failings were found to have contributed to the death of Simon and Liza Brady's son Alex Davey-Brady in 2008. He was delivered stillborn with his umbilical cord wrapped around his neck.
0810
David Cameron is setting out new measures to curb immigration and crack down on illegal immigration in a speech today (see 0710). Theresa May is Home Secretary.
0820
Payments in cash have dropped below a half of all transactions, as cards, contactless and other electronic methods of payment expand rapidly. The figures come from the Payments Council, which coordinates money movements. It estimates that cash usage fell below 50% of all transactions in July last year. Peter McNamara is chief executive of the cashpoint provider Note Machine. Victoria Cleland is Bank of England chief cashier.
0830
Ireland holds a referendum on legalising same-sex marriage on Friday. If Ireland votes "yes" it would be the first country to do this by means of a public vote. Leo Varadkar is Irish Health Minister, Ireland's first openly gay government minister. Kate Bopp is spokeswoman for the campaign group "Mothers and Fathers Matter", which is supporting a "no" vote.
0840
The UN Secretary General has announced talks later this month in Geneva to try to end a mounting crisis in Yemen. His call come as aid agencies call for another humanitarian ceasefire to deliver desperately needed aid. More than 4,000 Yemenis have fled across the sea to neighbouring Djibouti and the exodus continues as the Saudi-led military coalition targets Houthi rebels . Our Chief International Correspondent Lyse Doucet reports from Djibouti.
0845
David Cameron will begin his post-general election discussions with European leaders about EU reform at an international summit in the Latvian capital, Riga today. The formal agenda of the meeting is dominated by relations with former Soviet nations on the EU's eastern borders, but Downing Street made clear that Mr Cameron will use discussions in the margins of the conference to press the UK's case for change. Edith Cresson is former French prime minister and Alan Halsall is co-chairman of the Eurosceptic Business for Britain campaign.
0850
About fifty boats will be leaving south coast ports today all heading for Dunkirk, where services will mark the 75th anniversary of "Operation Dynamo", the evacuation that saved the life of almost a quarter of a million Allied troops during Second World War. Vic Viner and John Port are veterans of the war. Mr Port was one of the soldiers who was evacuated and Mr Viner was a beach marshal who helped coordinate the operation.
0855
Palmyra, the city renowned as the cross roads of great civilisations in the Middle East, is in the hands of Islamic State (see 0730). Our Middle East editor Jeremy Bowen reports.
All subject to change.