Main content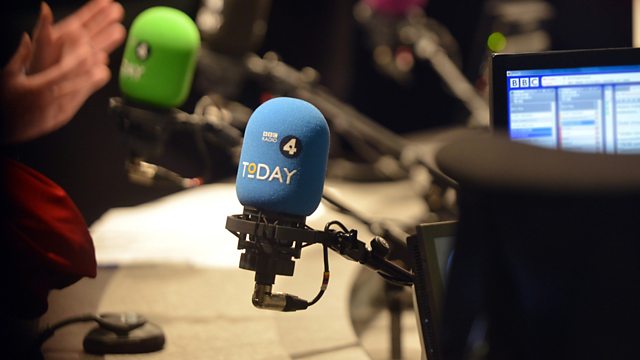 20/05/2015
Morning news and current affairs. Including Sports Desk, Weather and Thought for the Day.
Last on

Clips

Today's running order
0650
The organisation which makes final decisions about NHS complaints in England has highlighted distressing examples of failures in care at the end of patients' lives. The Parliamentary and Health Service Ombudsman believes care could be improved for many thousands of dying patients. The Ombudsman looked at investigations it had completed about the end of life care individuals received in the last 12 months of their life and identified key areas where suffering could have been avoided. These include poor communications with families losing the chance to say goodbye, inadequate out of hours services and poor pain management where the key areas identified. Julie Mellor is the Parliamentary and Health Service Ombudsman.
0655
Organised crime and regional tensions are playing a significant role in stoking conflict around the globe, according to a new report from the International Institute of Strategic Studies. The Armed Conflict Survey, which is being released in full later today, will also highlight Isis's position as a potent force in the evolution of global jihadism. Nigel Inkster is the Director of Transnational Threats & Political Risk, at The International Institute for Strategic Studies (IISS) and edited the Armed Conflict Survey which is being published today.
0710
The Police Federation warn that  cuts to police fund budgets are in danger of forcing officers to retreat from their communities with officers only able to concentrate on responding to emergencies. The findings come from a poll conducted by the Federation and will be highlighted at the conference today when the Home Secretary Theresa May is due to give her first keynote speech since being reappointed. It was just a year ago that she stood at the Federation conference podium and told them to reform or be reformed. Steve White is the Chair of the Police Federation.
0715
Police investigating the Easter weekend raid on safe deposit boxes in London's Hatton Garden jewellery quarter have made nine arrests. Detectives say a "significant amount of high value property" has been recovered, after they searched twelve addresses in London and Kent. Scotland Yard has also confirmed its alarm response procedures weren't followed whilst the heist was taking place -- but has denied accusations officers had acted like bungling "Keystone Cops". Harry Levy is president of the London Diamond Bourse (LDB), a trade association based in Hatton Garden.
0720
Hundreds of Rohingya and Bangladeshi migrants have been rescued by fishermen off the coast of Indonesia. Local officials said more than 370 migrants, including at least 50 women and children, had been at sea for weeks and were starving and dehydrated. The latest rescue comes as ministers from Thailand, Malaysia and Indonesia hold emergency talks in Kuala Lumpur on what is a growing humanitarian crisis. Some of those rescued last week are being held at a temporary camp in the Indonesian port of Langsa where our correspondent - Martin Patience - has been speaking to survivors.
0730
Marks and Spencer is poised to unveil its first increase in full-year profit under the stewardship of chief executive Marc Bolland, paving the way for the retailer to hand a cash bonus to shareholders. M&S said last year that it would update investors on its balance sheet with its full-year results next Wednesday.
0740                                                                                                                                   
Dr Harvey Cushing is considered the father of neuroscience. At the beginning of the 20th century, the mortality rate for any brain surgery was around 90%, but the techniques Dr Cushing came up with considerably reduced the risk. Dr Cushing is also famous for his unique collections of brains and patient photography. About 500 brains are now preserved in glass jars at the Cushing Centre at the Yale School of Medicine, while 10,000 black-and-white photographs of patients have just been recently digitised and uploaded online. Chris Chandler is a consultant neurosurgeon at King's College Hospital.
0750
The Prince of Wales and Duchess of Cornwall continue their first official joint visit to Ireland and Northern Ireland with a visit to the site of the murder of Prince Charles' godfather, Lord Mountbatten, in Mullaghmore in 1979. The 79-year-old Lord Mountbatten was killed along with three others, including his 14-year-old grandson Nicholas Knatchbull, aboard his boat when republican terrorists detonated a remote-controlled bomb from the shore. Catherine Mayer is the author of Charles: The Heart of a King by Catherine Mayer.
0810
MEPs will be giving their views on the European Agenda on migration at the European Parliament in Strasbourg today. Last week the Commission outlined plans to introduce national quotas for taking in immigrants in reaction to crisis in the Mediterranean. Britain is exempt from such quotas. One man planning to speak at the debate is UKIP Leader Nigel Farage.
0820                                                            
After more than thirty years and six thousand shows, the chat show host David Letterman is bringing down the curtain on his illustrious career. Goofy and bespectacled, he could hardly be described as telegenic, but he's become one of America's most dominant TV personalities ever. Our New York correspondent, Nick Bryant, reports.
0830
The President of the CBI, Sir Mike Rake, will warn British businesses must speak out early in favour of remaining within a reformed European Union. He says we are "at a critical moment for growth" and that the choice is between "openness and isolation, between shaping the future or retreating into the past." He warned against going the way of Norway and Switzerland who negotiated their own deals with the EU. Sir Michael Rake is President of the CBI, the Chairman of BT Group as well as deputy chairman of Barclays PL; Katya Adler is the BBC Europe Editor and Robert Peston is the BBC Economics Editor.
0840
The battle to retake the Iraqi city of Ramadi, around 70 miles west of the capital Baghdad, could soon be underway. The capital of Anbar, the country's biggest province, fell to Islamic State militants on Sunday after the Iraqi army fled. All hopes of pushing IS back our of Ramadi now rest with a several thousand strong force of mainly Iranian backed Shia Militia, which is gathering outside the city. More than 25,000 civilians have since left the provincial capital, adding to a flood of people in the region who have already abandoned their homes. Mike Thomson reports.
0845
Foreign Ministers from Malaysia, Indonesia and Thailand are meeting in Kuala Lumpur to discuss human trafficking and people smuggling. The meeting follows the recent surge in migrant numbers to the area causing Malaysia, Indonesia and Thailand to have all turned or towed overcrowded migrant boats away from their shores. Most of the migrants have been from the Rohingya Muslim minority which faces prejudice and persecution in Myanmar. Meanwhile the United Nations says time is running out for the estimated eight-thousand of migrants drifting at sea without adequate supplies of food or water. Matilda Bogner is a South East Asia Representative for the UN's Office of the High Commissioner for Human Rights.
0850
South African athlete Caster Semenya has told the BBC'S Ben Smith that she was left humiliated by the very public questioning of her gender following her victory at the 2009 World Championships. In a rare interview, the 24-year-old said she may not have survived the controversy had it not been for the support of her family but said she had no fear about returning to the global spotlight. Semenya was just 18 when she was forced to undergo a series of gender verification tests, the news of which was made public by athletics governing body, the IAAF. Ben Smith reports.
0855
Laurel and Hardy will return to the big screen this summer in celebrations to mark the 125th anniversary of Stan Laurel's birth. Cinemas across the UK and in Ireland will be showing a double bill of their classic 1933 feature length film Sons of the Desert and the short movie County Hospital. Does black and white slapstick comedy still cut it with audiences used to the latest CGI effects? Ross Owen organised the Laurel and Hardy Roadshow, which sees two of their films screened in 19 different cinemas across the UK and Ireland this June.
All subject to change.
Broadcast