Main content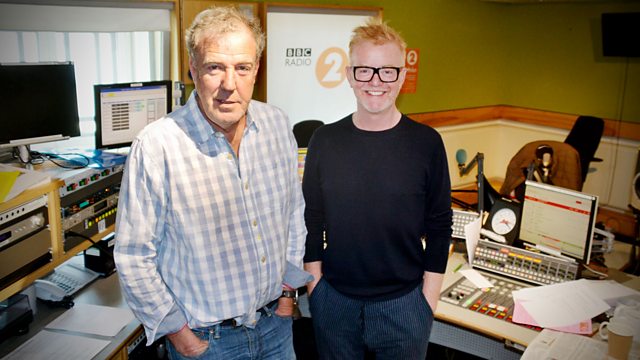 Jeremy Clarkson and Ten Go Mad in Monaco
Jeremy Clarkson joins Chris Evans live in the studio to send off the drivers in the 10 Go Mad In Monaco package for Children In Need!
Last on
Music Played
Status Quo

Down Down

Whatever You Want - V.Best Of Status.
Polygram Tv.

Take That

Higher Than Higher

Kenny Loggins

Danger Zone

Top Gun O.S.T. (Various Artists).
CBS.

Adele

Rolling In The Deep

Andrew Gold

Thank You For Being A Friend

Jukebox 70's Hits -I Got The Music In.
Old Gold.

Steppenwolf

Born To Be Wild

Rock Anthems Volume 2 (Various).
Dino.

LunchMoney Lewis

Bills

(CD Single).
Columbia.
001.

Michael Jackson

Thriller

Diana-Michael-Gladys-Stevie (Compilat.
Priority.

T. Rex

Ride a White Swan

Million Sellers Vol.18 - The Seventie.
Disky.

Helen Shapiro

Walkin' Back To Happiness

The Ivor Novello Winners.
EMI.

Will Young

Love Revolution

(CD Single).
Island.
001.

Nancy Sinatra

You Only Live Twice

The Best Of James Bond 30th Anniversa.
EMI.

Shocking Blue

Venus

Dance Hits Of The '60's & '70's.
Old Gold.

T. Rex

Hot Love

Electric Warrior (Deluxe Edition).
A&M.
13.

Andreya Triana

That's Alright With Me

(CD Single).
Counter Records.
001.

Sheryl Crow

Everyday Is A Winding Road

Top Gear Anthems (Various Artists).
Virgin.

Catatonia

Road Rage

The 1999 Brit Awards (Various Artists.
Columbia.

Madness

Driving In My Car

Madness - Divine Madness.
Virgin.

Tom Robinson Band

2-4-6-8 Motorway

Golden Earring

Radar Love

Hot Love - Sounds Of The 70's, Part 1.
Old Gold.

The Jam

A Town Called Malice

Wah!

The Story Of The Blues (Part 1)

Once In A Lifetime (Various Artists).
Telstar.

Gerry Rafferty

Baker Street

Songs Of The Century (Disc 2).
Global Records & Tapes.
Pause for Thought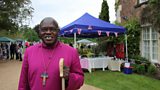 From The Archbishop of York, Dr John Sentamu:
So much has been happening since my last Pause for Thought. The birth of Princess Charlotte Elizabeth Diana; a new Her Majesty's Government elected; le tour de Yorkshire, where we saw fantabulous cycling races across God's own county. And so on and so forth!
The village I grew up in was one mile away from the Church and Primary school I attended.  And the transport? On foot.  This meant getting up very early in the morning.  We often sang hymns and songs as we walked along.
Moving on to Secondary School, the journey was twelve miles each way. I was very fortunate in my second year when an English teacher, John Morris, kindly bought me a Raleigh bicycle to help me get to school much quicker than walking. That made a huge difference to my school-days.  It also gave me great encouragement.
It was not about racing to and fro, nor was it a sprint to a finishing line either! I remember the joy of cycling, the stamina required for more of the uphill climbs, and the perseverance needed to stick at it when the going got tough – especially during the heavy tropical thunder storms.
So, if you are taking your first GCSE or A Level exam this week, or starting a new job, or perhaps you've made a bold decision to grow your followership and trust in God – remember that you are not alone. Jesus was always on the move. He gathered friends to share his journeys with him and he encouraged them on their way. And he promised to be with them till the end of time.
The Bright Field poem by RS Thomas, is a marvelous one and it reads: "Life is not hurrying on to a receding future, nor hankering after an imagined past. It is the turning aside like Moses to the miracle of the lit bush, to a brightness that seemed as transitory as your youth once, but is the eternity that awaits you". 
Broadcast