Main content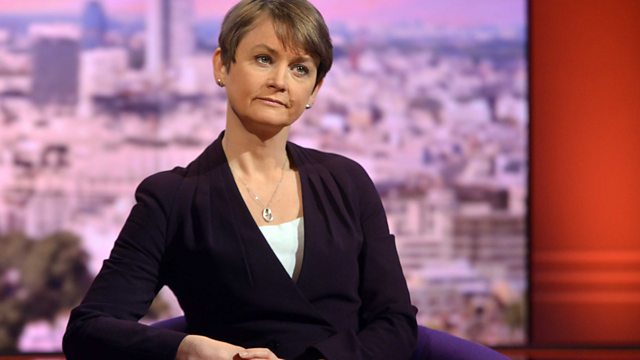 Yvette Cooper, Harassment in Clubs, Women in One
Yvette Cooper on wanting to lead the Labour Party, sexual harassment in nightclubs, Emma Sky on her memoir The Unravelling, and Beverley Bryant updating the NHS. With Jane Garvey.
Yvette Cooper on why she thinks she's the right person to lead the Labour Party. Sexual harassment in nightclubs. Emma Sky on her memoir, The Unravelling. Beverley Bryant on an exciting career in tech and her work updating the NHS. Women in One: a series of short interviews with women in Leeds.
Presented by Jane Garvey
Produced by Jane Thurlow.
Last on
Sexual Harassment in Clubs
Last year, a study of over 1,000 women conducted by the alcohol education organisation Drinkaware found that nearly a third of women aged 18 - 24 had been groped or received unwanted physical attention at nightclubs. Only 19 per cent of these women were at all surprised by what had happened. Despite being a crime, sexual harassment has become a regular part of a woman's night out.
Vanessa Kisuule
is a spoken-word performer whose poetry often discusses women's rights and Bryony Beynon is one of the founders of
"Good Night Out"
, an initiative to help raise awareness of sexual harassment in clubs
Beverley Bryant
Beverley Bryant  is the Director of Digital Technology  at NHS England – her job to introduce the technology that will help the whole of the NHS  enter the digital world and work effectively in the 21st Century.  Her mission to open up the NHS in England to patients and give them more choice.  From accessing your medical records online, to being able to click and collect your repeat prescription  She talks to Jane about her passion for new technology and why  she thinks there's nothing more satisfying than a career in tech.   
Yvette Cooper
Shadow Home Secretary Yvette Cooper is one of three women who've announced they'll stand for the leadership of the Labour party. Declaring her bid last week, she pledged to make life better for families. She talks to Jane about why she thinks the time's right to run for the top job and her defense of Labour's economic record.  
Emma Sky
Emma Sky flew to Iraq on a military flight in 2003,  without a proper job description and found no one waiting for her when she arrived. Over the course of the next ten years this anti-war civilian woman established herself as an essential political adviser to US Army top brass and the good friend to many Iraqis. She opens her new book being questioned by the Chilcot Inquiry:
 'So when you left the UK, you didn't know where you were going. You presumably didn't even know what kind of clothes to put in your suitcase?' – 'Well, no. I was only going for three months'.
The Unravelling: High Hopes and Missed Opportunities in Iraq came out last week.
Women in One
Reporter Abigail Hollick was inspired to interview strangers and find out what makes them tick after she spent weeks pushing her new born son in his buggy up and down the same streets and smiling at the same faces, wondering what they were thinking and whether they too had had two hours sleep. Abigail's first confessional series, 'Street Talk', focused on her neighbourhood but this time she turns her attention to women around the UK, starting in Leeds. 'Women in One' is a new Woman's Hour collection of one minute (or thereabouts) interviews with strangers Abigail bumps in to. A diverse range of women express their fears, loves, losses and answer personal questions such as 'What's your relationship like with your mother?', 'Who broke your heart?' and 'What keeps you up at night?'. The series starts in Leeds where women in Roundhay Park, Kirkgate Market, The Corn Exchange and Trinity Shopping Centre were more than happy to open up.
Credits
| Role | Contributor |
| --- | --- |
| Presenter | Jane Garvey |
| Interviewed Guest | Yvette Cooper |
| Interviewed Guest | Vanessa Kisuule |
| Interviewed Guest | Bryony Beynon |
| Interviewed Guest | Emma Sky |
| Interviewed Guest | Beverley Bryant |
| Producer | Jane Thurlow |
Broadcast

Podcast
Women's voices and women's lives - topical conversations to inform, challenge and inspire.