Main content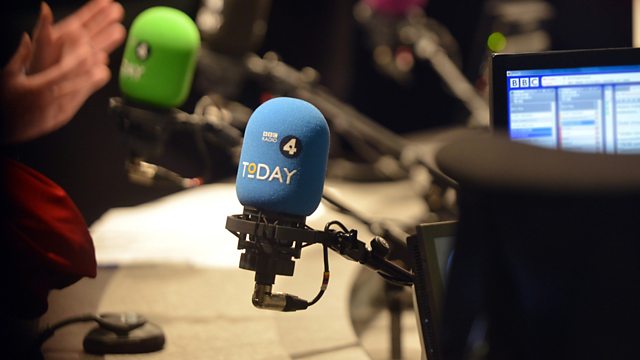 19/05/2015
Morning news and current affairs. Including Sports Desk, Weather and Thought for the Day.
Clips

Today's running order
0650
The United Nations says time is running out for thousands of migrants drifting at sea in South East Asia without adequate supplies of food or water. Many of the thousands of migrants are Rohingyas from Burma – so who are they, what is their background, and why are they on those boats? Professor Penny Green is director of the International State Crime Initiative, Queen Mary College, University of London.
0655
Texas police say 170 people are to face organised crime charges after a bike-gang shooting that left nine people dead and 18 others injured. One witness described it as being like a scene from a Wild West shoot-out. Why and how do outlaw motorcycle gangs continue to operate in the US and how dangerous are they? Steve Cook is Detective and President of the Midwest Outlaw Motorcycle Gang Investigators Association.
0710
3 thousand Iranian-backed Shia militias have been assembling near Ramadi, which fell to IS on Sunday. The Iraqi government hopes the force will help re-take the city. The capture of Ramadi is a heavy blow to the authority of the Prime Minister, Haider al-Abadi, and comes a year after I-S seized Iraq's third largest city, Mosul. Jon Sopel, the BBC's North America Editor discusses the US response.
0715
Unions are facing attacks from the government on a greater scale than in the 1980s; they need to unite by taking co-ordinated action.  That's the message from Mark Serwotka, General Secretary of the Public and Commerical Services Union which holds its annual conference today. 
0720
The Police Federation is urging the government to lower the drink-drive limit in England and Wales. The law was changed in Scotland at the end of last year and is being reconsidered in Northern Ireland. The Federation is concerned that drink-drive campaigns have had little effect on female drivers in particular. Victoria Martin is from the Police Federation and Lucy Rocca is the founder Of Soberistas.
0730
The former most senior woman in the army has told the BBC that all leaders in the forces need to speak out more loudly against sexual harassment. Brigadier Nicky Moffat who served in the British forces for 27 years said the military must 'redouble its efforts' to ensure that bullying and unwelcome sexual advances are eliminated. This comes after a British Army sergeant was found guilty of raping and abusing several female recruits earlier this month. Edwin Mee from Glasgow was convicted of 16 offences against 9 victims. Sima Kotecha reports.
0740                                                                                                                                   
15 minutes of "My Fair Lady" will be performed tonight for the first time in almost 60 years. The section was cut from the musical after just one preview show and the score was believed to be lost. However it has been found in an archive and now songs originally sung by Rex Harrison and Julie Andrews will be aired once again during a special concert at The University of Sheffield. Our Entertainment Correspondent Colin Paterson went along to the rehearsals.
0750
Is it time to cap bankers pay to the same level as that of top civil servants? That's what David Cameron's former Director of Strategy has said. Steve Hilton told the BBC "If you are a company that requires bailing out should you go wrong, then you should be considered part of the public sector and the pay of your executives should be capped at the same levels as the civil service pay levels." Anthony Browne is the Chief Executive of the British Bankers Association and Professor Prem Sikka is Professor of Accounting at Essex University.
0810
3 thousand Iranian-backed Shia militias have been assembling near Ramadi, which fell to IS on Sunday (see 0710). Rafid Jaboori is a former spokesperson for the Iraqi PM, Lyse Doucet is the BBC's Chief international correspondent and Michael Stephens is the Head of Royal United Services Institute Qatar.
0820                                                            
Reporter Dan Whitworth went to Birmingham to speak to the next generation of doctors about the Government's pledge to recruit thousands of GPs.
0830
The Prince of Wales will meet Gerry Adams Sinn Fein's President - at the start of a visit to the Irish Republic he's making with the Duchess of Cornwall. In 2012 the Queen shook hands with Martin McGuinness - Northern Ireland's Deputy First Minister and a former IRA commander. Prince Charles and his wife will also travel to Mullaghmore in County Sligo where the prince's great uncle Lord Mountbatten was murdered by the IRA in 1979. Their official visit will begin in Galway. Peter Hunt is the BBC's Royal Correspondent.
0840
President Obama has banned military style equipment being used by US police forces. It follows a review into the use of force in Ferguson. There had been widespread concern into the sight of armoured vehicles and camouflage uniforms being used. We have a much different perspective on this here, but shouldn't the police in America have the best kit to protect the public in a violent country – or are they too gung-ho? Michael Matthews is a police officer & author of "We Are The Cops".  
0845              
There's been a virtual news blackout in Burundi since the failed coup attempt last week - the President has been accused of launching a campaign of repression against independent media, with reports of loyalists smashing up radio stations and threatening journalists. It's a big deal for a country which prided itself on a relatively free press, with most people using independent radio as their main source of news. Alan Kisujja tells the story of how it all unfolded on radio - it was a very old fashioned coup.
0850
The travel firm Thomas Cook has donated half of a £3m compensation payout it received after the deaths of two British children from carbon monoxide poisoning in Corfu to charity.  But is it too little too late in terms of fixing the company's reputation? The company was cleared of any criminal responsibility at a trial in Greece in 2010 and last week an inquest jury ruled they had been unlawfully killed and said Thomas Cook "breached its duty of care". However the parents of Christi and Bobby Shepherd have called Thomas Cook "disgraceful" for not apologising directly to them and, in their words, "putting us last in the equation". So how badly has the firm handled this tragedy, and is it a lesson in how not to carry out crisis management? John McEwan worked at Thomas Cook for 30 years, eventually becoming the managing director of their international business and was also chair of the industry body ABTA from 2009 to 2013.
0855
One of the government's successes in this election was David Cameron's vision of Blue-collar Conservatism. How radical can the Conservatives be? Will the liberal conservatives lead the charge now or are the so called Nasty Party's more traditional values just around the corner waiting to pounce? Ian Birrell is a former speech writer for David Cameron and contributing editor with the Mail on Sunday and Kathy Gyngell is co-editor of Conservative Woman – an online blog & research fellow at the Centre for Policy Studies.
All subject to change.