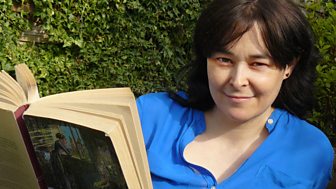 Series 1
Dr Cathy FitzGerald presents a series of lessons in creative writing with help from a ghostly array of great novelists, poets and playwrights.
On radio
There are no upcoming broadcasts of this programme
Last on
Mon 18 May 2015 16:00
BBC Radio 4
Reading and Listening List – The Invisible College
At Radio 4 we expect you to work for your radio treats. Here's your Invisible College Homework - further reading and listening, set by Cathy Fitzgerald.
Daily Rituals: How Great Minds Make Time, Find Inspiration and Get to Work by Mason Currey
Somerset Maugham found his opening lines in the bath. Edith Sitwell wrote in bed. Saul Bellow stood on his head to take a break. This funny, wide-ranging compendium by Mason Currey includes the working routines of more than a hundred and sixty philosophers, writers, composers and artists. 
The British Library's Spoken Word Collection
Archive recordings of great writers - including many from the BBC - collected in an extensive series of CDs. The backbone of my research for 'The Invisible College'. Don't miss Nancy Mitford bemoaning her inability to add up and spell (The Spoken Word: British Writers).
Brainpickings
Maria Popova's brilliant 'Brainpickings' regularly includes great authors' tips on writing and life. My highlight is F. Scott Fitzgerald's letter to Frances Turnbull, a wannabe writer. "You've got to sell your heart, your strongest reactions, not the little minor things that only touch you lightly, the little experiences that you might tell at dinner."
Writers at Work
This series from The Paris Review features interviews with all the greats, including TS Eliot, William Faulkner, Ernest Hemingway and Dorothy Parker. Each conversation is introduced with a word-sketch of the writer's study (George Plimpton's description of Hemingway's room is so detailed and visual you'll feel like you're there). 
The Poetry Center
From its home in New York - 92nd Street -
The Poetry Society
has hosted literary readings since 1939. Its website features archival recordings of some of the best writers of all time. Search for Truman Capote's 1963 reading of 'Breakfast at Tiffany's'.
The BBC Archive Collection
Highlights from the BBC archive, featuring interviews with everyone from Aldous to Zadie. Includes a rare recording of Virginia Woolf.
 Plus these great writers on writing: 
Poetry in the Making, Ted Hughes
On Writing Eudora Welty
Henry Miller on Writing, Henry Miller
Ernest Hemingway on Writing, Ed. Larry W. Phillips
Zen in the Art of Writing, Ray Bradbury
On Writing, Stephen King
Elmore Leonard's 10 Rules of Writing, Elmore Leonard
The Spooky Art, Norman Mailer
Top topics for this programme