Main content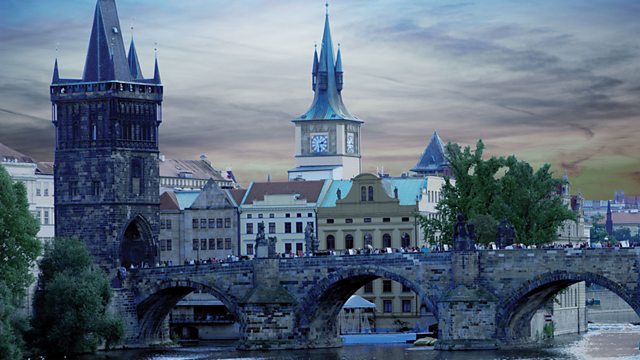 Smetana - Dalibor
Jonathan Swain presents a performance of Smetana's tragic opera Dalibor in a performance given at the Barbican in London by a Czech cast and the BBC Singers and Symphony Orchestra.
Jonathan Swain presents a performance of Smetana's tragic opera Dalibor, performed earlier this month at the Barbican by a Czech cast and the BBC Singers and Symphony Orchestra conducted by Jirí Belohlávek. The Czech knight Dalibor is imprisoned for having avenged the death of his friend Zdenek. With strong echos of Beethoven's Fidelio, Milada falls in love with Dalibor and disguises herself as a boy in order to befriend his jailor and rescue him.
2pm
Smetana Dalibor
Dalibor ..... Richard Samek (tenor)
Vladislav ..... Ivan Kusnjer (baritone)
Vitek ..... Aleš Vorácek (tenor)
Milada ..... Dana Burešova (soprano)
Jitka ..... Alžbeta Polácková (soprano)
Budivoj ..... Svatopluk Sem (baritone)
Beneš ..... Jan Stava (bass)
BBC Singers
BBC Symphony Orchestra
Jirí Belohlávek (conductor).
Synopsis
The opera is set in Prague in the late fifteenth century during the reign of Vladislav II. Dalibor, a Czech noble, is accused of the unjust murder of the Burgrave of Ploškovice.<?xml:namespace prefix = o ns = "urn:schemas-microsoft-com:office:office" />
Act 1
After a brief orchestral prelude the curtain rises (scene 1) on a crowd in the courtyard of Prague castle gathered to hear the fate of Dalibor. Jitka, an orphan whom he rescued and befriended, rouses the sympathetic crowd in support of Dalibor. Fanfares announce the entry of King Vladislav and the judges (scene 2). The King accuses Dalibor of disturbing the nation's peace by attacking Ploškovice and murdering the Burgrave. Milada, the Burgrave's sister, is called upon to testify (scene 3) and tells of her brother's murder by Dalibor. Dalibor enters (scene 4); his calm nobility immediately impresses both the people and Milada. Dalibor admits his crime, but says it was in revenge for the brutal, humiliating murder of his dearest friend, the musician Zdeněk. Dalibor no longer wishes to be the cause of the deaths of more people and accepts his own death sentence – to die of starvation in a lonely cell; indeed, he welcomes it as the means of joining his beloved Zdenĕk in paradise. Much moved, Milada (scene 5) begs that Dalibor be forgiven, but Vladislav pronounces that the law must prevail. Milada, realizing her new-found love for Dalibor (scene 6), resolves with Jitka to free him.
Act 2 part 1
A street in the lower town of Prague with an inn.
Scene 1: soldier mercenaries, followers of Dalibor, sing offstage. Jitka has an impassioned meeting with her lover, Vítek, after which she tells him that Milada, disguised as a minstrel boy, has entered the castle and will give them a signal, 'before dawn', when she needs their aid to free Dalibor. Vítek and Jitka (scene 2) tell the tipsy soldiers to bide their time before coming to Dalibor's aid.
 Act 2, part 2
Change of scene to the interior of the castle and the living quarters of the gaoler, Beneš.
Budivoj, the commander of the guard, warns Beneš that Dalibor's supporters may strike; he asks about the boy – Milada in disguise – and Beneš tells him that he eases the guards' time with his singing. Budivoj remains doubtful. Alone, Beneš reflects on the sadness of his life amid the wretchedness of the prison. Milada enters with food for Beneš and offers to take the gaoler's old violin to Dalibor below in order to alleviate his misery. Left to herself, Milada sings of her joy at seeing Dalibor and perhaps freeing him. Beneš returns with the violin and Milada descends to Dalibor's prison.
Act 2 part 3
Change of scene to Dalibor's dungeon.
Dalibor awakes from a dream about Zdeněk and calls out to his friend. Milada, still dressed as a boy, enters with the violin to his joy. She reveals her identity and begs his forgiveness for having denounced him. Dalibor thanks Zdeněk for providing the music that heralded Milada's coming and in an exquisite duet, they sing of their new-found love.
Act 3
The brightly-lit royal apartments.
Scene 1: in a meeting with the King and his judges, Budivoj warns that revolt in favour of Dalibor is spreading and Beneš tells of the treachery of his minstrel assistant. Pressed by the judges, the King, with regret, condemns Dalibor to be executed.
Change of scene to Dalibor's dungeon
Scene 2: having broken his shackles and the bars of his cell, Dalibor sings of his impending rescue and the vengeance he will wreak on behalf of Zdeněk. As he signals with the violin, a string breaks; Budivoj, Beneš and the guards enter to take Dalibor to his death which he now accepts with calm resignation.
Change of scene to the front of the prison at night with faint moonlight.
Scene 3: Milada, Jitka, Vítek and their band of followers await Dalibor's signal. Instead they hear a tolling bell and a sombre chorus of monks. Realising their rescue has failed, Milada leads her band into the castle but is soon brought out, mortally wounded, by Dalibor. She dies in his arms as he proclaims his love for her. As Budivoj and the guards declare their victory, Dalibor, embracing death so that he can be with Milada and Zdeněk, falls on the soldiers and is killed.
Credits
| Role | Contributor |
| --- | --- |
| Performer | BBC Singers |
| Performer | BBC Symphony Orchestra |