Main content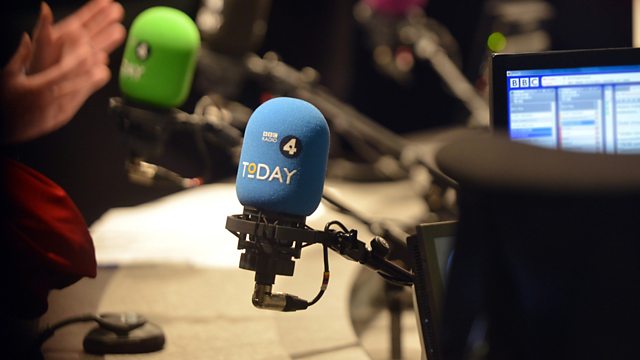 15/05/2015
Morning news and current affairs. Including Sports Desk, Weather and Thought for the Day.
Clips

Today's running order
0645
The last episode of Mad Men is broadcast this weekend in America. It has had a huge impact. If you haven't seen Mad Men it's about the advertising business in America in the 1960s -- it's funny, it's sad, and it's unpredictable as our New York Correspondent Nick Bryant reports.
0650
One of Syria's archaeological jewels is reported to be under threat from ISIS. Palmyra is a UNESCO world heritage site and the militants have seized buildings on the eastern edge of the adjacent city of Tadmur. They have already demolished a number of ancient sites in Iraq. Diana Darke is the author of "My House in Damascus: an inside view of the Syrian Revolution" and the Bradt travel guide to Syria.
0655
Indian PM Narendra Modi has begun a three-day visit to China, where he is expected to sign deals worth billions of dollars. But relations between the two most populous countries on earth are strained over a border dispute that has been going on for decades. Carrie Gracie is the BBC's China Editor and Sanjoy Majumder is the BBC's India Correspondent.
0710
Nigel Farage's chief of staff has been sacked after claims he helped turn the UKIP leader into a "snarling, thin-skinned, aggressive" man. Raheem Kassam is one of two advisers to be singled out for criticism by UKIP MEP Patrick O'Flynn in a Times article. Mr O'Flynn claimed Mr Farage had fallen under the influence of "aggressive" advisers and risked turning the party into a "personality cult". Raheem Kassam is a former chief of staff to Nigel Farage.
0715
Earlier this week Facebook launched 'Instant Articles' - an initiative which will let readers load articles instantly whilst staying inside the Facebook platform. The BBC, Buzzfeed, The Guardian and the New York Times are just some of the major publications that have signed up. Facebook says it will reduce the time to download articles whilst reading on mobile devices from around eight seconds to almost instantly. But some publishers are concerned that this is just the first step in Facebook's plans to become the dominant internet platform - thereby controlling millions of users' access to content. Eileen Burbidge is a partner at Passion Capital venture capital firm and a former Silicon Valley software engineer Apple, Yahoo and Sun Microsystems.
0720
Between 1944 and 1946 the directorate of Army Welfare in India recorded a series called 'Calling Blighty'. Personnel stationed in India, Singapore and Burma regarded themselves as 'the Forgotten Army', home leave wasn't possible, post was slow and sometimes didn't get home at all. Instead cinematic messages were recorded and sent home to help overcome a sense of isolation for the troops. These messages made up the "Calling Blighty" series and families were invited to screenings to try and catch a glimpse of their relatives. In all nearly 400 issues of were made, but only 48 are known to survive. Now, the North West Film Archive is trying to track down the families of those seen on the films calling home to show them the messages from their relatives. Marion Hewitt is the Director of North West Film Archive and Steve Hawley is a Professor of Art and Media at Manchester Metropolitan University.
0730
The court of protection looks after the interests of adults who can't look after them themselves: because they have mental illness, dementia or a disability. Amongst the most controversial cases are deprivation of liberty cases where people are taken out of their own homes and placed in care. The number has risen dramatically over the last year, thanks to a landmark judgement by the Supreme Court. At the same time, the court itself has been criticised by some of its own most senior judges for the length of time cases can take. Sanchia Berg reports and Victoria Butler-Cole is a barrister specialising in cases at the Court of Protection.
0740                                                                                                                                   
Paavo Järvi this week released a recording of two Shostakvovich Cantatas written in response to Communist oppression in the 1940's and 50's which praise Stalin.  The world renowned Estonian-born conductor made the recording at a concert in 2011 in his home country, provoking outrage in a nation anxious about potential Russian aggression. He received threats and was provided with a bodyguard. The texts were altered under Brezhnev to remove the praise of Stalin but this recording restores the original pro-Stalinist texts. He says it's important to perform these works to demonstrate the repression Shostakovich underwent and to draw parallels to today's Russia.  He is currently in Berlin, performing Shostakovich with the Berlin Philharmonic.
0750
The UK Government will "remain true" to its promise to implement the Smith Commission agreement on further devolution for Scotland, the Prime Minister has said ahead of his first meeting with Nicola Sturgeon following the election. Ms Sturgeon will press David Cameron to go beyond the Smith package and hand even more powers to Holyrood, arguing that it would be "inconceivable" for the UK Government to ignore the democratic will of Scottish people as expressed in the SNP's election victory. Alistair Carmichael is a former Scottish Secretary and the only Liberal Democrat MP in Scotland (Orkney and Shetland) and John Swinney is the Deputy First Minister.
0810
Nigel Farage's chief of staff has been sacked after claims he helped turn the UKIP leader into a "snarling, thin-skinned, aggressive" man. Chief correspondent Matthew Price has been to Thurrock to see what UKIP voters and grassroots campaigners make of the leadership fight and Steven Woolfe is a UKIP MEP and the party's immigration spokesperson.
0820                                                            
As of this morning you can enter a ballot to live in Grayson Perry's house. At least, the house he has designed on the Essex coast. The artist has described his creation as both "the Taj Mahal in Essex" and "bonkers." Called A House for Essex - it's been controversial and is steeped in stories as our Arts Editor, Will Gompertz found out when he went to visit it.
0830
The head of an Oxford college has warned of an increase in sexual harassment and groping at the university. In an email to undergraduates, Dr Alice Prochaska, the principal of Somerville College, said female students face a barrage of "excessively harassing and intimidating behaviour".
0835
An EU referendum is now a certainty, but when exactly will it be? David Cameron has promised a vote by the end of 2017, but on the programme yesterday morning the Bank of England governor Mark Carney said he wanted a referendum "as soon as necessary", warning that it was in the interest of businesses to resolve the uncertainty of Britain's position in Europe. So what timing would be in the best interests of both Britain and the rest of Europe? Mark Garnier is the Conservative MP for Wyre Forest and Marc Roche is the London correspondent for French political and news magazine Le Point and was previously Le Monde's London correspondent for 27 years.
0840
Islamic State has released an audio message it says is from its leader, Abu Bakr al-Baghdadi.  If confirmed it would be the first the world has heard from him for months, amid reports he had been seriously injured, perhaps even killed, in an air strike. The message urges Muslims to emigrate to the "caliphate" it has proclaimed in areas of Syria and Iraq. Professor Farwaz Gerges is the chair of contemporary Middle East studies at the London School of Economics and author of the soon to be published " ISIS: A Short History".
0845
Burundi's President Pierre Nkurunziza says he has returned to the country and his troops say they are in control of key points, a day after a coup attempt. There were earlier fierce clashes in the capital, Bujumbura, particularly at the state radio office, but they are now said to have subsided. Five soldiers are reported killed. Mr Nkurunziza had been in Tanzania when the coup began on Wednesday. Teresa Ongaro is a UNHCR representative for East Africa and the Great Lakes Region.
0850
It's no longer clear where a boat carrying at around 300 people which was found stranded off the coast of Thailand yesterday is. Families of some of the passengers on board the boats say they contacted them by phone and were told that uniformed men carrying guns boarded the boat, repaired their broken engine and then moved the boat south in the direction of Malaysia. The fishing boat, carrying about 350 people of the Muslim Rohingya minority, has been refused entry to Thailand. As many as 8,000 migrants from Bangladesh and Myanmar are believed by to be stranded at sea attempting entry to Thailand, Malaysia or Indonesia. Our correspondent Jonah Fisher reports.
0855
Labour is often perceived as the traditional party of the working classes, but with a comprehensive-school heavy cabinet and the promise of northern devolution, the Conservatives are positioning themselves to gain popularity among blue collar workers. Could the Labour vote collapse like it did in Scotland? Lord Glasman is a Labour peer and founder of the "Blue Labour" movement and David Skelton is a founder and director of Renewal, a campaign group with aims to broaden the appeal of the Conservative Party.
All subject to change.