Main content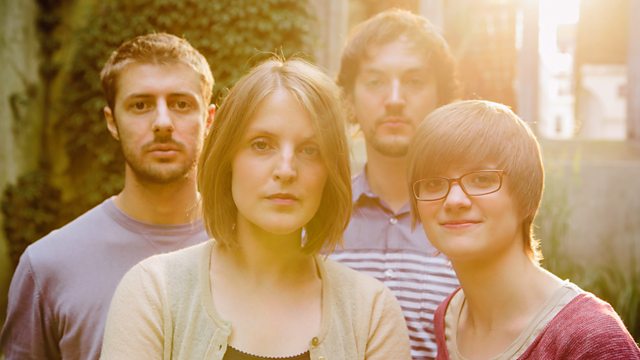 In the Shadow of Kafka: Blue-Eyed Hawk in Session
For Radio 3's In the Shadow of Kafka season, Jez Nelzon presents British band Blue-Eyed Hawk performing in session, premiering new music inspired by the Czech writer's stories.
British band Blue-Eyed Hawk perform in session, premiering new music inspired by the celebrated Czech writer Franz Kafka.
Now 100 years since the publication of his seminal work The Metamorphosis (Die Verwandlung), Franz Kafka remains one of the most influential writers of the 20th century, inspiring generations with his novels and short stories, themes of alienation, authority and mythical transformation. To coincide with a series of programmes across Radio 3 celebrating his life, Jazz on 3 invited Blue-Eyed Hawk - a quartet born from the fascination between improvisation and literature - to write new music inspired by Kafka's short stories.
As their namesake line from W.B. Yeats's poem Under the Moon suggests, Blue-Eyed Hawk's first projects have focused mainly on the musicality found in poetry, powered by vocalist Lauren Kinsella's impressive ability to reimagine the rhythms and twists of verse. However Kafka's prose poses a different sort of challenge and it's a focus on his characters and themes that come to the fore in this session. The band members, including acclaimed young trumpeter Laura Jurd, guitarist Alex Roth and drummer Corrie Dick, share composition duties and bring their own individual sound to the world of Kafka.
Presenter: Jez Nelson
Producer: Miranda Hinkley.
Last on
Kafka-inspired drama about a young man seeking advice from a series of self-help experts.

A new adaptation of Franz Kafka's classic The Trial. What has Joseph Kay been accused of?
Music Played
Blue-Eyed Hawk in session for Jazz on 3 at Livingston Studios, London on 29 March 2015

Blue-Eyed Hawk

Metamorphosis

Composer: Laura Jurd

Blue-Eyed Hawk

All Sorts

Composer: Lauren Kinsella

Blue-Eyed Hawk

The Machine

Composer: Laura Jurd

Blue-Eyed Hawk

If It Shatters

Composer: Corrie Dick

Bassist Jaromír Honzák selects tracks from the Czech jazz scene

Vertigo Quintet

Jul i Galhus

Lubos Soukup Ensemble

Street

Through the Mirror.
Animal Records.

Jaromír Honzák

Smell of Change

Uncertainty.
Animal Records.

European Jazz Orchestra

Charles Mingus Suite: Mvt 2: Sostenuto

Blue-Eyed Hawk in session for Jazz on 3 at Livingston Studios, London on 29 March 2015

Blue-Eyed Hawk

Strange Animal

Composer: Alex Roth

Blue-Eyed Hawk

Message from the Emperor

Composer: Alex Roth

Blue-Eyed Hawk

The Trees

Composer: Lauren Kinsella / Laura Jurd / Alex Roth / Corrie Dick

New music from Keith Jarrett

Archive Interview: Keith Jarrett in conversation with Ethan Iverson (2009)
Line up:
Lauren Kinsella (voice); Laura Jurd (trumpet); Alex Roth (guitar); Corrie Dick (drums)
Broadcast