Main content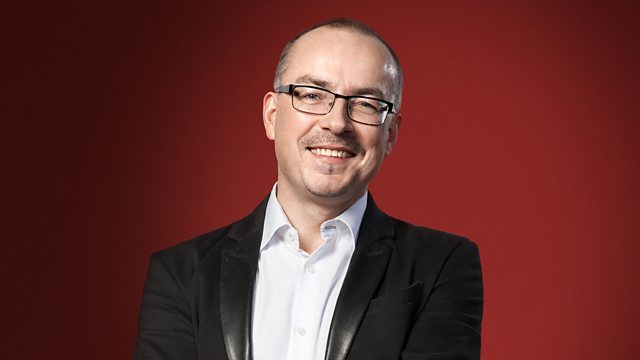 Building a Library: Walton: Cello Concerto
With Andrew McGregor. Including Building a Library: Walton: Cello Concerto; Flora Willson joins Andrew to discuss new opera aria discs featuring leading soloists; Disc of the Week.
9.00am
Romaria: Choral Music from Brazil
AGUIAR: Antiquae Preces Christianae
ALMEIDA PRADO: Oraculo
ARANEDA: Ismalia
CURITIBA: Metaphors
ESCOBAR, A: Missa breve sobre ritmos populares brasileiros
MAHLE: Carimbo (Folksong Suite – excerpts)
PINTO FONSECA: Jubiaba
SANTORO: Ave Maria; Moreninha se eu te pedisse
VILLA-LOBOS: Cor dulce, cor amabile; Magnificat-Alleluia
Choir of Gonville, Caius College, Cambridge, Geoffrey Webber (conductor)
DELPHIAN DCD34147 (CD)
The Oriental Miscellany - Airs of Hindustan by William Hamilton Bird
Jane Chapman (harpsichord), Yu-Wei (flute)
SIGNUM SIGCD415 (CD mid-price)
Mahan Esfahani: Time Present and Time Past
BACH, C P E: Twelve Variationen uber die Folie d'Espagne, Wq118/9/H263
BACH, J S: Keyboard Concerto No. 1 in D minor, BWV1052
GEMINIANI: Concerto grosso in D minor Op. 6
GORECKI: Concerto for Harpsichord and Strings Op. 40
HANDEL: Keyboard Suite, HWV 435 (Chaconne) in G major; Keyboard Suite, HWV 430 in E major 'The Harmonious Blacksmith'
REICH: Piano Phase
SCARLATTI, A: Variations On 'La Folia'
Concerto Koln, Mahan Esfahani (harpsichord)
DG ARCHIV 4794481 (CD)
Mozart: Piano Concertos Nos. 15 & 16
MOZART: Piano Concerto No. 16 in D major, K451; Piano Concerto No. 15 in B flat major, K450; Rondo for Piano & Orchestra in D major, K382
Ronald Brautigam (fortepiano), Die Kolner Akademie, Michael Alexander Willens (conductor)
BIS BIS2064 (Hybrid SACD)
Jacquet of Mantua: Missa Surge Petre & motets
MANTUA: Surge Petre; Missa Surge Petre; Ave Maria a 3; O vos omnes; In illo tempore; O pulcherrima inter mulieres; Domine, non secundum peccata nostra
The Brabant Ensemble, Stephen Rice
HYPERION CDA68088 (CD)
09.30am Building a Library
Helen Wallace compares recordings of Walton's Concerto for Cello and Orchestra and makes a personal recommendation.
Top recommendation:
Walton: Symphony No. 2 & Cello Concerto
WALTON: Symphony No. 2; Cello Concerto; Improvisations on an Impromptu of Benjamin Britten
Paul Watkins (cello), BBC Symphony Orchestra, Edward Gardner (conductor)
CHANDOS CHSA5153 (Hybrid SACD)
10.25am
LAWES, W: The Royall Consorts
Elizabeth Kenny (theorbo), Daniel Hyde (organ), Phantasm
LINN CKD470 (2Hybrid SACD mid-price)
KEISER: St. Mark Passion
Thomas E. Bauer (bass), Jan Kobow (tenor), Ensemble Jacques Moderne, Gli Incogniti, Joel Suhubiette (conductor), Amandine Beyer (conductor)
MIRARE MIR254 (CD)
Telemann: Overtures and Oboe Concerti
TELEMANN: Overture (Suite) TWV 55:G4 in G major 'Les nations anciens et modernes'; Concerto TWV 51:c2 in C minor for oboe, strings & b.c.; Overture in D major TWV 55:D13; Concerto TWV 51:c1 in C minor for oboe, strings & b.c.; Overture (Suite) TWV 55:B5 in B flat major for strings & b.c. 'Volker-Ouverture'
Vinciane Baudhuin (oboe), Bach Concentus, Ewald Demeyere (conductor)
CHALLENGE CLASSICS CC72669 (Hybrid SACD)
BACH, C P E: Hamburg Symphonies (6) for Strings, Wq. 182 (H567-662)
Ensemble Resonanz, Riccardo Minasi (conductor)
ES-DUR ES2053 (CD)
10.45am New Releases
Andrew is joined by Flora Willson to discuss some recent opera aria discs with superstar soloists.
Marcelo Alvarez: 20 Years on the Opera Stage
CILEA: L'anima ho stanca (from Adriana Lecouvreur)
GIORDANO, U: Un di, all' azzurro spazio (from Andrea Chenier); Amor ti vieta (from Fedora)
GOMES: Quando nascesti tu
HALEVY: Rachel, quand du Seigneur (from La Juive)
LEONCAVALLO: Testa adorata (from La boheme); O mio piccolo tavolo (from Zaza); Vesti la giubba (from I Pagliacci)
MASCAGNI: Mamma, quel vino (from Cavalleria Rusticana)
MASSENET: Ah! Tout est bien fini... O souverain (from Le Cid)
PUCCINI: Ch'ella mi creda libero e lontano (from La Fanciulla del West); Non piangere, Liu! (from Turandot); Nessun dorma (from Turandot)
ZANDONAI: Giulietta, son io (from Giulietta e Romeo)
Marcelo Alvarez (tenor), St. Petersburg State Symphony Orchestra, Constantine Orbelian (conductor)
DELOS DE3472 (CD)
My Life Is An Opera: Roberto Alagna
ALAGNA, D: Il est dix heures… Encore six heures (from Le dernier jour d'un condamne)
DONIZETTI: Un lampo, un lampo orribile (from Roberto Devereux); Un tenero cuore (from Roberto Devereux)
GLUCK: Che faro' senza Euridice? (from Orfeo ed Euridice)
GOLDMARK: Magische Tone, berauschender Duft (from Die Konigin von Saba)
GOUNOD: Faiblesse de la race humaine (from La Reine de Saba)
LEONCAVALLO: Recitar!...Vesti la giubba (from I Pagliacci)
MASSENET: Ne pouvant reprimer les elans de la foi (from Herodiade)
PUCCINI: Ah, Manon mi tradisce (from Manon Lescaut); Donna non vidi mai (from Manon Lescaut); Addio, fiorito asil (from Madama Butterfly)
REYER: Esprits gardiens (from Sigurd)
ROSSINI: Soirees musicales: La Danza
TCHAIKOVSKY: Kuda, Kuda 'Lensky's Aria' (from Eugene Onegin)
Aleksandra Kurzak, Roberto Alagna (tenor), London Orchestra, Yvan Cassar
DG 4811524 (CD)
Valer Sabadus: Mozart Castrato Arias
MOZART: Se l'augellin sen fugge (from La finta giardiniera); Dolce d'amor compagna (from La finta giardiniera); Lucio Silla, K135: Overture; Pupille amate (from Lucio Silla); Il Tenero Momento (from Lucio Silla); Non ho colpa (from Idomeneo); Deh, per questo istante solo (from La Clemenza di Tito); Voi che sapete (from Le nozze di Figaro)
Valer Sabadus (countertenor), recreation – Grosses Orchester Graz, Michael Hofstetter
OEHMS OC1814 (CD)
Piotr Beczala: The French Collection
BERLIOZ: La Damnation de Faust Op. 24: Merci, doux crepuscule!; Ah! Je vais l'aimer, mon cœur me l'annonce (from Beatrice et Benedict)
BIZET: La fleur que tu m'avais jetee (from Carmen)
BOIELDIEU: Viens, gentille dame (from La Dame blanche)
DONIZETTI: La maitresse du roi?...Ange si pur (from La Favorite); Seul sur la terre (from Dom Sebastien, Roi de Portugal)
GOUNOD: L'amour, l'amour... Ah, leve-toi soleil (from Romeo et Juliette); Salut! Demeure chaste et pure (from Faust)
MASSENET: Toute mon ame - Pourquoi me reveiller (from Werther); Ah! Tout est bien fini... O souverain (from Le Cid); Toi ! Vous ! Oui ! Je fus cruelle… N'est-ce plus ma main (from Manon)
VERDI: Fontainebleau! Foret immense et solitaire … (from Don Carlos)
Diana Damrau (soprano), Piotr Beczala (tenor), Orchestre de l'Opera National de Lyon, Alain Altinoglu (conductor)
DG 4794101 (CD)
Heroique: French Opera Arias
BERLIOZ: La Damnation de Faust Op. 24: Nature immense, impenetrable et fiere; Inutiles regrets…En un dernier naufrage (from Les Troyens)
BRUNEAU: Le jour tombe, la nuit va bercer (from L'Attaque du Moulin)
GOUNOD: Faiblesse de la race humaine (from La Reine de Saba)
MASSENET: Ne pouvant reprimer les elans de la foi (from Herodiade)
MEYERBEER: Pays merveilleux... O paradis (from L'Africaine)
RABAUD: Chante vieux jardin ta chanson de cigale (from Rolande et le mauvais)
REYER: Esprits gardiens (from Sigurd)
ROSSINI: Asile hereditaire (from Guillaume Tell)
VERDI: L'Emir aupres de lui m'appelle...Je veux encore entendre (from Jerusalem); E di Monforte il cenno!...Giorno di pianto (from I vespri Siciliani)
Czech Philharmonic Choir of Brno, Bryan Hymel (tenor), PKF – Prague Philharmonia, Emmanuel Villaume (conductor)
WARNER CLASSICS 2564617950 (CD)
Paris, mon amour
GOUNOD: O ma lyre immortelle (from Sapho)
LECOCQ: Je soupire et maudis le destin...O Paris, gai sejour de plaisir (from Les Cent Vierges)
MASSENET: Il est doux, il est bon (from Herodiade); De cet affreux combat…Pleurez, mes yeux ! (from Le Cid); C'est toi, mon pere (from Thais)
MESSAGER: Le jour sous le soleil beni (from Madame Chrysantheme)
OFFENBACH: Elle a fui, la tourterelle (from Les Contes d' Hoffmann)
PUCCINI: Se come voi piccina io fossi (from Le Villi); Donde lieta usci (from La Boheme)
VERDI: E strano! e strano!...Ah! fors e lui...Sempre libera (from La Traviata)
Etienne Dupuis (baritone), Celso Albelo (tenor), Sonya Yoncheva (soprano), Orquestra de la Comunitat Valenciana, Frederic Chaslin
SONY 88875017202 (CD)
11.45am Disc of the Week
Ravel: Daphnis et Chloe
RAVEL: Daphnis et Chloe; Pavane pour une infante defunte
Netherlands Radio Choir, Rotterdam Philharmonic Orchestra, Yannick Nezet-Seguin (conductor)
BIS BIS1850 (Hybrid SACD)