Main content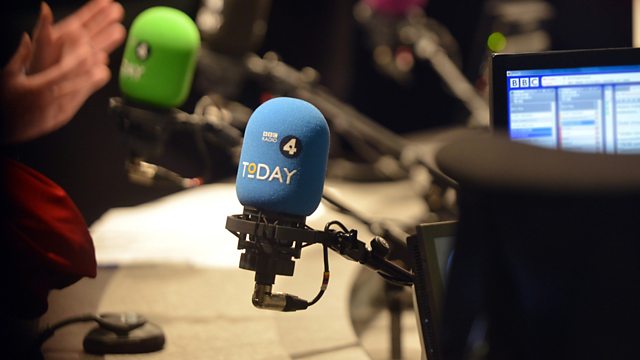 14/05/2015
Morning news and current affairs. Including Sports Desk, Weather and Thought for the Day.
Clips

Today's running order
0645
NATO's been carrying out its largest ever Anti Submarines Warfare exercise in the North Sea. It's seen as a response to increasing activity by Russian Submarines. There have been recent reports of Russian submarines operating off the coast of Scotland as well as Sweden and Finland. The exercise though has also highlighted a gaping hole in Britain's own defences. Our Defence Correspondent Jonathan Beale reports.
0650
It's a party in disarray after the election – left with just eight MPs and no leader. The fight is on to take charge of the Liberal Democrats, Norman Lamb has already entered the race. Tim Farron is the MP for Westmorland and Lonsdale and a former President of the Liberal Democrats.
0655
The European Commission is to appoint a team of scientists to advise it, departing from the previous system of having a single chief scientific adviser which had been held by the Scottish biologist Anne Glover up until November 2014. It also plans a "structured relationship" with national scientific advisory bodies in order to draw on a "wealth of knowledge and expertise". Glover's departure was seen as controversial, and it had been suggested that Mr Juncker's decision to scrap the role was linked to Professor Glover's support for the technology behind GM food. A commission paper noted there is "no single model or best practice" for providing such scientific advice to politicians. Tracey Brown is the Director of Sense About Science, a charity which promotes public discussion of science.
0710
How can we solve the problem of the increasing resistance to the antibiotics currently in circulation?  Developing new ones would help, but there's currently little financial incentive to pour vast sums of money into the antibiotics pipeline, and so overhauling the system of course requires money. The economist Jim O'Neill is the man who's been tasked by the prime minister with developing our strategy against Antimicrobial Resistance and today he publishes one part of his review, looking specifically at how to improve the development of antibiotics. 
0715
Of all the different measures we use to assess the health of the economy, could productivity be the one we should be paying most attention to? It might be if you go by the Bank of England's quarterly inflation report which it published yesterday: productivity came up 84 times. Productivity is output created per hour worked by the average worker in the UK economy and according to the Office for National Statistics "the main determinant of national living standards." It's what drives economic growth and allows us to provide more stuff for us to consume with the same resources. Robert Peston is the BBC's Economics Editor.
0720
UKIP's leader Nigel Farage has become a 'snarling, thin-skilled, aggressive' man, turning the party into a 'personality cult'. That's the verdict of the party's campaign chief who has launched an attack on his leader in an interview with the Times. The comments come just days after Mr Farage's resignation as leader was rejected by the party's National Executive Committee and after a public disagreement between Mr Farage and the party's only MP, Douglas Carswell, over whether to accept £650,000 in taxpayers' money to fund an additional 15 members of staff. Robin Brant is the BBC's Political Correspondent.
0725
We heard from the Home Secretary on the programme yesterday about the principles behind the new anti-extremist legislation the government wants to introduce. Some fear that it was all too woolly and unfocused and actually illiberal - an attack on free speech. So who is it aimed at? What kind of things would it seek to combat? Our security correspondent Gordon Correra reports.
0730
The European Union has unveiled a package of measures to tackle the migrant crisis which has seen thousands of people drown attempting to cross the Mediterranean. Plans include immediate action to disrupt the activity of people smugglers, and a proposal that each EU country should take in a specified quota of migrants. We'll hear the latest audio diary from Erna Rijnierse, a doctor on board an MSF ship based in Malta which is rescuing migrants in the Mediterranean and Dr George Vella is the Maltese Foreign Minister.
0740                                                                                                                                   
Can filming techniques be so real they look fake? That's the accusation some have levelled at the BBC series Shark. Shot in super high definition a number of viewers have said it's computer generated imagery. It's not. The team spent four years travelling and filming around the world. Rachel Butler is the programme's assistant producer and Morne Hardenberg is one of the cameraman who free swims with Great Whites.
0750
Holiday firm Thomas Cook "breached its duty of care" in the case of two children who died from carbon monoxide poisoning while on holiday in Corfu, an inquest jury has concluded. Jurors returned a verdict of unlawful killing of Bobby and Christi Shepherd, who were aged six and seven. The children were overcome by fumes from a faulty hot water boiler at their hotel in October 2006. However at the inquest Thomas Cook officials refused to admit any wrongdoing. At a previous criminal trial the manager of the hotel and two other workers were found guilty of manslaughter by negligence, whilst two Thomas Cook reps were cleared.  Gemma Vine is a lawyer representing the family at the inquest.
0810
Of all the different measures we use to assess the health of the economy, could productivity be the one we should be paying most attention to? Mark Carney is the Governor of the Bank of England.
0820                                                            
35 years after the original film, a new Mad Max movie comes out this week. Once again it portrays a world where structures have collapsed, resources such as petrol and water are scarce and the law is defended by those who believe in good. It's a grim, lawless vision of the world common to the dystopian genre of books and films, but why do we never reach the future these fictions portray? Kim Newman is a novelist and critic and Dr Joanna Bryson is Reader in Artificial Intelligence at the University of Bath.
0830
George Osborne's first speech to the new parliament will say that the forthcoming Queen's Speech will include a Cities Devolution Bill. This bill will deliver 'devo Manc' for Greater Manchester, enabling it to directly elect its Mayor in 2017, with powers over transport, housing, planning and policing. The city voted against a directly elected Mayor in 2012, and Manchester's success has been attributed to the continuity of local government - Sir Richard Leese has been leader of Manchester City Council since 1996. The decision to agree to a directly elected mayor was made last November, in return for sweeping devolution.
0835
How can we solve the problem of the increasing resistance to the antibiotics currently in circulation?  Developing new ones would help, but there's currently little financial incentive to pour vast sums of money into the antibiotics pipeline, and so overhauling the system of course requires money. Professor Laura Piddock is Professor of Microbiology at the University of Birmingham and Director of Antibiotic Action, an initiative to promote the need for new treatments for bacterial infections.
0840
Many people already use gadgets like smartwatches and wristbands to log how much exercise or sleep they get. Now companies are eyeing up the chance to use such "wearable devices" to sell us things. Big brands are working with academics at Goldsmiths, University of London, to identify the best ways to do this. Their latest report out today says that sending advertising messages to people's gadgets, and offering services in return for information collected from these devices, will be key opportunities for business. But do we buy into this vision of the future? Rory Cellan-Jones reports.
0845
The President of Burundi, Pierre Nkurunziza, has been ousted in a military coup. Mr Nkurunziza was attending a regional summit in Tanzania when he learned the army had seized power. His plane was then prevented from landing when he tried to return to the Burundi capital Bujumbura. There's growing international concern about the situation in Burundi, which had been split over the president's determination to run for a third term in office. The news of the attempted coup brought thousands onto the streets to celebrate. Ben Shepherd is an Associate Fellow of the Africa Programme at Chatham House.
0850
A batch of confidential letters sent by Prince Charles to senior UK ministers has been published, following a 10-year freedom of information battle between the Guardian newspaper and the government. The letters reveal that Charles lobbied ministers on a range of issues, including agriculture, the armed forces, architecture and homeopathy, giving us an insight into the concerns of our future King. But critics argue the monarchy should be exempt from the Freedom of Information Act and that these letters should not have been made public. Jack Straw is a former Labour cabinet minister and as home secretary was one of the architects of the Freedom of Information Act.
 0855
Did the 'echo chamber' effect of social media lure the Labour party hierarchy into a false sense of how they were doing in the country? Did twitter hashtags such as #milifandom (started by a 17 year old Labour party supporter) #milibrand (following Ed's interview with Russell Brand) and #jesuised (when supporters tweeted photographs of themselves eating food awkwardly) create a lot of noise amongst the left wing commentariat – hiding the fact that activists were really just tweeting and retweeting to each other? Dr Richard Carr is a lecturer at Anglia Ruskin University's Labour History Research Unit & author of the book "One Nation Britain" and Professor Helen Margetts is Director of the Oxford Internet Institute.
All subject to change.