Main content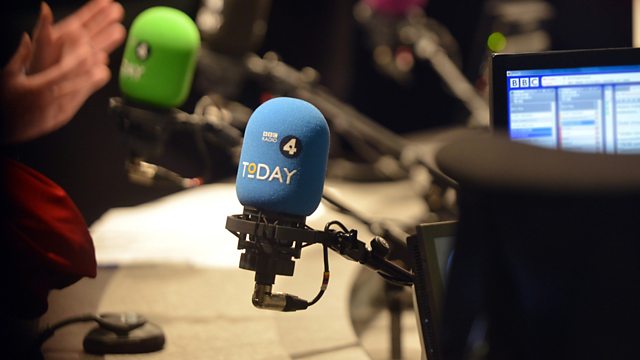 13/05/2015
Morning news and current affairs. Including Sports Desk, Weather and Thought for the Day.
Clips

Today's running order
0645
Today marks a year since the worst industrial tragedy in Turkey's history. More than 300 miners died in Soma, in the west of the country, when a coal mine caught fire. It led to nationwide protests against the mining company but also the government, which was seen to have turned a blind eye to workplace safety. Our Turkey correspondent Mark Lowen has returned to the mining town, still scarred by the tragedy.
0650
Prince Charles' "black spider" memos expressing his views to ministers will be published later today. Denis MacShane is a former foreign office minister who has seen Prince Charles' letters.
0655
Will the House of Lords assert itself against the new Government? The Conservatives do not have a majority in the Lords and the 101-strong Lib Dem grouping will return to the Opposition benches. The Salisbury Convention states that the Lords should not block an elected Government's legislation. But will the Lords try to frustrate the Government by amending controversial bills like the planned British Bill of Rights? Dr Catherine Haddon is a Fellow at the Institute for Government and Lord Lester Of Herne Hill is a senior Lib Dem peer and prominent campaigner for Human Rights Act.
0710
A standoff has developed between senior UKIP figures and Douglas Carswell over public money they are entitled to receive. UKIP is entitled to around £650,000 to help finance their back room operations. The BBC understands Mr Carswell was approached by UKIP's party secretary yesterday and asked to recruit 15 extra staff for his parliamentary office - he rejected the proposal making it clear he was not going to agree to the plan which sources close to him have described as 'improper'. Douglas Carswell is the MP for Clacton.
0715
David Cameron is outlining new measures today to tackle extremism in the UK - plans for a counter-extremism bill will be set out at the first meeting since the election of the National Security Council. Jonathan Russell is the political liaison officer for Quilliam, the counter extremist think tank.
0720
The North Korean defence minister has been executed, according to the South Korean intelligence agency. It said that Hyon Yong-Chol was killed in front of hundreds of officials by anti-aircraft fire. Steve Evans is the BBC's Korea Correspondent.
0725
Do colours have specific bring out particular traits or personalities? Research from Durham University published today suggests red is seen as more angry and aggressive than other colours. This fits in with previous research indicating that people playing combat sports (wrestling boxing and Taekwondo) who wear red may have an advantage over those fighting in blue. Professor Rob Barton led the research team at Durham University.
0730
Mitie is a giant company - it owns one of the biggest care companies in Britain - MiHomeCare - and later this week - the BBC has learnt - Mitie's CEO Ruby McGRegor Smith will be meeting with officials at HMRC to answer allegations that her company has not been paying carers the national minimum wage. We reported back in March that they weren't paying the minimum wage to carer workers at two of their Welsh branches. Now we can report that several carers in Devon and Surrey say they're also not being paid properly. Zoe Conway has been speaking to a care worker; and Andrea Sutcliffe is the Chief Inspector of Adult Social Care, Care Quality Commission.
0740                                                                                                                                   
New proposals for dealing with the migration crisis are due to be unveiled by the European Commission. They include plans to set quotas for the number of migrants to be taken in by all European Union countries – but it's thought the UK will be able to opt-out of the proposed mandatory quota system to relocate asylum seekers across the EU. The Commission proposals deal with everything from the need to take urgent action against smuggling gangs, to the need for long-term development assistance to reduce the incentive for illegal migration. Sandro Gozi is Italy's Under-secretary for European Affairs.
0750
An independent review is to take place into claims that evidence was altered during the police investigation into former Liberal Party leader Jeremy Thorpe in the 1970s. The politician, who died last year, was acquitted of conspiracy to murder the model Norman Scott in 1979. But last year, an allegation was made that a witness statement was changed during the original inquiry. Avon and Somerset Police – who carried out the original investigation – have now asked another force to carry out an inquiry and say they have also told the police watchdog the IPCC. Tom Mangold is a, veteran reporter who wrote the Radio 4 documentary 'Jeremy Thorpe: The Secret Conspiracy'.
0810
David Cameron is outlining new measures today to tackle extremism in the UK - plans for a counter-extremism bill will be set out at the first meeting since the election of the National Security Council.  Theresa May is the Home Secretary.
0820                                                            
This month, exhibitions, lectures and readings are being held to mark the 750th anniversary of the birth of Italian poet Dante Alighieri. His most famous work, the Divine Comedy – often described as one of the greatest ever written – is more than just the story of his journey through Hell, Purgatory and Paradise. It is a portrait of medieval society and a profound study of human psychology. A.N. Wilson is a historian and writer, who wrote 'Dante in Love' and Annalisa Cipollone is a lecturer in the School of Modern Languages and Cultures at Durham University.
0830
Officials in Nepal say they're still trying to establish the full extent of the damage caused by Nepal's second earthquake in less than three weeks. A search has been taking place for an American military helicopter which has been reported missing while taking supplies to earthquake survivors. The most recent quake yesterday killed at least fifty people in Nepal and another seventeen in northern India. The number of dead is expected to rise and many people have again been sleeping outside. Emily Unia is the BBC's Reporter in Kathmandu.
0840
Doctors' leaders have announced a major initiative to stop unnecessary tests and treatments. In a paper in the British Medical Journal, the Academy of Medical Royal Colleges says there's pressure to do something at each consultation, even if it's potentially harmful. Areas for scrutiny are likely to include medication for mild raised blood pressure, antidepressants for mild depression and unnecessary blood tests. The academy is also urging patients to ask their doctors whether there are simpler, safer options. Professor Dame Sue Bailey is a chair of the Academy of Royal Colleges and former chair of the Royal College of Psychiatrists.
0845
The United States and Russia emerged Tuesday from their most extensive, high-level talks in years - US Foreign Secretary John Kerry and Russian President Vladimir Putin talked for four hours, trying to ease badly strained relations. Yet one area where they were unable to point to any breakthrough was on the conflict in Syria, now entering its 5th year. So why does the Syria conflict seem so insoluble? And what is it like for Syrian people? Sara Shamma is an award winning artist from Syria, who fled in 2012 and now lives in Lebanon and is in London this week to show some of her paintings in an exhibition entitled "World Civil War Portraits" at the Old Truman Brewery in Brick Lane in East London and Charles Glass is an author, journalist and broadcaster, who specialises in the Middle East and is the author of "ISIS and the Death of the Arab Spring".
0850
The trial continues against Oscar Groening, an SS guard in Auschwitz concentration camp between 1942 and 1944. Groening was stationed at Auschwitz concentration camp and known as the book keeper, he is now charged with having been an accessory to murder in 300,000 cases. Today two British Auschwitz survivors will be heard as witnesses, Ivor Perl and Susan Pollack. The trial started on April 21 and is scheduled to last until July 29. The BBC's Jenny Hill reports.
0855
Labour's National Executive Committee meets today to discuss the timetable for a contest for a new leader. It will decide whether the election will take place in July or nearer to the party conference in the autumn. Can the new intake help Labour move away from the mistakes of the past?  And what do they want to see from the new leadership?  Stephen Kinnock is the son of the party's former leader Neil and new MP for Aberavon, he is married to Danish Prime Minister Helle Thorning Schmidt and Rachel Maskell is the new MP for York Central, she was formerly Unite's Head of Health and has been an NHS physiotherapist for 20 years.
All subject to change.