Main content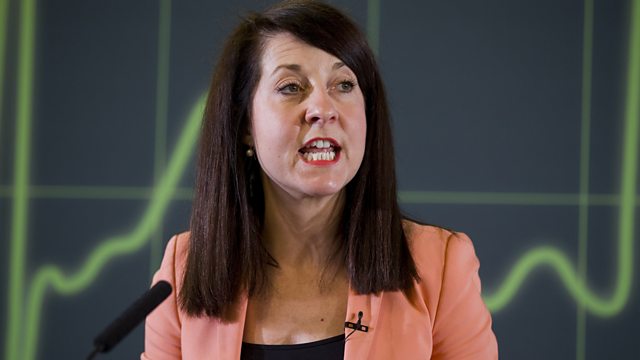 Liz Kendall MP, Man Up, SNP politics, Jane Squire
Liz Kendall on why she wants to be the next leader of the Labour Party. Plus the SNP women who want to put their stamp on Westminster. Presented by Jane Garvey.
Liz Kendall is the first Labour MP to formally declare a campaign to became the next Leader of the Party. Jane Garvey talks to her about why she thinks the Party failed to connect with voters in last week's Election, her vision for the Party and, who's inspired her career in politics.
Man Up is a new British Rom-Com written by Tess Morris, starring Lake Bell. It's set -over the course of one manic, drunken, evening when a character mistakes Lake for his blind date. They talk to Jane about relationships, British Accents and whether there will be a happily-ever-after.
The SNP will have its largest ever tally in the new Parliament, with 56 MPs. 20 of the new MPs are women, among them is the youngest ever MP to sit at the Commons, as well as teachers and charity workers. How will they put their stamp on politics ?
Forgotten women of history - In 1714 the British parliament offered a large financial reward for finding Longitude at sea. Men from all over the world put forward their ideas, but just one woman: Jane Squire, who'd loved Mathematics all her life.
Presented by Jane Garvey
Producer Beverley Purcell.
Chapters
Liz Kendall

Duration: 10:57

Jane Squire

Duration: 06:54

Liz Kendall

Liz Kendall is the first Labour MP to formally declare a campaign to became the next Leader of the Party. Jane Garvey talks to her about her why she thinks the Party failed to connect with voters in last week's Election, her vision for the Party and , who's inspired her career in politics. 

SNP

The SNP will have its largest ever tally in the new Parliament, with 56 MPs. Among the ranks are some who have joined the party with in the last year, as well as experienced councillors and former members of the Scottish parliament at Holyrood. 20 of the new MPs are women, among them is the youngest ever MP to sit at the Commons, as well as teachers, charity workers and scores of other ordinary women determined to put their stamp on politics.

Jane Squire

In 1714 the British parliament offered a large financial reward for finding longitude at sea. The longitude or east-west co-ordinate of a ship was difficult to calculate, making navigation very hard and putting lives at risk. Men from all over the world put forward their ideas, but just one woman: Jane Squire, who'd loved mathematics all her life. Dr Alexi Baker, Historian of Science from Cambridge University explains how unusual she was.

Man Up

Man Up is a new British Rom-Com written by Tess Morris, starring Lake Bell and Simon Pegg, set over the course of one manic, drunken, eventful evening when Simon Pegg's character mistakes Lake Bell's for his blind date. Jane is joined by Tess and Lake to talk about relationships, British Accents and whether there will be a happily-ever-after. 

Man Up is out on the 29th of May.

Credits

| Role | Contributor |
| --- | --- |
| Presenter | Jane Garvey |
| Interviewed Guest | Liz Kendall |
| Interviewed Guest | Laura Bicker |
| Interviewed Guest | Tess Morris |
| Interviewed Guest | Lake Bell |
| Interviewed Guest | Alexi Baker |
| Interviewed Guest | Hannah Bardell |
| Producer | Beverley Purcell |