Passport Website, Mortgages for the Self-Employed, Avios Points
A judge has ruled that an unofficial passport website, which sued its own customers after they tried to cancel or refused to pay, is misleading.
The energy company that billed a customer incorrectly for 14 years.
Self employment is booming but are new mortgage rules making it harder for them to get home loans?
The Ofcom ruling on Unicom and its phone and broadband services.
First there was green electricity. Now there's 'green gas'. And it's taking off in the UK. We visit the plants that are making the most from waste products.
The changes to the Avios air miles scheme that have left regular customers unhappy; How winding back car mileage is making a comeback.
Presenter: Shari Vahl
Producer: Jo Meek.
Last on
Green Gas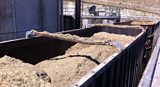 A feed hopper at JV Energen, Dorset. The site is home to the UK's first commercial biomethane to grid plant.