Main content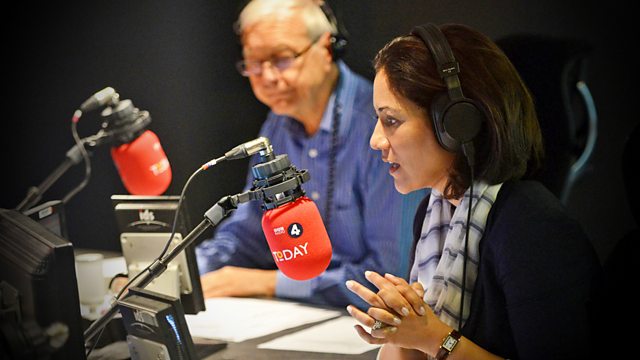 11/05/2015
Morning news and current affairs. Including Sports Desk, Weather and Thought for the Day.
Today's running order
0645
The French President, Francois Hollande, is visiting Cuba today - the latest in a long line of leaders seeking new ties with the communist island. The Dutch Foreign Minister, the EU foreign minister, the Japanese and the British have all visited since the thaw with Washington was announced in December in an effort to explore new opportunities. Will Grant reports from Havana.
0650
Michelle Obama has rarely talked about race since her husband because President. The United States though has been talking about it a lot - after a string of cases where police have either abused or killed African Americans. Now the First lady has spoken about what it was like when she first moved into the White House.
0655
Today 5,000 consultation letters from Scottish physician Dr William Cullen will be published online. Dr Cullen – together with David Hume and Adam Smith - was an important figure in the Scottish Enlightenment, and his opinion was in high demand. People wrote to him from around the world requesting his advice on treatments, and Cullen recorded all of his medical correspondence: it is one of the most remarkable records in medical history. Dr David Shuttleton is reader in literature and medical culture at the University of Glasgow and led the project.
0710
Straight down to business this morning for the new government – and in its 'in tray' are two big issues - Scotland, and Europe. What tack should the government take on each of them? David Cameron has said the new government would be 'keeping all the pledges that were made on Scotland. That's what this government should be about - this idea of renewing and refreshing the UK.' Lord Forsyth is a former Secretary of State for Scotland.
0715
The European Commission will this week present a migration policy for Europe, including proposals to set refugee quotas for all EU member states – which if implemented (which is unlikely) would see Britain taking a much greater number of Mediterranean migrants. Katya Adler is the BBC's Europe editor.
David Cameron meets the 1922 committee of backbenchers this morning, having said yesterday he was confident he could secure the "right result" on Europe. John Baron is a Conservative MP for Basildon & Billericay, who rebelled against the party leadership over Europe in the last Parliament
0720
The German Chancellor and the Russian President stood side-by-side yesterday to remember victims of the Second World War. Angela Merkel and Vladimir Putin also held talks on the ongoing war in Eastern Ukraine. President Putin claimed there has been real progress towards peace on the ground. But as our correspondent Tom Burridge reports, there is still no sign of real peace in the region.
0730
Nicola Sturgeon, the SNP leader, has said several times since Thursday that the success of her party at the polls wasn't a vote for independence. That's still in the first line of her party's constitution but it's clear that with the election of a new government, she expects unionists and nationalists to discuss constitutional change that stops short of dismantling the UK. James Naughtie has been talking to two key figures in the referendum campaign about what may lie ahead.
0740                                                                                                                                   
Scientists have discovered that most of the animal mummies sold to Ancient Egyptians as religious offerings had little or no animal remains in them. Researchers estimate that up 70 million animals may have been mummified by the Ancient Egyptians, in a large scale industry which included factory farming. Dr Lidija Mcknight is an Egyptologist at the University of Manchester, she has spent 15 years working on this research.
0750
David Cameron has already started talking about renegotiating Britain's relationship with the EU. Jose Manuel Barroso is the former President on the EU Commission.
0810
The dust is settling after a bruising General Election last week, what went wrong and how do the Labour Party rebuild? Reporter Sanchia Berg speaks to voters in Nuneaton, a seat Labour targeted but lost, about why they didn't vote for the party. Harriet Harman is Labour's Acting Leader.
0820                                                            
Today is the 30th anniversary of the Bradford City stadium fire, in which 56 people died and hundreds were injured. An inquiry found that the fire was an accident, probably started by a spectator dropping a cigarette into the rubbish that had accumulated under an old timber stand. The fire spread quickly and engulfed the entire structure within 4 minutes. Tony Delahunty was the Penine Radio reporter who commentated on the game and David Sharpe is the founder of Bradford Plastic Surgery and Burns Research Unit.
0830
Federica Mogherini will brief the UN Security Council today, where it's thought Britain will be among members pushing for a resolution to allow the use of force against to stop traffickers; and the Commission is set to unveil on Wednesday its European Agenda on Migration which will call for a more even redistribution of migrants within the EU members' states. Peter Sutherland is the UN Special Representative of the Secretary-General (SRSG) for International Migration.
0835
It's clear that one of the dominating discussion in the new parliament will be about our constitutional and parliamentary arrangements. The arrival of 56 nationalists in the Commons means that it's not just a question for Scotland, but for the whole of the UK. James Naughtie spoke to Adam Timkins, Professor of Law at Glasgow University, and a Conservative member of that commission.
0840
David Cameron is expected to announce the remaining appointments to the new Cabinet today. Last night it was confirmed that Iain Duncan Smith will stay as Work and Pensions Secretary, and Tina Stowell will remain as Leader of the Lords. On Sunday Michael Gove was made Justice Secretary, while Chris Grayling became Leader of the Commons and Mark Harper was appointed Chief Whip. James Landale is our deputy political editor.
0845
Finance Ministers in the Eurozone will be meeting this afternoon and top of the agenda - again - will be Greece, a country fast running out of money. As we've been reporting since the start of the year when the new Syriza government was elected, Greece is under huge pressure from its international creditors to agree to economic reforms that include austerity measures, if it is to receive any more bailouts. Chris Morris reports from Athens.
0850                                                                                                       
A new book claims that almost everything we've been told about dieting is wrong - and microbes play a much bigger role than simply cutting fats or sugars. Modern diets of highly processed and limited varieties of ingredients – in particular fast foods – are thought to be killing off some species of gut bacteria that keep us healthy. These microbes are vital for healthy digestion – in particular, for burning excess calories – and so this loss of gut bacteria could be linked to obesity and other health conditions. Tim Spector is Professor of Genetic Epidemiology at King's College London and author of The Diet Myth: The Real Science Behind What We Eat and founder of the British Gut Project.
0855
What happens to an MP who loses their seat? How quickly can he or she rebuild their lives? With a number of well- known names, as well as others not so well known, felled brutally last week, how hard is it to move from Westminster into the real world? We talk to two who lost their seats in 2010. Claire Ward was the Labour MP for Watford who lost her seat in 2010 - she is now chairman of Pharmacy Voice which is the trade association for community pharmacies and Andy Reed is a former Labour MP for Loughborough, 1997 - 2010 and is now director of the international Sports Management MBA at Loughborough University.
All subject to change.