Main content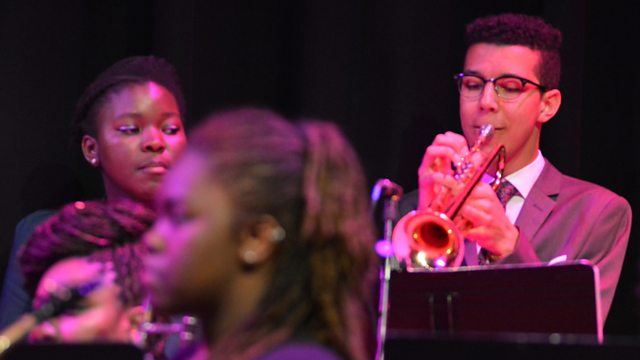 Young Artists Day: Tomorrow's Warriors Youth Orchestra
Celebrating Radio 3's Young Artists Day, Jez Nelson presents a concert given by Tomorrow's Warriors Youth Orchestra at the Southbank Centre in London.
Jazz on 3 celebrates the future of British jazz on Radio 3's Young Artists Day with Tomorrow's Warriors Youth Orchestra in concert.
Founded by bass player Gary Crosby, the Tomorrow's Warriors scheme has been an important cornerstone of British jazz for over 20 years - shaping the careers of young musicians through workshops, performance platforms and a restless collective spirit. Today the Tomorrow's Warriors Youth Orchestra continues to produce some of the finest next-generation players and here at London's Southbank Centre the 17-piece ensemble premieres new work by some of the collective's esteemed graduates, including Nathaniel Facey, Yazz Ahmed, Peter Edwards, Ben Burrell and Binker Golding.
Titled Bridge To Our Memories, the new series of pieces evokes African storytelling, high-life, Caribbean folk and Arabian rhythms, embodying the individual cultural backgrounds of the writers and reflecting on the changing face of Britain.
Presenter: Jez Nelson
Producer: Chris Elcombe
BBC Radio 3's Young Artists Day.
Radio 3 salutes some of the new and upcoming talent active in the arts today under the age of 25. As well as hearing from young choreographers, composers, musicians and writers throughout the day, Radio 3 will be playing music of great composers in their youthful periods, alongside recordings of seminal performers made when they were young.
Last on
Music Played
Richie Seivwright and Alexander Bone select their favourite new releases

Frankfurt Radio Big Band

&

Julian Argüelles

Mama Marimba

Composer: Johnny Dyani

Daniel Herskedal

The Mistral Noir

Composer: Daniel Herskedal

Slow Eastbound Train.
Edition Records.

Kamasi Washington

Change Of The Guard

Composer: Kamasi Washington

Tomorrow's Warriors Youth Orchestra in concert at the Purcell Room, South Bank Centre, London on 18th April 2015

Tomorrow's Warriors Youth Orchestra

&

Binker Golding

Why Some Women Dance, Mvt. 1

Composer: Binker Golding

Tomorrow's Warriors Youth Orchestra

&

Peter Edwards

Journey to El Dorado

Composer: Peter Edwards

Orphy Robinson, Simon Purcell and Nubya Garcia discuss jazz education today

Nérija

Pinkham V

Composer: Shirley Tetteh

Tomorrow's Warriors Youth Orchestra in concert at the Purcell Room, Southbank Centre, London on 18th April 2015

Tomorrow's Warriors Youth Orchestra

&

Yazz Ahmed

Dreaming Beneath The Tree of Life

Composer: Yazz Ahmed

Tomorrow's Warriors Youth Orchestra

&

Nathaniel Facey

From The Land Of The Eternal Father

Composer: Nathaniel Facey
Line up:
Nathaniel Facey (musical director); Sheila Maurice-Grey (trumpet 1); Dylan Jones (trumpet 2); Joe Linton (trumpet 3); Tim Wearden (trumpet 4); Nathaniel Cross (trombone 1); Joe Bristow (trombone 2); Richie Seivwright (trombone 3); Hanna Mbuya (bass trombone, tuba), Joe Elliot (alto saxophone 1); Cassie Kinoshi (alto saxophone 2); Nubya Garcia (tenor sacophone 1); Nick Wills (tenor saxophone 2); Sahvannah Amaka (baritone saxophone); Tommy Remon (guitar); Johnah Grimbly (piano); Mutale Chashi (double bass); Patrick Boyle (drum kit) 
Broadcast