Main content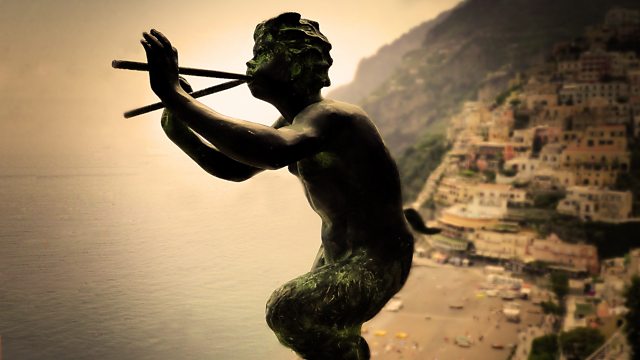 The Great God Pan
Texts and music inspired by the god Pan, with readers Haydn Gwynne and Anton Lesser. With Shelley, Pound and de la Mare, plus Debussy, Ravel and Dvorak.
An invitation to Arcadia to celebrate the god Pan in poetry and music. Haydn Gwynne and Anton Lesser read work by Shelley, Ezra Pound, Elizabeth Barrett Browning, Walter de la Mare, Kenneth Grahame and Ted Hughes. Debussy, Ravel, Dvorak, Carl Nielsen, Alberto Ginastera, Lionel Monkton and Pink Floyd provide music.
Producer: Philippa Ritchie.
Music Played
Timings (where shown) are from the start of the programme in hours and minutes
Kenneth Grahame

The Wind in the Willows, Chapter 7: The Piper at the Gates of Dawn, Anton Lesser

A Musical Instrument

Elizabeth Barrett Browning, Haydn Gwynne

Percy Bysshe Shelley

Hymn to Pan, Anton Lesser

Ted Hughes

Midas (Tales from Ovid), Haydn Gwynne

Robert Ogilvy Crombie

Gentleman and the Faun: Encounters with Pan and the Elemental Kingdom, Anton Lesser

J.M. Barrie

Peter Pan in Kensington Gardens, Haydn Gwynne

Kenneth Grahame

The Wind in the Willows, Chapter 7: The Piper at the Gates of Dawn, Anton Lesser

J.M. Barrie

Peter and Wendy, Haydn Gwynne

Aleister Crowley

Hymn to Pan, Anton Lesser

Ezra Pound

Pan is Dead, Anton Lesser and Haydn Gwynne

Walter de la Mare

They Told Me, Haydn Gwynne

Kenneth Grahame

The Wind in the Willows, Chapter 7: The Piper at the Gates of Dawn, Anton Lesser

Producer's Note

Pan is an intriguing god, maybe because he's actually only half a god.  He is also half a goat.  Although he's a gentle deity of woods, mountains and shepherds, he's also a lusty god of unbridled sexuality.  Of all the Olympian gods he's the one who has remained most strongly in the popular imagination and continues to inspire writers and artists.  Perhaps it's his dual nature that appeals to us – a conflicted hero is always more interesting.

The goat-god's favourite diversion was to chase and seduce nymphs.   It was often not  seduction, but rape.   One of the most famous myths of Pan involves his pursuit of the water nymph Syrinx.  In her desperation to escape she appealed to the river gods for help who turned her into a water reed.  Thwarted in his desire, Pan tore up the reed and made Syrinx into Pan pipes.  The tale has been recounted by poets many times, usually from Pan's point of view.  Similarly, painters, most famously Rubens, have tended to portray Syrinx voluptuously as if seen through the eyes of Pan.   The English Romantic poets, tended not only to depict Pan as the victim of the story, but viewed Pan as a prototype artist who transmuted his pain into art.  I was interested to discover Elizabeth Barrett Browning's poem (published in 1860) which tells the story from a different point of view, painting Pan's actions as brutal and pointing out that

'The true gods sigh for the cost and pain, —

For the reed which grows nevermore again

 As a reed with the reeds in the river.

When Pan wasn't pursuing nymphs he enjoyed frightening travellers.  He would lie in wait, concealed in the bushes and when a traveller passed by he would gently rustle the bushes engendering a sense of apprehension or Panic in the person walking by. The ancient Greeks credited the battle of Marathon's victory to Pan, using his name for the frenzy and terror displayed by the fleeing Persian soldiers.  I have chosen several pieces of music which allude to the danger of Pan's presence including Harrison Birtwistle's composition Panic, featuring John Harle on the alto saxophone.

However in Kenneth Grahame's classic children's book The Wind in the Willows, Rat and Mole experience an epiphany of Pan that is a vision of complete beneficence.  Pan also features as a benign force in the ballet Daphnis and Chloe.  Diaghilev commissioned the work from Ravel with choreography by Fokine and design by Bakst. The first production in 1912 starred Nijinsky and Karsavina. When Chloe is seized by pirates her lover Daphnis falls lifeless to the ground and it is left to Pan to come to the rescue accompanied by a team of satyrs.  The pirates soon flee in terror.

Another positive encounter with Pan is recounted by the scientist and writer Robert Ogilvy Crombie (detailed in his book Encounters with Pan). Crombie, who went on to become a seminal member of the Findhorn community, assures Pan that he is not afraid of him, despite the god pointing out that he is seen as the devil.

The association between Pan and the devil is a mysterious one.  The Christian devil's hooves, tail and horns appear to be derived from the appearance of Pan.  It's often claimed that the early Christian teachers wanted to kill off the pagan gods but as Pan was such a popular deity it was easier to keep him and transform him into a devil.  Scholarship has shown the truth may be more complex.  

I have included Peter Pan in the programme because although he is not the same as the god Pan, he shares important characteristics:  He is wild, untamed and connected with nature and he is immortal, as he refuses to grow up.  He doesn't possess the legs or horns of a goat but in J.M. Barrie's book, Peter Pan in Kensington Gardens,  (published in 1906, two years after the play) I was fascinated to find that the Peter Pan is associated with a goat.

In 1954 Jerome Robbins directed a Broadway musical version of Peter Pan which starred Mary Martin as Peter.  It became a signature role for her and she also appeared in three television productions of the musical.   I have included her big number I'm Flying which she sung while flying dynamically around the children's nursery.  You can find a film of her performing it online.

The other famous myth involving Pan is that of his death, which is referenced in several of the poems I've chosen. It was first told by Plutarch who relates the story of a ship's pilot commanded by an unseen voice to announce the message "Great Pan is dead" as he passed near the Greek island of Palodes.  Plutarch tells us that after the pilot delivered this sad message the air immediately became filled with a terrible lamentation.  This event is said to have transpired close to the date Christians believed Jesus died and early church fathers quoted Plutarch's story widely, which they saw as a prophesy of the death of paganism.

However Pan is not dead – he is continually re-born in works of art, and tonight he will be conjured up on Radio 3 thanks to the inspired readings of Haydn Gwynne and Anton Lesser.

Producer: Philippa Ritchie  

The hidden history of plant-based diets