Main content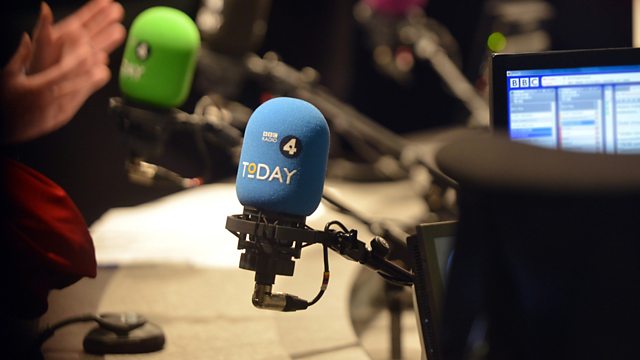 07/05/2015
Morning news and current affairs. Including Sports Desk, Weather and Thought for the Day.
Last on
Today's running order
0645
Three years ago, the streets of Moscow were filled with protestors - angry at what they claimed were rigged elections that had brought Vladimir Putin back to power. It was part of the biggest wave of protests in Russia since the 1990s but President Putin's official popularity rating is now sky high. So what's happened to the protest mood in Russia? Our Moscow correspondent Sarah Rainsford has been finding out.
0650
Four men have been sentenced to death over the murder in March of a 27-year-old Afghan woman who was lynched by a mob in the centre of the capital of Kabul, after she was falsely accused of burning a copy of the Qur'an. The death of the woman- called Farkhunda- was captured on video and has since led to mass protests in the country, with shocked Afghans calling for the authorities to uphold women's rights to equality and protection from violence. A judge has sentenced another eight people to sixteen years in jail and acquitted eighteen people. A further nineteen defendants -all police officers- are accused of neglect of duty and will appear in court this weekend. Kimberley Motley is an attorney and the first foreign litigator in Afghanistan and represented Farkhunda's family in court.
0655
Scientists have identified a new species of beetle in South Africa Capelatus prykei – it has no direct relatives throwing up questions about how it got there. Dr David Bilton is a reader in Aquatic Biology at Plymouth University.
0710
Voters are going to the polls today to vote in local and national elections. Ben Geoghegan is a BBC Political Correspondent.
0715
Seventy years ago today the German armed forces surrendered unconditionally to the Allies. The official announcement that the war in Europe was at an end came one day later, on the 8th May 1945, known now as VE Day. Juliet Gardiner is a social historian.
0720
A two-hour BBC show featuring nothing more than a journey down a canal has proved an unlikely hit with viewers. All Aboard! The Canal Trip was filmed in real time and contained no commentary, music or presenter and nothing more exciting than passing boats, changing scenery and the occasional passer-by in the distance walking along the towpath. But half a million viewers were watching the experiment in slow TV - filmed with a camera strapped to the front of the barge - down one of Britain's historic waterways, the Kennet and Avon Canal. Clare Patterson is the commissioning editor and executive producer of All Aboard! The Canal Trip.
0730
The Greek government made a debt repayment to the IMF yesterday worth 200 million euros (approx. 150 million pounds). Greece is due to make a further - much bigger -payment to the IMF next Tuesday, and ahead of a meeting of Eurozone finance ministers next Monday, rumours that Greece will shortly run out of cash are continuing to circulate. In response to the ongoing economic crisis, a number of citizen-led initiatives have sprung up across the country, to provide support for those worst affected by the austerity measures. Chris Morris a Europe correspondent reports and Kostos Chrysogonos is member of European Parliament, representing the Coalition of the Radical Left (SYRIZA) political party.
0740                                                                                                                                   
It used to be simple, Beatles or Stones, Mods or Rockers, prog rock or disco, tribes were easy to identify and synonymous with specific musical acts. We all remember Blur vs Oasis - the art school boys versus the working class lads. But this week Liam Gallagher said that Blur's new single was his song of the year - so what does this say about pop cultures today when all music is available to everyone and easily accessible on the net? Have we seen the end of pop tribes as we used to know them? Dr Ruth Adams is a lecturer in Cultural and Creative Industries at King's College London and Dr David Fowler teaches 20th century history at University of Cambridge and is the author of Youth Culture in Modern Britain (1920-1970). He is currently working in on a new book on pop culture and student protest in the 1960's.
0750
In the wake of the Ebola crisis, the Bill & Melinda Gates Foundation is announcing that it will be funding a disease surveillance network in Africa and Asia (in areas with the highest number of child deaths) to help tackle childhood mortality and prepare for the next epidemic. Mishal has been speaking to Bill Gates.
0810
Tomorrow will be the 70th anniversary of VE Day. Justin has been speaking to three VE Day veterans, now in their early 90s. They are David Teacher, 91, Michael McGrory, 90, and Eileen Younghusband, 93.
0820                                                            
A Medecins San Frontieres ship in the Mediterranean has rescued nearly five hundred people since its mission began at the weekend. In its latest voyage the MY Phoenix pulled 104 people out of a dinghy, transferring them onto a commercial vessel to be taken safely to shore. One of the doctors onboard the ship, Erna Rijnierse has been recording her experiences for us.
0830
With the Syrian conflict now entering its 5th year, a previously hidden problem is starting to emerge. Experts say Post Traumatic Stress Disorder, or 'PTSD' is now affecting over 30 percent of the entire population. Our Security Correspondent Frank Gardner has been meeting the Syrian-born psychiatrist Dr.Redwan Al-Khayat who now lives in Britain. He began by asking him to describe the extent of the problem. Frank Gardner and the author, journalist and broadcaster Charles Glass, who specialises in the Middle East and is the author of "ISIS and the Death of the Arab Spring".
0840
Every town has those sometimes rather scruffy patches of land on the outskirts which aren't properly urban but can't really be called countryside. Known as "edgelands" they're celebrated in a new book out today. In Common Ground the journalist and naturalist Rob Cowen writes about one such patch a mile from his home in the Yorkshire town of Harrogate. The pressure to build new homes means this area, like many other edgelands, is under threat. Nick Higham joined him for a walk.
0845
After a wave of deadly attacks in Europe -  involving cartoonists depicting the Prophet Mohammed, the violence has this week played out on American soil - with IS claiming responsibility. Simon Schama is a historian.
0850
Excessive use of video games and free online pornography is pushing young men into a crisis of masculinity that leaves them bored in school, disinterested in human contact, and opting out of society. That's the warning from US psychologist Dr Philip Zimbardo, famous for the controversial Stanford Prison experiment from 1971, in his new book Man (Dis)connected. Is he right? Professor Philip Zimbardo is co-author of Man (Dis)connected, who made his name as a psychologist in the 1970s with the Stanford Prison Experiment and Dr Andrew Przybylski of the Oxford Internet Institute, has researched the effects of gaming and online behaviour on adolescents.
All subject to change.
Broadcast