Main content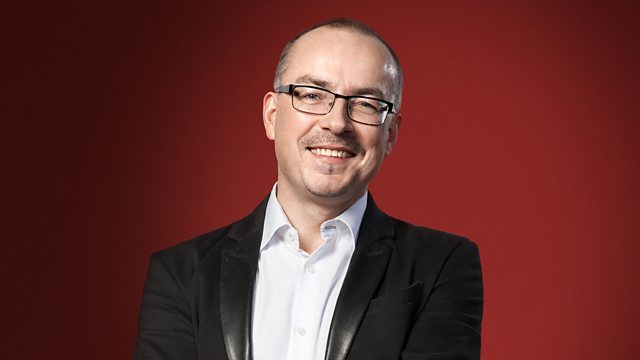 Building a Library: Scriabin: Prometheus
With Andrew McGregor. Including Building a Library: Scriabin: Prometheus; Recent releases of music by Elgar; Disc of the Week.
9.00am
Shostakovich: Symphony No. 9 & Violin Concerto No. 1
SHOSTAKOVICH: Symphony No. 9 in E flat major Op. 70; Violin Concerto No. 1 in A minor Op. 99
Leonidas Kavakos (violin), Mariinsky Orchestra, Valery Gergiev (conductor)
MARIINSKY MAR0524 (Hybrid SACD)
Weinberg: Symphonies Nos. 5 & 10
WEINBERG: Symphony No. 5 in F minor Op. 76; Symphony No. 10 Op. 98
The Moscow Philharmonic Orchestra, Kirill Kondrashin (conductor), The Moscow Chamber Orchestra, Rudolf Barshai (conductor)
MELODIYA MELCD1002281 (CD mid-price)
Prokofiev: Symphony No. 5
PROKOFIEV: Symphony No. 5 in B flat major Op. 100; Scythian Suite Op. 20
Bergen Philharmonic Orchestra, Andrew Litton (conductor)
BIS BIS2124 (Hybrid SACD)
Mendelssohn: Symphony No 5
MENDELSSOHN: Symphony No. 5 in D major Op. 107 'Reformation'; Calm Sea and Prosperous Voyage Op. 27; Ruy Blas Overture Op. 95
London Symphony Orchestra, Sir John Eliot Gardiner (conductor)
LSO LIVE LSO0775 (SACD + Blu-ray audio, budget)
9.30am Building a Library
Bill Mival compares recordings of Scriabin's Prometheus and makes a personal recommendation:<?xml:namespace prefix = o ns = "urn:schemas-microsoft-com:office:office" />
Top Recommendation:
Prometheus - The Myth in Music
BEETHOVEN: The Creatures of Prometheus Op. 43: excerpts
LISZT: Prometheus, symphonic poem No. 5, S99
NONO: Prometeo: excerpts
SCRIABIN: Prometheus (The Poem of Fire) Op. 60
Martha Argerich (piano), Ingrid Ade-Jesemann, Monika Bair-Ivenz (sopranos), Peter Hall (tenor), Ulrike Krumbiegel, Mathias Schadock (speakers), Berliner Singakademie, Solistenchor Freiburg, Berliner Philharmoniker, Claudio Abbado (conductor)
SONY SK53978 (CD mid-price)
10.30am
Handel, Marais & Destouches: Semele
DESTOUCHES, A: Semele (extracts)
HANDEL: Concerto Grosso Op. 3 No. 4a in F Major, HWV315; Semele: O, Sleep Why Dost Thou Leave Me?; L'Allegro, Il Penseroso ed Il Moderato: Sweet Bird; Tra le fiamme, HWV170; Theodora: Ouverture; To thee, thou glorious son of worth (from Theodora)
MARAIS, M: Semele (extracts)
Chantal Santon Jeffery (soprano), Melodie Ruvio (alto), Les Ombres, Sylvain Sartre, Margaux Blanchard
MIRARE MIR260 (CD)
Agrippina - Opera Arias
GRAUN, C H: Se la mia vita, o figlio (from Britannico); Mi paventi il figlio indegno (from Britannico)
HANDEL: Ogni vento (from Agrippina); Pensieri, voi mi tormentate! (from Agrippina); L'alma mia fra le tempeste (from Agrippina)
MATTHESON: Gia tutto valore (from Nero)
ORLANDINI: Tutta furie e tutta sdegno (from Nerone); Gia tutto valore (from Nero)
PERTI: Date all'armi o spirti fieri (from Nerone fatto Cesare)
PORPORA: Mormorando anch'il ruschello (from L'Agrippina); Con troppo fiere immagini (from L'Agrippina)
Ann Hallenberg (mezzo), Il Pomo d'Oro, Riccardo Minasi (conductor)
DEUTSCHE HM 88875055982 (CD)
Orfeo(s): French and Italian Cantatas
CLERAMBAULT: Cantate Orphee 'a voix seule et symphonie'
PERGOLESI: Orfeo (Cantata)
RAMEAU: Orphee 'Cantate avec simphonie'
SCARLATTI, A: L'Orfeo "Dall' oscura magion del arsa Dite" For soprano, 2 Violins & B.c
Sunhae Im (soprano), Akademie fur Alte Musik Berlin
HARMONIA MUNDI HMC902189 (CD)
10.45am New Releases – Kate Kennedy's Elgar
Andrew is joined live in the studio by Kate Kennedy to discuss recent releases of music by Elgar, including King Olaf conducted by Sir Andrew Davis and The Dream of Gerontius recorded in Moscow, conducted by Evgeny Svetlanov.
Elgar: King Olaf
ELGAR: Scenes from the Saga of King Olaf; The Banner of St George
Emily Birsan (soprano), Barry Banks (tenor), Alan Opie (baritone), Bergen Philharmonic Orchestra, Bergen Philharmonic Choir, Collegium Musicum Choir, Edvard Grieg Kor, Sir Andrew Davis (conductor)
CHANDOS CHSA5149(2) (2Hybrid SACD mid-price)
Elgar: Symphony No. 1 & Cockaigne Overture
ELGAR: Symphony No. 1 in A flat major Op. 55; Cockaigne Overture Op. 40 'In London Town'
Royal Liverpool Philharmonic Orchestra, Vasily Petrenko (conductor)
ONYX ONYX4145 (CD)
And the Bridge is Love
DELIUS: Aquarelles (2)
ELGAR: Introduction & Allegro for strings Op. 47; Serenade for Strings in E minor Op. 20; Chanson de Nuit Op. 15 No. 1; Chanson de Matin Op. 15 No. 2
GOODALL, H: And the Bridge is Love
IRELAND: A Downland Suite - Minuet
LLOYD WEBBER, W: The Moon
VAUGHAN WILLIAMS: Charterhouse Suite: Prelude
WALTON: Passacaglia - Death of Falstaff and Touch her soft lips from Henry V
Julian Lloyd Webber (cello), English Chamber Orchestra, Julian Lloyd Webber (conductor)
NAXOS 8573250 (CD budget)
Vaughan-Williams: The Lark Ascending & Violin Concerto
ELGAR: Serenade for Strings in E minor Op. 20; Introduction & Allegro for strings Op. 47
VAUGHAN WILLIAMS: The Lark Ascending; Violin Concerto in D minor 'Concerto Accademico'
Tamsin Waley-Cohen (violin), Orchestra of the Swan, David Curtis
SIGNUM SIGCD399 (CD mid-price)
ELGAR: The Dream of Gerontius Op. 38
Arthur Davies (tenor), Felicity Palmer (mezzo-soprano), Norman Bailey (baritone), Oleg Yanchenko (organ), London Symphony Chorus, USSR State Symphony Orchestra, Richard Hickox (chorus-master), Evgeny Svetlanov (conductor)
MELODIYA MELCD1002266 (2CD budget)
11.50am Disc of the Week
DONIZETTI: Les Martyrs
Michael Spyres (Polyeucte), Joyce El-Khoury (Pauline), David Kempster (Severe), Brindley Sherratt (Felix), Clive Bayley (Callisthenes), Wynne Evans (Nearque), Orchestra of the Age of Enlightenment, Opera Rara Chorus, Sir Mark Elder (conductor)
OPERA RARA ORC52 (3CD)