Main content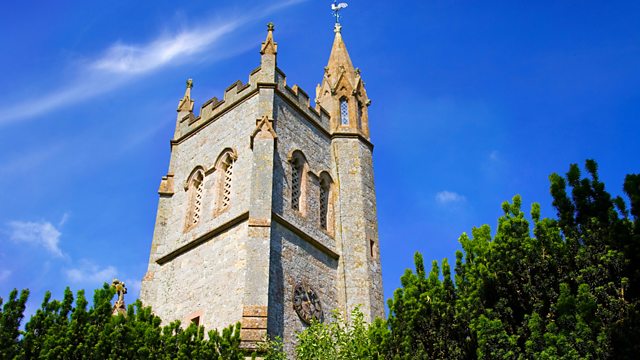 Methodist Central Hall, Westminster
Gerard Brooks directs the renowned Methodist Central Hall Choir in a feast of Methodist hymns live from Methodist Central Hall, with the superintendent, the Rev Martin Turner.
Gerard Brooks directs the renowned Methodist Central Hall Choir in a feast of traditional hymns live from Methodist Central Hall Westminster, directly opposite the Houses of Parliament. Preacher: The Superintendent, the Revd Martin Turner; Leader: The Revd Tony Miles. The service gives thanks for the freedom of choice and rule of law enshrined in our democratic traditions as prayers are expressed for the future of our national life. Producer: Philip Billson.
Methodist Central Hall, Westminster
BBC RADIO 4
SUNDAY WORSHIP for the Sunday before the Election
Led by the Revd Tony Miles
with the Revd Martin Turner and others
 
Radio 4 Opening Announcement:
BBC Radio 4.  It's ten past eight and time to go live to Methodist Central Hall, Westminster for Sunday Worship.  The service is led by the Revd Tony Miles and begins as the choir sings the introit by S S Wesley, 'Lead me, Lord.'
CHOIR: 'Lead me, Lord' (S.S. Wesley)
TONY: Good morning, and welcome. There can be few churches quite so aware there's a General Election looming - situated as we are opposite the Houses of Parliament. We're frequently the backdrop you don't see – behind the cameraman when news journalists stand outside parliament to offer the latest punditry on what's going on in the Westminster Village. And you may have seen one of the televised election debates broadcast from this very Great Hall. The audience was sitting exactly where we'll be singing our hymns from now. On election day, there'll be a polling station on our premises and a count centre, totting up the votes for both the local and national elections.
But now you're joining us for a central purpose at the heart of this building and Christian community, and that's worship. 
Our growing multicultural congregation seeks to serve the community, through our family centre, other social projects, and by extending hospitality to tourists and conference delegates from across the world.
This Central Hall was opened in 1912, and built from the generosity of the Methodist people to mark the centenary of John Wesley's death.  The first General Assembly of the United Nations met in the Great Hall here during 1946, attended by representatives from 51 nations.
So we begin our service by singing a hymn written by Charles Wesley, 'Ye Servants of God, your master proclaim'.
HYMN: 'Ye Servants of God, your master proclaim…' Laudate Dominum (Parry) Charles Wesley (1707-1788)
KINA: Let us pray,
Creator God, risen Lord Jesus, and ever-present Holy Spirit we worship and adore you.
You are throned in glory and power; and with angels above we join our voices in endless praise of your infinite goodness and saving love.
Holy God you are the giver of life and you care for all.
In your grace you show us glimpses of your glory in the spectacular and in the ordinary experiences of life.
Forgive us when we treat you as if you were the servant instead of the Master,
And for those times when we lose our sense of wonder and take your love for granted.
As we look to you, in your mercy, may we hear Jesus' gracious words, "Your sins are forgiven."
As your servants, help us to love you with all our heart, mind, soul and strength,
and love and serve our neighbours as ourselves as we publish abroad your wonderful name.
Through Jesus Christ our Lord. Amen.
CHOIR: 'Dear Lord and Father of Mankind' (Words: Whittier Tune: Parry)
TONY: Our first Bible reading is taken from the Old Testament: Psalm 33 verses 12-22.  It's a hymn of praise to God as Creator, who's free of the world, yet knows what's happening within it, and concerned for its welfare. God's people are warned not to rely on their own strength, but to look to the God of life and love, and to put their hope in Him.
DANIELLA: Blessed is the nation whose God is the LORD, the people he chose for his inheritance. From heaven the LORD looks down and sees all humankind; from his dwelling place he watches all who live on earth -- he who forms the hearts of all, who considers everything they do. No king is saved by the size of his army; no warrior escapes by his great strength. A horse is a vain hope for deliverance; despite all its great strength it cannot save. But the eyes of the LORD are on those who fear him, on those whose hope is in his unfailing love, to deliver them from death and keep them alive in famine. We wait in hope for the LORD; he is our help and our shield. In him our hearts rejoice, for we trust in his holy name. May your unfailing love be with us, LORD, even as we put our hope in you.                                                      
This is the Word of the Lord:
ALL Thanks be to God.
TONY: We now sing a new hymn which the congregation here loves. It's by a contemporary writers and composers Stuart Townend and Keith Getty. Afterwards, we hear from Matthew's Gospel and the Parable of the Bags of Gold.
HYMN: Speak, O Lord, as we come to You (Stuart Townend & Keith Getty - Copyright © 2005 Thankyou Music)
HELEN: Our Gospel reading from the New Testament comes from Matthew's Gospel, Chapter 25 beginning to read at verse 14, which is a metaphor about how we use our skills and gifts. 
Jesus said, "Again, it will be like a man going on a journey, who called his servants and entrusted his wealth to them. To one he gave five bags of gold, to another two bags, and to another one bag, each according to his ability. Then he went on his journey. The man who had received five bags of gold went at once and put his money to work and gained five bags more. So also, the one with two bags of gold gained two more. But the man who had received one bag went off, dug a hole in the ground and hid his master's money. "After a long time the master of those servants returned and settled accounts with them. The man who had received five bags of gold brought the other five. 'Master,' he said, 'you entrusted me with five bags of gold. See, I have gained five more.' "His master replied, 'Well done, good and faithful servant! You have been faithful with a few things; I will put you in charge of many things. Come and share your master's happiness!' "The man with two bags of gold also came. 'Master,' he said, 'you entrusted me with two bags of gold; see, I have gained two more.' "His master replied, 'Well done, good and faithful servant! You have been faithful with a few things; I will put you in charge of many things. Come and share your master's happiness!' "Then the man who had received one bag of gold came. 'Master,' he said, 'I knew that you are a hard man, harvesting where you have not sown and gathering where you have not scattered seed. So I was afraid and went out and hid your gold in the ground. See, here is what belongs to you.' "His master replied, 'You wicked, lazy servant! So you knew that I harvest where I have not sown and gather where I have not scattered seed? Well then, you should have put my money on deposit with the bankers, so that when I returned I would have received it back with interest. "'Take the bag of gold from him and give it to the one who has ten bags. For those who have will be given more, and they will have an abundance. As for those who do not have, even what they have will be taken from them.  [And throw that worthless servant outside, into the darkness, where there will be weeping and gnashing of teeth.']
This is the Word of the Lord:
ALL Thanks be to God.
TONY: Christians believe that one day Christ will come again and people will be held accountable for what they've done with all that's been entrusted to them. Elsewhere Jesus also teaches that his followers are to serve Him, by loving their neighbours as they do themselves. With this in mind, our choir sing 'James Whitbourn's arrangement of 'When I needed a Neighbour, were you there?'. Then the Reverend Martin Turner, our Superintendent Minister at Methodist Central Hall, Westminster, will be our preacher for this morning.
CHOIR: 'When I needed a neighbour' (Tune: Trad. Arr. Whitbourne)
     
MARTIN: I recently received an email from my daughter in New Zealand asking me if I thought that it was better to invest money in a house, or in a high interest savings account. I was pleased she valued my judgment, but reminded her that I am a Methodist Minister and not a financial advisor!
In our Gospel reading this morning,  from Matthew chapter 25,  the man who is going on a journey is very decisive   as to what he would do with his money whilst he is away travelling.   He entrusts it to his three servants,    to one he gives five talents,     to the second three talents,      to the third one talent,       and make no mistake about it this was a considerable        amount of money,        some scholars suggest that a talent was as much as         the average working man of the day would make in         twenty years labour,         others suggest that this man would have been          a multi millionaire today.   
The meaning of this parable would have been painfully clear to the critics of Jesus, their sincere aim was to keep the Law exactly as it was,  like the man who buried his talent acting without   imagination ,   and so Jesus is suggesting that the religious leaders of      the day had lost the dynamic of the truth that God's    word is not set in stone,     but continues to evolve and speak to us in our present      situation,      a gift to be developed and used,       rather than to be buried.
    
But as we hear this parable of Jesus where do you and I stand? On this Sunday before a General Election we reflect upon how each one of us, including those offering themselves for office, might consider how we to use the skills and gifts God has given us to develop both our own lives, and the lives of our community.
First we are reminded that much has been entrusted to us.
 
The master in the parable clearly knew the abilities of his servants and wisely entrusted each with different amounts to work with, but God has entrusted us,   humanity,    with the lot,    with everything.     Christians believe he has given us this world of ours        with it's beauty and it's bounty, and because we are made in God's image and are       therefore free agents,       we are able – at least in the short term,        to do as we wish with it.
So how do we care for creation, and how do we treat each other within our local communities and the wider society?
  
The parable following this one in Matthews' gospel is the parable of the sheep and the goats, with that telling phase,
"Whatever you did for the least of these, you did for me."
That word of Jesus causes us to be very mindful as to  how we handle those who cross our path. With respect?  Giving dignity?   Gladly allowing space for differences of opinion?
    
God created and loves our world, if we are to reflect the priorities of God we need to hold  on to that big picture.  In this Church we have a special concern to look outwards across the world for it was here, in 1946,    that the United Nations was established.     And now Sunday by Sunday ourcongregation is drawn      from many different nations,       all worshipping God together.
Thus our concerns and financial giving as both        individuals and as a Church are on a world map,        for we serve our Creator God,         and as Methodists stand in the steps of our founder          John Wesley,          who famously spoke of the whole world being his           parish!
 
Then secondly this parable reminds us that it is up to us as to how we use that trust placed upon us.
This starts young when our parents begin giving us tasks to do. It develops as we attend school and then enter work or  further education.  It continues in life as there are so many decisions to be   made and we discover that people begin to trust our   judgment in a whole range of matters.
For Christian people there is the whole area of God entrusting us with His message, we are the voice,  the hands,   the heart of Jesus here upon earth,    and God chooses to trust us with the work of bringing     in His Kingdom.
Clearly trust is a huge issue in society at present, and it is generally agreed that the lack of trust in the  political process undermines our democracy.  But it is not just those standing for office who need to   establish that they are worthy of trust,   each one of us stands in the spotlight,    we too need to be people who keep our word and who         seek the good of others as well as our own good.     To be human is to be trusted by God,      may we use that trust wisely.
Third and last, this Parable of the Talents warns us that there is a  consequence as to how we use that entrusted to us.
The deeper message here in scripture is the belief that we are all of us ultimately answerable to God. Much has been entrusted to us,  God has called us to use that which is entrusted to us   carefully and responsibly,   and the life and teaching of Jesus Christ has modelled to    us that the needs of others should always come before    our own needs.
Our politicians need our prayers this week, this is a hard and stressful time for them,  but the greatest gift that winning an election brings is   the opportunity to serve,   just as the greatest gift any of us can be given is that      same opportunity.      So let us not forget that each one of us,      including our politicians,       is answerable to God as to how we use that which He         has given us        When we get that priority right we can pray with           Psalmist we heard earlier,         for ourselves and for our nations,         "May your unfailing love rest upon us Lord,           even as we put our hope in you."
HYMN: 'It is God who holds the nations'  (Vision - Davies) Fred Pratt Green (2003 - 2000) 
TONY: Our prayers for ourselves and others will be led by the Revd Michaela Youngson, one of our Chairs of the London Methodist District, the Reverend Peter Edwards, and Mrs Joyce Williams.  But first, Rosalyn Topping sings as Kyrie, Lord have mercy.
SOLO: Rosalyn Topping - 'Lord have mercy, Christ have mercy' 
Kyrie eleison.
Christe eleison.
Kyrie eleison.
Lord have mercy.
Christ have mercy.
Lord have mercy.
Prayers of Intercession
MICKY:
Let us pray
Gracious God,
we offer our prayers for your world, our nations and for ourselves.
We pray today for those who live in crisis, through conflict or natural disaster.
Help us to remember that your Son, Jesus Christ, is the Prince of Peace and so we pray for peace between nations, within our communities and in our homes.
We particularly remember those whose lives have been devastated by the earthquake in Nepal,
help us to remember that you weep with those who weep,
may we respond generously to the needs of our neighbours.
God of grace
Hear our prayer
 
PETER: 
Gracious God,
We pray for this United Kingdom.
We thank you for the beauty and complexity of these islands;
For soaring mountains, crystal lakes, rugged shorelines and fertile soil.
For cities busy with commerce and culture, homes and parks and noisy traffic.
Help us to remember that you created the heavens and the earth,
We pray for the General Election, for all standing for office, for those who will count votes, for returning officers and for the media who will tell the stories of the election.
We give thanks for the processes of democracy
and offer our prayers for those who do not enjoy such freedom.
God of grace
Hear our prayer
 
JOYCE:
Gracious God,
We pray for ourselves.
We thank you that you have given us talents and gifts.
Help us to be wise in the use of all the gifts we have been given,
willing to take the risk of generosity by giving our time and skills in service to you and to others.
Help us to remember that each of us is called by you to live as a disciple of Jesus Christ,
following him and his example of loving service.
Where we have squandered our gifts, forgive us.
When we have ignored the gifts that others bring, forgive us.
When we have pretended that we have nothing to offer, forgive us.
Help us to combine the many gifts we bring,
that we might build your kingdom on earth.
God of Grace
Hear our prayer
 
MICKY:
Gracious God,
You have heard our prayers, even before they are on our lips you know the desires of our hearts.
Where people grieve help us to bring comfort.
Where people hunger, help us to share our food.
Where people live without hope, help us to share your healing word.
Accept these and all our prayers
In and through the name of Jesus Christ, Our Saviour.
Amen
TONY: Since 1558 sittings in the Houses of Parliament have begun with Christian prayers. In the Commons the Speaker's Chaplain usually reads this traditional prayer.
 
MICKY: Lord, the God of righteousness and truth, grant to our Queen and her government, to Members of Parliament and all in positions of responsibility, the guidance of your Spirit. May they never lead the nation wrongly through love of power, desire to please, or unworthy ideals but laying aside all private interests and prejudices keep in mind their responsibility to seek to improve the condition of all mankind; so may your kingdom come and your name be hallowed. Amen
TONY & ALL:
OUR FATHER IN HEAVEN,
hallowed be your Name,
your kingdom come,
your will be done,
on earth as in heaven.
Give us today our daily bread.
Forgive us our sins
as we forgive those who sin against us.
Save us from the time of trial
and deliver us from evil.
For the kingdom, the power
and the glory are yours,
now and for ever.  Amen.

TONY:
God our Maker and Sustainer,
bless us and keep us in your love,
Jesus, friend and Saviour,
teach us to serve with love, compassion, and integrity.
Spirit of Truth, inspire us to act justly, love mercy, and walk humbly with you.
Now and always.
Amen.
 
HYMN: 'Love Divine, all love's excelling …'     (Blaenwern) Charles Wesley (1707 – 1788)

ORGAN: Chorale improvisation on Nun Danket  (Karg-Elert)
Radio 4 Closing Announcement:
Sunday Worship came live from Methodist Central Hall, Westminster.  The preacher was the Revd Martin Turner and the leader the Revd Tony Miles.  The director of music was Gerard Brooks and the organist Andrew Furniss. The producer was Phillip Billson.
Next week Sunday Worship marks the 70th anniversary celebrations for VE Day and comes live from St Johns College Cambridge with preacher retired Major General Tim Cross CBE of the think tank Theos.
The Archbishop of Canterbury Justin Welby is our preacher for Radio 4's Celebration of Ascension Day a week on Thursday, the 14th of May. The service comes live from St Martin-in-the-Fields and features some of Handel's most popular choruses.
If you'd like to join the congregation in St Martins, a link for tickets can be found on the Sunday Worship web page. Or you'll be able to hear it live on BBC Radio 4 at 8 o'clock.
Please note:
This script cannot exactly reflect the transmission, as it was prepared before the service was broadcast. It may include editorial notes prepared by the producer, and minor spelling and other errors that were corrected before the radio broadcast.
It may contain gaps to be filled in at the time so that prayers may reflect the needs of the world, and changes may also be made at the last minute for timing reasons, or to reflect current events.