Main content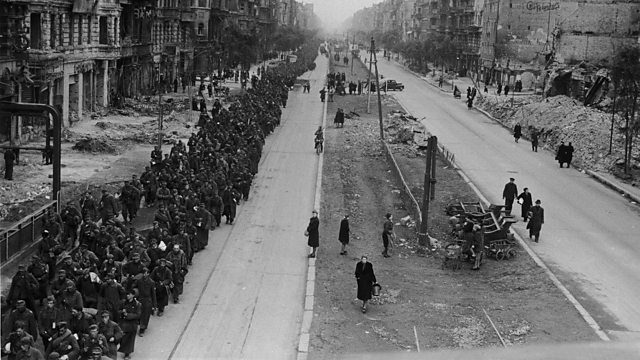 The Rape of Berlin
Lucy Ash investigates the mass rapes by Soviet troops in Germany at the end of World War II, committed in part as revenge for Nazi atrocities in the Soviet Union.
As Europe was being liberated from Fascism at the end of World War II, one of the most infamous incidents of mass rape in history was underway. Lucy Ash investigates a story that slipped under the official radar.
Winston Churchill spoke for many when he saluted the Soviet army as heroes. Yet the widespread sexual violence - in part, revenge for the devastating Nazi invasion of the USSR - went unacknowledged. Some estimate there were 100,000 rapes in Berlin alone but, although no secret, social stigma, political repression, guilt and fear of revisionism ensured that for decades the subject was untouchable in Germany. Today it's still an explosive topic - virtually taboo in Putin's Russia. Renewed East-West divisions over the conflict in Ukraine are exposing to what extent the 'Great Patriotic War', as Russians call it, is unfinished business.
Lucy travels first to Moscow and then to Berlin to meet a veteran and a rape survivor. She discovers letters, abortion records and two remarkably candid diaries from spring 1945: one by a young Red Army officer, and the other by a female German journalist, which caused outrage when it was first published in German in 1959, but rocketed to the bestseller lists in 2003. We confront multiple aspects to the story: that as well as German rape victims there were also the Soviet, Polish and Jewish women who had just been freed from Nazi camps; that sexual violence was committed in different ways on all sides, by the Wehrmacht, the Red Army and the Western Allies; and that sexual encounters ranged from the most brutal gang rape to prostitution to romances across enemy lines.
Producer: Dorothy Feaver
Image credit: German-Russian Museum Berlin-Karlshorst, photo correspondent Timofey Melnik.
Last on
Broadcasts