Main content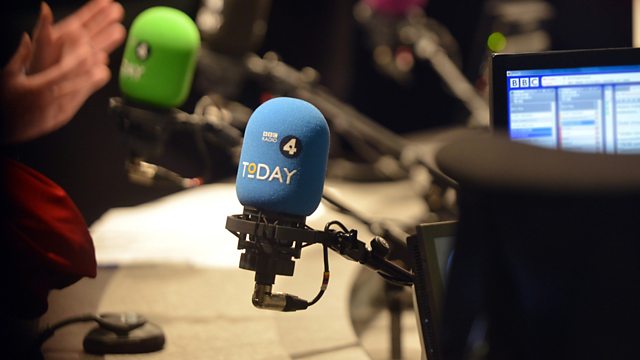 01/05/2015
Morning news and current affairs. Including Sports Desk, Weather and Thought for the Day.
Last on
Today's running order
0650
Over the past two weeks we've seen more evidence of the utter desperation of many Syrians trying to escape their devastated country. They were among more than 1,200 refugees who drowned in the Mediterranean after people traffickers' boats taking them to Italy capsized. In all, around four million people have fled Syria since the conflict there began in 2011. Most have poured into increasingly swollen refugee camps in neighbouring countries. Under a relocation scheme, funded by the United Nations, Germany has agreed to take 30,000 Syrian refugees and Sweden 10,000. Britain has accepted just 143. Under a cross-party campaign led by campaigning organisations Citizens UK and Avaaz the leaders of four local authorities have agreed to house a further 50 refugees each. Other councils are being asked to follow suit. Mike Thomson begins his report from Kingston Upon Thames in South West London.
0655
The south west could be the key to this election. For the first time in a decade, up to a dozen Lib Dem seats in the West Country are in contention, as the Conservatives pile money and resources into a region that is key to their strategy to keep David Cameron in Downing Street. If they win back the seats they can send the most MPs to Parliament and therefore have the first chance at forming a Government.  Jason Schofield is chief executive of Sutton Harbour Holdings which includes Plymouth fisheries and Phillip Blond is the author of a Respublica report  looking at 26 key cities across the UK (including Plymouth, Bath, Bournemouth in the south west) which are being left behind by the northern powerhouses and should play a bigger role in national politics.
0710
Ed Miliband said on last night he'd rather stay in opposition than do a deal with Scottish nationalists after a close national election next week in which no party is expected to win a majority. "Let me be plain, we are not going to do a deal with the Scottish National Party," Miliband told a Question Time audience on BBC TV. Our assistant political editor Norman Smith reviews last night's debate and Douglas Alexander is the Shadow Foreign Secretary.
 0715
Justin reports on the importance of the burgeoning green economy to the south west and Cornwall in particular.
0720
Messenger, the spacecraft that has been orbiting Mercury for ten years, has ran out of fuel. She left behind a crater thought to be around the size of a tennis court and an awful lot of very useful information. Nancy Chabot is the scientist who's been operating Messenger's cameras and Holst is the man who wrote some lovely music about Mercury.
0730
It's been six days since the earthquake that devastated Nepal, and the subsequent avalanche which swept through Everest's base camp killing 18 people. One eyewitness was Peter Hillary, son of Sir Edmund Hillary who, together with Sherpa Tenzing Norgay, was the first to conquer Everest. On Thursday's programme we heard that by total coincide the sons of these legendary mountaineers sought refuge in the same Nepalese village after being caught out by the avalanche. Divya Arya reports on the international aid teams trying to get aid out to villages in rural areas beyond Kathmandu and Peter Hillary is the son of Sir Edmund Hillary.
 0740                                                                                                                                  
David Dimbleby hosted an Election Leaders Special Question Time from Leeds at 8pm last night.  David Cameron, Ed Miliband and Nick Clegg all faced questions from a studio audience of voters. There were also special editions of Question Time with the same format in other parts of the UK - Nigel Farage answering questions from an audience in Birmingham (England only), Leanne Wood (Wales only) and Nicola Sturgeon (Scotland only). Our reporter Jon Kay watched the debate with a group of voters in Exeter.
0750
The Liberal Democrats have been working hard in recent days to separate themselves from their coalition partners - and nowhere more so than in the south-west of England where Liberal Democrats are defending seats against Conservatives and need to be able to mobilise an anti-conservative coalition who'll forgive or forget the last five years. One Lib Dem candidate has gone so far as to rule out his support for another hitch-up with the Conservatives. Justin began his trip around Cornwall at Penzance in the constituency of St Ives - home of the Cornish Pirates rugby.
0810
We continue our series of interviews with party leaders by speaking to Nigel Farage, leader of the UK Independence Party.
0820                                                            
Today Far From the Madding Crowd gets its full cinema release in the UK. Justin discusses art and culture in the West Country and why Hardy's work reflected the countryside he lived in. Professor Angelique Richardson is a Thomas Hardy expert at Exeter University and Penelope Shuttle is a poet.
0830
One of the things the audience in the TV encounters last night didn't seem to approve of was any lack of clarity about who would do deals with whom this time next week. Are we seeing in the final days of the campaign, a setting out of the Liberal Democrat stall that effectively rules out another coalition with the Conservatives?   Steve Webb is the Liberal Democrat Pensions Minister.
0840
Patients who use commercially-run out-of-hours GP services in England report poorer care compared with those who contact not-for-profit or NHS providers, research suggests. A study in the British Medical Journal indicates performance is worse on a number of key measures. John Campbell is Professor of General Practice and Primary Care at the University of Exeter and one of the authors of the report.
0845
Justin has been looking at the enthusiasm among many Cornish people for renewable energy - wind turbines are a common sight in the South West and he looked as well at wave power and solar farms where the sheep gambol around huge arrays of solar panels. He's been talking to Sir Tim Smidt the co-founder of the Eden project about the push for renewable energy.
0850
A row over a duck has threatened to derail the unveiling of a statue of a famous locomotive designer.  The statue to rail engineer Sir Nigel Gresley, who designed the Mallard locomotive as well as the Flying Scotsman, was to have also featured a duck next to the eminent engineer. But Sir Nigel's family, and others, felt the duck detracted from the dignity of the statue which is due to be unveiled at King's Cross station in London on April 5 2016 - the 75th anniversary of Sir Nigel's death. Now the duck has been removed from the planned sculpture but hundreds have signed a petition to bring it back. Libby Ranzetta set up a petition to bring back the duck.
0855
What's happened to the way the poor are portrayed on stage and screen? In the 50s and 60s films like Ken Loach's Kes and plays like Friday Night Saturday Morning confronted the realities of working class life and poverty in parts of the UK. But more recent portrayals have been described as Poverty Porn - Benefits Street and Shameless have focused on the working class as feckless.  Have the salt of the earth become the scum of the earth? A play opening at the National Theatre today, Beyond Caring, focuses on the lives of three cleaners on zero hour contracts. Alexander Zeldin is the writer and director of Beyond Caring and Sam Lay is an academic and author of British Social Realism: From Documentary to Brit Grit.
All subject to change.
Broadcast