Main content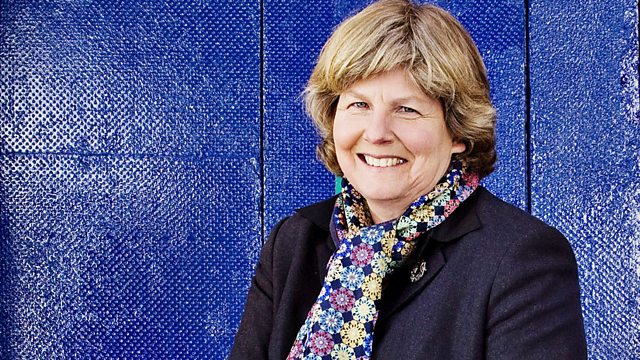 Sandi Toksvig, Midwife Training, Sexism in the City
Sandi Toksvig on why she is leaving Radio 4's News Quiz. What training do midwives have in dealing with pregnant women who may have been abused? And sexism in the city.
After nine years presenting the News Quiz on Radio 4 Sandi Toksvig has decided to step down. Jenni talks to her about why she's made the decision now and what she hopes to go on and do in the future. Childhood sexual abuse affects approximately 20% of women but is often hidden in society and shrouded in silence. Dr Elsa Montgomery has talked to female survivors about their experiences of ante-natal care and childbirth, and is working on a way to help maternity care more sensitive to their needs.
Ahead of an edition of The Report; Sexism in the City which follows the case of Svetlana Lokhova, a former banker who won a massive £3.2 million at an employment tribunal - the programme asks why such cases still happen? Plus, over 80% of women in the UK worry about getting breast cancer yet less than 20% check themselves once a week and even if they do, many admit not knowing what they're looking for. What can women do to improve the statistics? And reporter Sarah Swadling catches up with Jane Howorth from the British Hen Welfare Trust - which has 30 centres across the country, run by 300 volunteers - as she prepares for some new arrivals.
Chapters
Sandi Toksvig

Duration: 08:20

Midwifery Training and the Care of Women Sexually Abused as Children

Duration: 11:32

New Breast Cancer Research

Duration: 05:00

Sexism in the City

Duration: 07:57

Sandi Toksvig

After nine years presenting the News Quiz on Radio 4 Sandi Toksvig has decided to step down. Jenni talks to her about why she has made that choice and what direction she intends on going in now.

Sexism in the City

How common are cases of sexual discrimination and harassment in The City?  Tonight on Radio 4, The Report looks at the case of Svetlana Lokhova, an ex-City Banker, who was awarded a £3 million pay-out for sexual harassment at work. . We talk to Daphne Romney QC a barrister specialising in discrimination and equal pay about the culture that surrounds cases like these.

New Breast Cancer Research

Over 80% of women in the UK worry about getting breast cancer yet less than 20% check themselves once a week and even if they do, many admit not knowing what they're looking for. Nina Barough of Walk the Walk breast cancer charity tells us the findings of a nationwide survey commissioned recently and what women can do to improve the statistics.

Midwifery Training and the Care of Women Sexually Abused as Children

Childhood sexual abuse affects approximately 20% of women but is often hidden in society and shrouded in silence. Few women disclose childhood sexual abuse to healthcare professionals but the potential for trauma in encounters with them is well documented. Dr Elsa Montgomery decided to talk to female survivors about their experiences of ante-natal care and then childbirth, and try to establish how maternity care could be made more sensitive to their needs. We hear from a mother of four who was abused as a child, Janie, a second year student midwife and Elsa.




CISters - emotional support for women abused by members of their family

The Survivors Trust - is a national umbrella agency for over 135 specialist rape, sexual violence and childhood sexual abuse support organisations throughout the UK and Ireland.

Childline
0800 1111
Get help and advice about a wide range of issues, talk to a counsellor online. You can also send ChildLine an email or post on the message boards.

NSPCC Helpline
NSPCC Child Protection Helpline - 0808 800 5000
The NSPCC is the UK's leading charity dedicated to stopping child abuse. You can call their child protection helpline or contact them via email at help@nspcc.org.uk.

NAPAC
NAPAC is the National Association for People Abused in Childhood. It is a registered charity providing support and information for people abused in childhood. 

Parents Against Child Sexual Exploitation (Pace)
Parents Against Child Sexual Exploitation (Pace) works alongside parents and carers whose children are or are at risk of being sexually exploited by perpetrators external to the family. They also offer guidance and training to professionals on how child sexual exploitation affects the whole family. They were formerly known as CROP. 

Child Exploitation and Online Protection (CEOP) Centre
The CEOP Centre is the UK's national police agency set up to tackle child sexual abuse. If you are worried about someone's behaviour towards a child, online or offline, you can report this at www.ceop.police.uk. You can get help, advice and support on all issues related to internet safety for young people by visiting www.clickceop.net.

Hens

Ten years ago Jane Howorth started buying up battery hens which were destined for slaughter, and re-homing them with people who wanted a few pet chickens for their garden. From this grew a charity - the British Hen Welfare Trust - which now has 30 centres across the country, run by 300 volunteers. It's on course to have re-homed half a million hens by the end of the year.  Our reporter Sarah Swadling caught up with Jane Howorth - and some new arrivals - on her Devon farm.

Credits

| Role | Contributor |
| --- | --- |
| Presenter | Jenni Murray |
| Producer | Beverley Purcell |
| Interviewed Guest | Sandi Toksvig |
| Interviewed Guest | Elsa Montgomery |
| Interviewed Guest | Nina Barough |
| Interviewed Guest | Janie Ashton |
| Interviewed Guest | Daphne Romney |
| Interviewed Guest | Sarah Swadling |
| Interviewed Guest | Jane Howorth |