Main content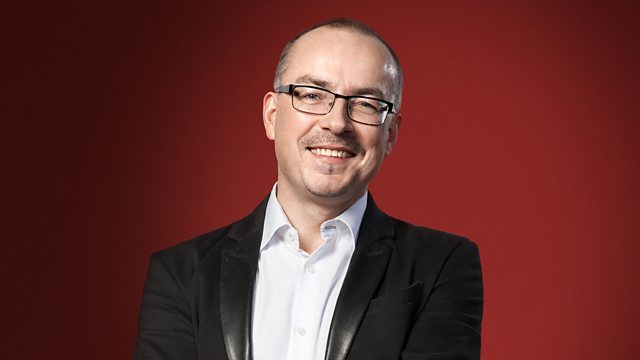 Building a Library: Verdi: Macbeth
With Andrew McGregor. Including Building a Library: Verdi: Macbeth; recent releases of instrumental and vocal music by Bach and Vivaldi; Disc of the Week.
9.00am
Beethoven: Complete Symphonies Vol. 1
BEETHOVEN: Symphony No. 1 in C major Op. 21; Symphony No. 2 in D major Op. 36; Symphony No. 3 in E flat major Op. 55 'Eroica'; Symphony No. 4 in B flat major Op. 60
Copenhagen Phil, Lan Shui (conductor)
ORCHID CLASSICS ORC100045 (2CD mid-price)
Brahms: Clarinet Sonatas
BRAHMS: Clarinet Sonata No. 1 in F minor Op. 120 No. 1; Clarinet Sonata No. 2 in E flat major Op. 120 No. 2; Klavierstucke (6) Op. 118
Lorenzo Coppola (clarinet in B flat after Barmann Ottensteiner, by Schwenk, Seggelke, Bamberg, 2001), Andreas Staier (Steinway, Sons piano, New York, 1875)
HARMONIA MUNDI HMC902187 (CD)
Carolyn Sampson: Fleurs
BOULANGER, L: Les lilas qui avaient fleuri
BRITTEN: The Nightingale and the Rose
CHABRIER: Toutes les fleurs
DEBUSSY: De fleurs
FAURE: Le papillon et la fleur Op. 1 No. 1; Fleur jetee Op. 39 No. 2; Les roses d'Ispahan Op. 39 No. 4
GOUNOD: Le temps des roses
HAHN, R: Offrande
POULENC: Fleurs
PURCELL: Sweeter than Roses (from Pausanius, the Betrayer of his Country, Z585)
QUILTER: Damask Roses
SCHUBERT: Im Haine, D738; Die Blumensprache D519 (Platner)
SCHUMANN: Schneeglockchen Op. 79 No. 26; Die Blume der Ergebung Op. 83 No. 2 (Friedrich Ruckert); Jasminenstrauch Op. 27 No. 4 (Friedrich Ruckert); Meine Rose Op. 90 No. 2; Roselein, Roselein! Op. 89 No. 6 ('Wielfried von der Neun')
STRAUSS, R: Madchenblumen (4 songs) Op. 22; Das Rosenband Op. 36 No. 1
Carolyn Sampson (soprano), Joseph Middleton (piano)
BIS BIS2102 (Hybrid SACD)
Cipriano de Rore: Ancor che col partire
RORE: Ancor che co'l partire; Non e che il duol mi scemi; Sine nomine a 5; Io canterei d'amore; Suzanne un jour; Non vide'l mondo; Non gemme, non fin oro; Calami sonum ferentes (madrigal a 4 voix egales); Mon petir cueur (chanson a 8 voix); Ave regina caelorum; Angelus ad pastores
Marie Bournisien (harp), Mariana Flores (soprano), Paulin Bundgen (counter-tenor), Bernard Foccroulle (organ), Miguel Henry (lute), Jean Tubery (cornet), Juliette Perret (soprano), Jean Tubery (recorder), Cappella Mediterranea, Clematis, L'Acheron, Vox Luminis, Doulce Memoire, Chœur de Chambre de Namur, Leonardo Garcia Alarcon, Lionel Meunier
RICERCAR RIC355 (CD)
09.30am Building a Library
Roger Parker compares recordings of Verdi's Macbeth and makes a personal recommendation.
Top Recommendation:
VERDI: Macbeth
Sherrill Milnes (Macbeth), Fiorenza Cossotto (Lady Macbeth), Jose Carreras (Macduff), Ruggero Raimondi (Banco), Giuliano Bernardi (Malcolm), Maria Borgato (Dama), Carlo Del Bosco (Medico), Ambrosian Opera Chorus, New Philharmonia Orchestra, Riccardo Muti (conductor)
Warner Classics 5099931927024 formerly EMI 3192702 (2CD)
10.25am Sibelius and Nielsen
Sibelius: Lemminkainen Legends & Pohjola's Daughter
SIBELIUS: Lemminkainen Suite Op. 22; Pohjola's Daughter Op. 49
Finnish Radio Symphony Orchestra, Hannu Lintu (conductor)
ONDINE ODE12625 (Hybrid SACD)
Folke Grasbeck plays Sibelius on the Ainola Piano
SIBELIUS: Andantino in B major, JS44; Allegretto in B flat minor, JS18; Largo in A major, JS117; Impromptu in G minor Op. 5, No. 2; Impromptu in B minor Op. 5, No. 5; [Caprice Op. 24 No. 3] (first version); Romance in D flat major Op. 24, No. 9; Finlandia Op. 26 (arranged for piano by the composer); King Kristian II, incidental music Op. 27: Musette; [Polka] Aino in C minor; Valse Triste Op. 44 No. 1; Pan and Echo Op. 53; Rondino in G sharp minor, Op .68, No. 1; The Spruce Tree Op. 75 No. 5; Thirteen  Pieces Op. 76 (extracts); Pieces (5) Op. 85; Eight Piano Pieces Op. 99: Souvenir; Eight Piano Pieces Op. 99: Moment de valse; Two Pieces for Oscar Parviainen; Scene  romantique Op. 101, No. 5; Landscape II
Folke Grasbeck (piano)
BIS BIS2132 (CD)
Carl Nielsen: Piano Music
NIELSEN: Festive Prelude; Piano Music for Young and Old Op. 53 (FS148); Symfonisk Suite Op. 8, (FS19); Five Piano Pieces Op. 3 (FS10); Three Piano Pieces Op. 59 (FS131); Humoresque-Bagatelles Op. 11 (FS22); Den Luciferiske Suite Op. 45 (FS91); Chaconne Op. 32 (FS79); Dance of the Handmaidens No. 9; Theme and Variations Op. 40
John McCabe (piano)
SOMM SOMM01462 (2CD mid-price)
Nielsen: Songs for Choir
NIELSEN: Nu er dagen fuld af sang; Frydeligt med jubelkor; Paskeblomst! hvad vil du her?; Vi sletternes sonner har dromme i sind; Havet omkring Danmark from FS 44; I solen gar jeg bag min plov; Nu skal det abenbares; Nu lyser lov from FS 95; Se dig ud en Sommerdag from FS 75; Frihed er det bedste guld; Som en rejselysten flade from Moderen Op. 41; Udrundne er de gamle dage; Der sad en fisker sa tankefuld; Du danske mand! af al din magt; Pa det jaevne from FS 95; Derfor kan vort oje glaedes; Tunge, morke natteskyer; Hvem sidder der bag skaermen; Betragt mit svage spind; Den danske sang from FS 114
Ars Nova Copenhagen, Michael Bojesen
DACAPO 6220569 (Hybrid SACD)
10.45am New Releases with Caroline Gill
Caroline Gill joins Andrew live to discuss recent releases of instrumental and vocal music by Bach and Vivaldi from Europa Galante, the Australian Chamber Orchestra, The Bach Players and Brecon Baroque.
Figures of Harmony
Ferrara Ensemble, Crawford Young (conductor)
ARCANA A382 (4CD budget)
JS Bach: Motets
BACH, J S: Motets, BWV225-230; Motet BWV Anh. 159 'Ich lasse dich nicht'
Capella Cracoviensis, Fabio Bonizzoni (conductor)
ALPHA ALPHA199 (CD mid-price)
Bach and his rivals
GRAUPNER: 'Aus der Tiefen rufen wir', GWV 1113/23a; Ouverture in C minor, GWV 413; Cantata 'Gott führt die seinen wunderbar', GWV 1115/24
TELEMANN: Ouverture in F sharp minor, TWV 55: fis 1; Cantata 'Wer sich rachet', TWV 1: 1600; Cantata 'Lass vom Bosen und tue Gutes', TWV 1:1038
J.S. BACH: Cantata 'Jesus nahm zu sich die Zwölfe', BWV 22; Cantata 'Jesus schläft, was soll ich hoffen', BWV 81
The Bach Players, Nicolette Moonen (violin and director)
HYPHEN PRESS MUSIC HMP 008  (2CD)
VIVALDI: L'estro armonico - 12 concerti Op. 3
Rachel Podger (violin, director), Brecon Baroque
CHANNEL CCSSA36515 (2Hybrid SACD mid-price)
Vivaldi: The Four Seasons
VIVALDI: The Four Seasons; Concerto in D major, RV226: Largo; Concerto Op. 3 No. 10 'Con quattro Violini e Violoncello obligato', RV 580; Concerto Op. 3 No. 6 'Con Violino Solo obligato', RV 356; Concerto in D major RV562: Grave; La verita in cimento RV 739: Sinfonia
Ike See (violin), Helena Rathbone (violin), Satu Vanska (violin), Timo-Veikko Valve (cello), Richard Tognetti (violin, direction), Australian Chamber Orchestra
BIS BIS2103 (Hybrid SACD)
Vivaldi: I concerti dell'addio
VIVALDI: Concerto pour violon RV 390; Concerto in E minor, RV 273 for violin, strings and basso continuo; Violin Concerto in B flat major, RV 371; Concerto No. 2 in C major RV 189; Concerto in B flat major RV 367; Concerto No. 4 in F major for violin, strings and harpsichord 'Per la solennita di San Lorenzo' RV286
Fabio Biondi (violin), Europa Galante
GLOSSA GCD923402 (CD)
11.50am Disc of the Week
Smetana: String Quartets Nos. 1 & 2<?xml:namespace prefix = o ns = "urn:schemas-microsoft-com:office:office" />
SMETANA: String Quartet No. 1 in E minor 'From My Life'; String Quartet No. 2 in D minor
Pavel Haas Quartet
SUPRAPHON SU41722 (CD)